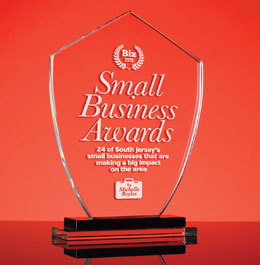 2015 Small Business Awards
24 of South Jersey's small businesses that are making a big impact on the area
Small businesses, defined as independent organizations employing fewer than 500 people, are significant drivers of growth in today's economy. This sector accounted for 64 percent of new jobs created between 1993 and 2011 (or 11.8 million of the 18.5 million net new jobs), according to the Small Business Administration's Office of Advocacy.
These companies face a unique set of challenges as they compete with larger organizations that have more resources at their disposal. About half of new businesses survive the five-year mark and only one-third are still in existence after 10 years, according to SBA data.
Here, we highlight some of the small businesses—compiled by nominations and editor consen¬sus—in the South Jersey area that are not just surviving, but thriving across a range of professions.
Tourism
South Jersey Tourism Corporation
Jake Buganski, CDME, Executive Director
Supported in part by a grant from the New Jersey Department of State, Division of Travel and Tourism, SJTC is a member of NJDMO—an association of the State of New Jersey's Destination Marketing Organizations. SJTC represents the counties of Burlington, Camden, Gloucester and Salem in the Delaware River Region of New Jersey.
The group's Visit South Jersey campaign has been instrumental in driving tourism in the area.
"[We've seen] the success of Visit South Jersey's campaigns to reposition the region as a wine, craft beverage and culinary destination culminate with a $650 million increase in tourism related expenditures between 2010 and 2014," says Executive Director Jake Buganski. "Considering the number of jobs this represents, and recognizing the pride that has developed for the area during this time, I am driven to continue finding creative ways to continue marketing South Jersey as a destination, in spite of the challenges associated with accomplishing this in a state with a broken tourism funding mechanism."
250 South Park Drive, Haddon Township,
(856) 757-9400,
VisitSouthJersey.com
Food Manufacturing
Wellshire Farms
Louis B. Colameco, President, Founder & CEO
Wellshire Farms is the largest supplier of all-natural, preservative-free meats for Whole Foods in the U.S. and Canada, and also supplies products to ShopRite, Acme and Trader Joe's. After starting his business in the basement of his home in 1996, and then expanding it to include more than two dozen team members, founder and owner Louis B. Colameco knew his employees needed to have a comfortable and pleasant work environment in order to be productive. Today, the "office" consists of a converted and renovated 1800s farm and stables on 10 acres of ground.
"Today's environment is … more competitive than ever and larger companies than ours are now trying to manufacture the same type of products," says Colamenco, who is keenly aware of the impact his company has on other businesses. "Not just our success depends on our business continuing to move forward, but also the 23 small family plants that manufacture for us across the country and the over 100 employees with these plants," he says. "It is a large responsibility that I do not take lightly. Any business decision that I make, affects not just our company, but all of those companies."
509 Woodstown Road, Swedesboro,
(856) 769-8933,
WellshireFarms.com
Energy
Pro-Tech Energy
Richard Cooper, CEO
This firm focuses on commercial and government clients, including the U.S. Coast Guard. It has grown in the past five years from just six employees to 30. Some large projects recently completed include solar work for Monmouth University, The Wildwoods, Kohl's and PSE&G.
215 Executive Drive, Moorestown,
(856) 437-6220,
Pro-TechEnergy.com
Business Consulting
Pachter & Associates
Barbara Pachter, President
One of the world's leading experts on business etiquette and communications, Barbara Pachter shares her knowledge through seminars, keynote speaking, executive coaching and various print and digital resources. These training services empower people to communicate more effectively, work more productively and enhance their professional presence.
"I enjoy helping people grow professionally through my communication and etiquette seminars and coaching services," Pachter explains. She's also excited about the ways in which social media is helping expand her reach. "I recently coached businesspeople via Skype in Jamaica and China."
11 W. Doris Drive, Cherry Hill,
(856) 751-6141,
Pachter.com
Document Destruction
Guardian Document Destruction Company
J. Herbert Webb, Owner
Whether you have a one-time document purge or you require a recurring shredding service, compliance experts work with clients to come up with a secure, cost-effective solution. Their fleet of mobile shredders has the ability to shred 4,000 pounds of paper per hour with close-circuit monitoring and a fully automated lift system, which limits the handling of sensitive documents.
Having to compete with larger companies doesn't phase owner, J. Herbert Webb. "This industry is driven by the 'Big Boys,' who provide service nationally as well as records management," he explains. "I enjoy the challenge to prove that we can provide superior service for a competitive price … and providing my employees with an enjoyable place to work."
10 Eagle Ave. #600, P.O. Box 67, Mount Holly, (609) 261-8133,
GuardianShreds.com
Commercial Landscaping
Dunn Company Landscape Contractor
Patrick Dunn, President and Founder
Lauren Dunn, Vice President and CFO
Lifetime Gloucester County resident, Patrick Dunn founded the company in 2001 with 15 years in the landscape industry under his belt and a goal to provide homeowners with quality, per-sonalized and reliable landscape services.
"Our customers drive us to push our small business forward," says Lauren Dunn. "They have so many choices and yet, they chose us so we have a tremendous responsibility to make sure that they are 100 percent happy. We get to know their needs, their priorities, budgets and perhaps most importantly, their pet peeves."
P.O. Box 368, Harrisonville,
(856) 769-2415,
DunnLandscaping.com
Business Brokerage
The Rivera Group at Tannenbaum
Orlando M. Rivera, J.D., Principal
Whether you are ready to sell or purchase a business, or are just thinking long-term, now is the time to start planning. The Rivera Group at Tannenbaum is a full-service professional business intermediary that creatively assists lower mid-market firms to sell or grow via acquisition or merger.
"My business is driven to help entrepreneurs reach their business aspirations," says Rivera. "I am inspired to do things better and, more importantly to help people on a personal and professional level."
1960 Route 70 E., Cherry Hill,
(856) 282-1076,
TBBMA.com
Merchant Services
Tanker Consulting Services
Scott Tanker,
President and Owner
Providing merchant services, Scott Tanker assists business owners with credit card, POS and ATM processing for their companies. "I have always been a person who likes to make others happy," Tanker says. In 2004, he founded Tanker Consulting Group, LLC. "I have been in a few different businesses and each one started with the passion to help others." He also specializes in retirement education, investment guidance and fiduciary compliance, vendor relationship management services and health/life/disability insurance programs.
72 Five Crown Royal, Marlton,
(609) 922-0201,
TankerConsultingServices.com
Business Services
Advanture Group
Murthy Vangala, President
This boutique management and technology consulting firm provides advisory services, business and technology solutions for leaders who recognize a need for change, whether that be a major transformation or a simple enhancement.
3747 Church Road #103, Mount Laurel,
(856) 234-0323,
AdvantureGroup.com
Technology
The Lerepco Group, LLC
Arthur Leiby, President
For more than 30 years, the Lerepco Group has provided end-to-end information technology services to growing business organizations. Communicating and collaborating with team members and clients in real-time has become a critical component of business success.
24 Stratford Lane, Mount Laurel,
(888) 635-1828
Lerepco.com
Banking
Delanco Federal Savings Bank
James E. Igo, Chairman, President and CEO
Founded in 1890, Delanco Federal Savings Bank celebrated its 125th anniversary this year. The community bank has made a concerted effort to keep up with the times and takes pride in providing customers with prompt, friendly and courteous service.
615 Burlington Ave., Delanco,
(856) 461-0611,
DelancoFSB.com
Mergers & Acquisitions
Everingham & Kerr Inc.
Joseph A. Vanore Jr., CVA, President/Shareholder
Founded in 1988, Everingham & Kerr Inc. is a merger and acquisition advisory firm that specializes in providing intermediary services for lower middle market companies and entrepreneurs, working with clients across all industries. Services include mergers, acquisitions, divestitures, valuations and transaction consulting. Their client base has included public and private companies, investor groups, individual entrepreneurs, management buyout groups and family buyout participants.
1300 Route 73, Suite 103, Mount Laurel,
(856) 546-6655,
EverKerr.com
Accounting
NOW! Financial Network
Daniel J. Ruotolo, CEO
This network of professionals provides consulting, mentoring and hands-on education and training in areas such as: financial planning, accounting, operational functionality, QuickBooks, marketing and more. NOW! provides stability, focus, direction and more importantly … peace of mind for your business.
41 Kings Highway, Cherry Hill,
(856) 414-1272,
NowFinancialNetwork.com
Financial Advising
Woloshin Investments, LLC
Michael Woloshin, Managing Director
Clients benefit from the strength of this group's combined 75-plus years of investment experience in recommending personalized strategies designed to help clients generate income during their golden years. Making "suitable" recommendations is not enough. Woloshin considers it a fiduciary responsibility to make decisions that are in the interest of their clients.
35 Main St., Medford,
(609) 654-9700,
WoloshinLLC.com
Office Furniture
Office Furniture Outlet
Anthony Faiola, President
Office Furniture Outlet of New Jersey (OFONJ) is a two-decade old, family-run outlet selling new office furniture and used furniture in New Jersey, Delaware, Philadelphia and Eastern Pennsylvania. Its facility has over 25,000 square feet of new and used office furniture, all available online and for delivery.
2080 Springdale Road, Cherry Hill,
(856) 439-9500,
OFONJ.com
Commercial Insurance
Clarion Insurance
Nirpa Desai, Owner/Broker
This full-service independent insurance agency is committed to serving all of your personal, professional and business insurance needs. Being independent means they are not beholden to any one insurance company. They quote clients' business to a multitude of carriers to find the highest level of coverage at the lowest possible cost.
P.O. Box 831, Marlton,
(856) 309-5444,
ClarionInv.com
Roxanne DiJosie Insurance Agency, LLC
Roxanne DiJosie, Owner
Roxanne DiJosie Insurance Agency, LLC is a full-service, professional insurance agency serving the community for more than seven years. They provide clients with a wide range of insurance services to cover all their needs such as homeowners, commercial, life and auto insurance.
108 Greentree Road, Unit 1, Turnersville,
(856) 374-3900,
RoxanneDiJosieInsurance.com
Attorneys
Cronin Trial Lawyers
Joseph D. Cronin, Founder
This two-attorney firm is lean, but mean. Joseph D. Cronin is an aggressive and seasoned trial attorney who understands his clients' need to be compensated for hardships. Edward T. Fisher is a commercial litigator with over 14 years of experience representing companies and individuals in a wide range of business disputes.
175 Richey Ave., Collingswood,
(856) 368-2600,
CroninFirm.com
Law Offices of Scott Marcus & Associates
Scott H. Marcus, President
Since 1984, this firm has focused on providing clients with outstanding legal services at reasonable costs. They assist both businesses and individuals with legal needs and also offer extensive expertise in areas such as living wills, powers of attorney, trusts, family wealth, estate planning, guardianships, special education, insurance law, social security and real estate.
121 Johnson Road #2, Turnersville,
(856) 227-0800,
MarcusLaw.net
Real Estate
Procision Business Brokers & Commercial Realty
Robert Beach, President
Founded as a Business Brokerage and Commercial Real Estate Advisory Firm, Procision Business Brokers has developed three affiliates including Procision Business Brokers, Procision Realty Group and Procision Business Consultants. This unique combination of synergistic services provides for a broad representation and comprehensive business transaction solutions.
900 Route 168, Unit H, Washington Township,
(856) 228-5151,
ProcisionBB.com
Resource Realty
Jim Davis, Principal
Resource aims to be the real estate department you don't have—or an extension of the one you do—servicing all of your real estate needs worldwide. Services include industrial and commercial real estate brokerage, appraisal, consulting, development and investment throughout Southern New Jersey, Pennsylvania and the Midwestern United States, as well as selected site selection and consulting assignments throughout North America.
124 Camden Ave., Moorestown,
(856) 727-0700,
Resource-Realty.com
Property Management Realty Solutions LLC, Property Management & Sales
David S. Gorham, Principal Owner,
Broker of Record
This full-service property management and real estate brokerage company provides services to all those involved with property investments: owners/landlords, buyers/sellers, realtors, boards of directors and associations. Extensive skills and experience with problem solving real estate management issues ensure both owner and occupant satisfaction. Consistent communication is their key to maximizing the return on investment.
415 S. White Horse Pike, Audubon,
(855) 547-4700,
NJRealtySolutions.com
Staffing
Scientific Search
Joseph Peters, President
Scientific Search began in 1983 by servicing the South Jersey and Philadelphia areas, and quickly grew to fulfill staffing needs all across the United States, providing clients and candidates with multiple staffing options, including direct hire, permanent placements and contract temporary hire placements. They are known for expertise in information technology, engineering & design, pharmaceutical, biotech, clinical research, genomics & medical device, market research and the food & beverage industries.
100 Larwin Road, Cherry Hill,
(856) 761-0900,
ScientificSearch.com
Security Services
JC Magee Security Solutions
Jack Magee, President
A third-generation family-owned and operated business serving the Greater Delaware Valley for over 70 years, providing a wide range of locksmith and security services for both residential and commercial customers. Their professional and courteous technicians are on call 24 hours a day, seven days a week.
1113 N. Broad St., Woodbury,
(856) 845-3434,
JCMageeSecurity.com
Published (and copyrighted) in South Jersey Biz, Volume 5, Issue 10 (October, 2015).
For more info on South Jersey Biz, click here.
To subscribe to South Jersey Biz, click here.
To advertise in South Jersey Biz, click here.