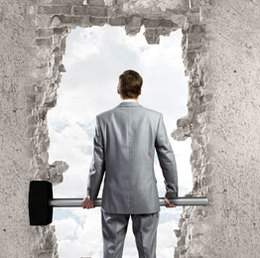 The Big Break
…From the pages of South Jersey Biz…
How some local business leaders seized the opportunity to make it big in their field.
When it comes to success in business, there's no one-size-fits-all plan. Opportunities can present themselves anytime, but for many of South Jersey's business executives, their big break came in the form of an innovative idea for a business or the opportunity to gain hands-on experience in their chosen field.
In the case of Nicole Woodland-De Van, senior vice president of buying services and deliverables for Compas Inc., a Pennsauken-based media buying firm for the health care industry, her first big break occurred when she was asked to fill in for her manager while she went out on maternity leave.
A recent college graduate, Woodland-De Van was working as an assistant account executive at the time. She sat in high-level executive meetings in an administrative capacity, where she mainly took notes. "The months in those meetings led to years [with the company], and really taught me a lot about what makes a business run, what its challenges are, and how to deal with them," she says.
It was that solid foundation that helped her snap into action for what she calls the second break of her career. When she was an executive for Beyond Branding, once Compas' pharmaceutical promotional material division, the company was offered a rare opportunity to assume business from one of its competitors—without warning or time to prepare.
"We successfully transitioned that client onto our services, and grew their business with us dramatically over the time I managed that group," she says. "It was that fast and furious, learn-on-your-feet opportunity and experience that shaped me [as a business professional]. … It gave me the confidence to continue to learn and grow."
Fifteen years later, she is responsible for both Compas' buying execution operations as well as the supplier partnership team, who work to facilitate relationships with the publisher partners the company works with every day.
For Robert Worley, senior vice president and New Jersey market manager for Republic Bank, the opportunity to grow with a company also proved to be a career-changing advantage. He began his 35-year career in commercial lending, but has been serving as a geographic market manager for more than two decades. He credits his long-term success to a position with Commerce Bank earlier in his career.
"I landed a job with the bank when it was small—but growing," he says. "I worked with a lot of forward-thinking, visionary professionals at Commerce, and ultimately found myself at this fast-growing company that served as the big break of my career," he says.
However, Worley notes that success in the business world is about a lot more than landing the right position at the right time. "You have to do the best job you can in any position, because that's what's going to put you in the running for new opportunities," he explains. That's why Republic Bank sought him out to serve as the company's New Jersey market manager, and today he is finding personal satisfaction in his responsibilities for all of the sales, services and products in the region—not the least of which is building relationships with local residents and business professionals.
"Being able to provide people with financial solutions, and help them achieve their goals, is the more rewarding part of my job," he says. "It's wonderful to help others achieve personal and business success right here in the South Jersey region."
Joseph Pilato, vice president of commercial sales for Cook Maran and Associates, a Marlton-based insurance company, also touts the value of forging strong relationships in the business community. Pilato's big break also came in the form of securing the right position for his skill set. After graduating college in a difficult economy, he struggled with finding the right position, and held sales jobs at companies ranging from sound and video equipment to office supplies. It wasn't until he landed his first job in the insurance industry with Liberty Mutual that he began to take the first steps towards his career. "That was absolutely my big break; it was this major company with opportunities to grow and a path to a future," he recalls.
However, Pilato quickly discovered that his positions in sales would serve him well in his new role. Today, his prime responsibility is growing the company by bringing in new clients, as well as retaining the firm's current client base. That often means having to be creative and innovative in coming up with new and better ways to help set the company apart in the eyes of potential clients.
"It's a performance-oriented business, just like any sales job. … You can't be a sales person unless you know how to successfully sell and generate growth and revenue for the company," he says. That often means relying on another element of success in the business world: coming through for your clients.
"When someone needs me—whether it's helping them reduce the cost of their insurance or making sure they have proper coverage—it's rewarding to be able to deliver for them," he says. "I feel good about my work, and truly have a reason for doing what I do."
Published (and copyrighted) in South Jersey Biz, Volume 5, Issue 1 (January, 2015).
For more info on South Jersey Biz, click here.
To subscribe to South Jersey Biz, click here.
To advertise in South Jersey Biz, click here.