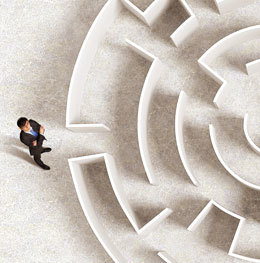 Retirement and Succession Planning
How to confidently ride off into the sunset
A succession plan is hardly on the mind of anyone starting their own business. The focus will most likely be on turning a profit within the first couple years, or even just where to find the perfect location for a new office. Planning for the end of a business is at the end of the to-do list for most small business owners. But experts say this should be a major consideration, even when just starting out.
"When going into a business, you should be thinking about your exit," says Orlando Rivera, vice president of Tannenbaum & Mehta, a business brokerage firm based in Cherry Hill.
"Realizing this is tough for small business owners; [that] there is an end to the business at some point."
Keeping that fact in mind when building a business is imperative, he adds. "The best way to build a business that can be sold at the highest value is to have a solid management in place."
He also stresses that when starting a business, remember: It isn't about you. "The idea is that business owners should not make the business about them. They aren't the business," he explains. He also suggests putting in place a strong internal management team that has the ability to keep things running in the event of a succession or sale.
Of course, the final stages of a business aren't only when an owner puts it up for sale. It can also be the end of an era of leadership and a transition to new owners, leaders or partners. That transition is still an exchange put to a value, and a smart way to plan for it is to come up with a time frame far before it becomes a reality. Rivera often has clients reaching out far later than they should have. "When [owners] call me, they're ready to be done with it," he says. "Generally speaking, when you talk about [succession] planning, they are looking at a decision within three months."
That's not a lot of time, says John Torrence, co-founder of Masso Torrence Wealth Management Inc., a boutique financial planning firm in Marlton that focuses on corporate retirement plans, as well as comprehensive financial planning.
Torrence suggests small business owners start saving for the end as soon as possible, which, he says, is usually "after year three, when there is usually enough liquidity in the business." Just as Rivera pointed out how important it is to separate the person from the business, Torrence says that the money put aside shouldn't be "dependent on the lifeblood of the business."
That money saved can be used for retirement or for the valuation of a company for sale. In the case of one local business, the plan is for retirement, and has been for the past century. Luckily, ACE Motor Sales in Woodbury was founded on the premise that it was built to last, and far beyond its original founders, Allen C. and his father James L. Eastlack. ACE, which became a Ford franchise in 1913, has been in the same family since 1908. Christopher Eastlack and his brother Allen Jr. are fifth-generation owners.
"We have both learned a great deal from our father. Through his experience, he has taught us to be cautious, conservative, and loyal in our business decisions," says Christopher Eastlack. They also learned that planning for succession—though it might be decades from now—takes more than just family. It also starts with a good team, including a financial advisor and attorney. "Succession planning can become very complicated and cumbersome depending on the business and the amount of family involved."
Torrence is also no stranger to the difficulties of succession planning within families, having worked with a few whose children aren't sure they are ready or want to take over the business. "Sit down together, that's important. Consider the options," he says.
Eastlack says this is a conversation that should happen much earlier.
"[P]ut a great deal of thought into the good, the bad, and the ugly that could come out of starting the business," he notes, stressing that a business owner should start his or her business with a clear picture of the negatives and the positives, so that considering the options at retirement isn't as difficult.
"Retirement will come faster than you think," he says. "This is where the good financial advisor comes back into the picture. They are able to guide you in the right direction as far as investments and life insurance is concerned."
Eastlack, the current parts and service director of ACE, adds that advisors "are also in the best position to plan for any contingencies that may come up in the near or distant future." Finding the right advisors is paramount, and they have to take into consideration how well they know the business. This way, owners can focus on their businesses, while advisors keep an eye on the industry and culture.
And when it comes to retirement, Torrence, a chartered retirement plan specialist and an accredited investment fiduciary (AIF), has helped guide many clients toward the future instead of the present. "Don't think about the number you need at retirement. Just start saving immediately," he says.
And Rivera advises owners to only work with advisors and brokers when they "feel comfortable with them and their ability to explain things [about the process]." When looking for someone to help with the transition or sale of a company, owners should "be aware that in a great majority of states, including New Jersey, business brokerages are an unregulated industry."
The brokerage should represent the business's interests in philosophy and knowledge. The same applies to financial firms: Helping owners plan for retirement and succession means that the firm has to understand the particular challenges any particular industry has. What retirement or succession plan may work for a dentist's office may not work for an electrician's company. Looking for a financial management firm that focuses on specific industries instead of on their margins is the best way to find the right match.
Ultimately, planning for the end just as a business begins is the best way to ensure a retirement or sale of a business is a happy one. Knowing that a business built decades ago can continue well past any one owner or leader's time is not impossible. With planning, support, and a knowledgeable team of advisors, any business owner can start a business whose end is surely going to be just as successful as its tenure.
Published (and copyrighted) in South Jersey Biz, Volume 5, Issue 1 (January, 2015).
For more info on South Jersey Biz, click here.
To subscribe to South Jersey Biz, click here.
To advertise in South Jersey Biz, click here.