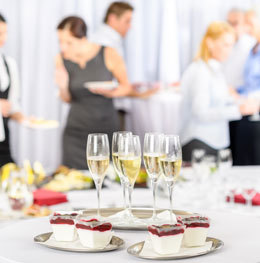 Fundraising Fatigue
How to make your event stand out and keep people connected to the cause.
It's the time of the year when charitable giving is at its peak, with companies increasingly joining in on the philanthropic festivities by hosting fundraising galas and donating to worthy causes.
According to a recent Giving USA report, philanthropic contributions from individuals, corporations and foundations reached more than $335 billion in 2013, up 4.4 percent from the year before. Corporate giving, in particular, totaled nearly $17.9 billion.
However, throwing a corporate charity event isn't always a walk in the park. Companies often find themselves wavering on ways they can make their fundraiser a big hit among attendees, especially if it's for the same cause they've thrown themselves behind year after year.
Fortunately, you can rest assured—local event coordinators and caterers have come together to share their most tried-and-true tips for making a fundraiser, well, fun, successful and truly a night to remember.
Here's what you can do to prevent fundraising fatigue and host a charitable event in style.
Put the fun back in fundraiser
"You have to focus on the 'fun' in fundraiser, because when people have fun, they don't mind helping," says Gerard Chambers, director at Collingswood Ballroom and Theater. "You have to make it interesting with good food, libations, music, dance and some fun of sorts."
It also helps to embrace the concept, "the more the merrier," explains Chambers. "If you have an event committee, ask everyone to bring 10 guests, and go from there. You'll get one group going, and someone will bring another group, and before you know it, everyone's having a good time," he says.
Another way to make an event memorable is to replace the formal sit-down dinner with a cocktail party. Event experts say food stations, sometimes arranged to accompany a theme, present a simple way to get guests out of their seats and socializing. This setup is particularly attractive to those hoping to network within their company or industry.
It's also helpful to have an entertainment aspect, like a special guest, an entertaining band, or if you're on a tighter budget, even a karaoke machine to get the party going.
"If you invite a special guest, like someone high-profile in sports, entertainment or the government, you're bringing in not only your own fan base, but the fans of that celebrity or personality," says Cheryl Latvala, director of catering for the Crowne Plaza in Cherry Hill. "The fans will also get behind the cause, and you'll find it's the best of both worlds."
Another big hit: photo booths. If you can get a unique item like this donated for a few hours, guests can enjoy getting creative and taking pictures with their significant other, friends or colleagues. By providing a photo booth, attendees can leave with a personalized souvenir that documents the fun time they shared—and those candid photos might just remind them of what fun they had when it comes time to buy a ticket for the same event the following year.
Get creative with auction items and giveaways
Getting attendees in the door is half the battle, but once they're there, the success of the event largely depends on the quality of the auction items and raffles.
"Fun auction items that help raise money for your cause is a very important element," Chambers says. "It's typically how you make it."
While any donated auction item is a great one, event experts have noticed a trend of getaway-themed or experience-themed auction items attracting the highest bidders. This includes gift certificates toward a spa getaway weekend or golf trip or tickets to a popular sporting event, show or concert. One expert also recalls a gift certificate to rent exotic cars for a day as a popular prize at a recent auction.
"The prizes that really attract individuals' attention get the highest bids. What do these have in common? They're fun, exciting, trendy … usually something you would really look forward to attending or experiencing," says Pennie Oliver, director of sales and marketing for the DoubleTree Suites by Hilton in Mount Laurel.
Nowadays, how these auctions are conducted also matters. More event coordinators are enlisting the help of technology by strategically placing iPads on each table or encouraging guests to download a special app on their smartphones so they can place their silent auction bids electronically.
"People are often bidding on their phones inside of the ballroom, and it helps increase the frequency and values of the bid," says Latvala. In a traditional silent auction, a guest might check the bids one or two times before getting distracted by socializing or another aspect of the event. With the help of technology, however, guests can continuously check the bidding process without having to break from conversing or participating in the festivities.
Chambers points to another popular way to liven up a raffle: a reverse 50/50. This involves eliminating raffle tickets throughout the night until there are just four or five people left holding a ticket for a large pot. "You begin by pulling, say, 50 tickets and those people are eliminated. Then you pick, say, 25 more. You keep doing this until there are just a few people left and then open it up for guests to try to buy out another's ticket," Chambers says, explaining that the whole process makes the raffle more entertaining and adds a layer of excitement to the event.
Throw a theme party
If you're hosting an event for the same cause year after year, event coordinators emphasize the value in choosing a new theme.
"Choosing a new theme gives you the opportunity to stick to the same outline but bring in a new flavor," says Jaime Auletto, event coordinator for Auletto Caterers in Woodbury.
Auletto encourages planners to turn to social media sites such as Pinterest for inspiration for themes and creative detail that will put the spotlight on a specific cause. She recalls past theme parties her team hosted, such as a New Orleans jazz theme party to benefit Hurricane Katrina and a Boardwalk Empire event to support Hurricane Sandy.
"Choose different decorations, colors and food," says Auletto, explaining that a fresh concept will create a sense of novelty and anticipation for what else might unfold as the party continues on. Most of all, it will connect attendees to the cause—which is exactly what any company is hoping for in their charitable endeavors.
Published (and copyrighted) in South Jersey Biz, Volume 5, Issue 1 (January, 2015).
For more info on South Jersey Biz, click here.
To subscribe to South Jersey Biz, click here.
To advertise in South Jersey Biz, click here.