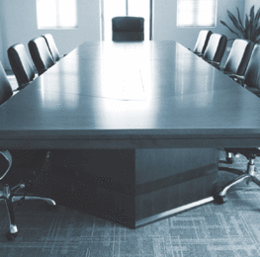 2014 Executives of the Year
Meet 25 of the leading business people in South Jersey
The end of the year is typically a time when we all take a moment to step back and reflect on the year we've had and think about what we'd like to accomplish in the future. We'll note our successes but also our faults, and how we can move on from them. Each year, we also ask our readers to nominate local executives who seem to be making notable strides in their career paths. Business people who are especially adept at reflecting on lessons learned and capitalizing on them. While it is always difficult to choose 25 to highlight, as there are so many successful executives in South Jersey, here, we present to you our 2014 Executives of the Year. These are the men and women who have made 2014 great, but are looking forward to making 2015 even better.
Ed Hutchinson
President, Hutchinson Mechanical Services
Ed Hutchinson is a third-generation Hutchinson running the family business. Under his leadership, Hutchinson Mechanical Services—a leading energy and mechanical services contractor in the area—has experienced significant growth in the energy services industry and has received state and national recognition for its sustainable initiatives and high level of service. In addition to his business endeavors, Hutchinson has served on a number of business and charitable boards, including The Joseph Fund, YMCA of Burlington and Camden Counties and the Southern New Jersey Development Council.
David L. Cohen
Executive Vice President, Comcast Corporation
Since joining the Comcast Corporation as executive vice president in 2002, David Cohen has had his hands full with a number of responsibilities for the company, including serving as senior counselor to the CEO and the oversight of government and regulatory affairs, legal affairs and community investment, among others. He currently is overseeing the regulatory approval process of one of the largest and most complex transactions—with Time Warner Cable and Charter—in the communication industry's history. An active member of the business community as well as his community, Cohen has received several awards for his commitment to both arenas, including the American Red Cross Citizen of the Year Award and the National Cable Television Association Vanguard Award for Leadership and Impact in the Cable Industry.
Karen Primak
President and Chief Executive Officer, IPAK
Anticipating a 20 to 30 percent increase in sales this year, IPAK has seen a significant increase in sales under Karen Primak. The company, which delivers custom packing, printing, technology and video solutions to businesses, has also moved its headquarters from a 2,000-square-foot facility to a 125,000-square-foot structure on 15 acres, expanding its operational footprint over tenfold while implementing workforce and supplier diversity as drivers of success. Despite her success, Primak says her biggest business obstacle in these uncertain economic times is "getting our Fortune 500 customers to move away from the status quo and innovate through collaboration with IPAK."
Peter R. Spirgel, Esq.
Managing Shareholder and Chief Operating Officer, Flaster/Greenberg, PC
In addition to his role as managing shareholder and COO at Flaster/Greenberg, Peter Spirgel works with business clients in a number of areas, including taxation and mergers and acquisitions. He is also a member of the firm's alternative and renewable energy industry group, where he represents clients who may be a part of, or considering, emerging green energy fields. As for his future goals, Spirgel says he would like to play a role in developing the strategy and future leaders of the firm. "I feel one of the biggest challenges facing the legal profession is the retirement of the baby boomer generation coupled with the declining enrollment at the nation's law schools. Since all law firms sell is talent, the competition for the top talent is going to intensify."
Charles Ivory
Executive Director, Educational Information and Resource Center
Charles Ivory approaches business with a unique conviction: There are no obstacles, only opportunities. He says it is this kind of thinking that drives the Educational Information and Resource Center, and is part of the reason for its growth over the last decade. Now working in all 21 New Jersey counties as well as in 39 states and 15 foreign countries, the EIRC and Ivory have helped countless numbers of businesses and individuals find success in their respective fields with the education-related programs offered, and the goal is to continue to do so.
Dr. Frederick Keating
President, Rowan College at Gloucester County
A catalyst in the collaboration between Rowan University and Gloucester County College, Dr. Frederick Keating believes there is still much to accomplish during the transition period. With more than 30 years of experience in higher education, Keating continues to move the college and South Jersey in a positive direction by promoting program expansion, enrollment incentives and capital projects. In October, the Gloucester County NAACP honored the academic leader with the Game Changer President's Award.
Carl Bagell, CPA
Managing Partner—Southern New Jersey, Friedman, LLP
With more than 35 years of accounting experience, Carl Bagell has a passion for business and helping his clients reach their financial goals. While he says operating in an industry that is changing daily is challenging, he faces these challenge head on, working to ensure his clients receive his full attention, and have all their needs met. Affiliated with a number of accounting organizations, Bagell is also on the board of advisors for the Alicia Rose Victorious Foundation and is a board member of the Jewish Federation Senior Housing.
Robert Brown
President, CEO and Chairman, American Asphalt
When Robert Brown purchased American Asphalt in 1986, it had five employees. Today, the business has grown to 100 employees, and Brown is constantly looking for ways to continue to expand the company while making customer satisfaction a priority. Though American Asphalt's annual revenue exceeds $20 million, Brown says he still finds obstacles he must overcome in the business world. "My biggest business obstacle is the government. It is in spite of the rules, regulations, project labor agreements, high cost NJDEP permits, union favoring legislation and taxes that we exist."
John Palmieri
Executive Director, Casino Reinvestment Development Authority
To date, as executive director of the Casino Reinvestment Authority, John Palmieri has led more than $500 million in projects to completion and instituted projects for more than $100 million in investment. While Atlantic City is facing hard times right now, Palmieri says one of his major goals for the future is to "create a more diverse economy" for the area. With more than 30 years of experience in urban development—including the successful implementation of several similar redevelopment projects in the New England area—his goal does not seem out of reach.
Pam Hisler
Senior Vice President, Market Director, Beneficial Bank
As the market director of eight Southern New Jersey branches of Beneficial Bank, Pam Hisler's position is far reaching. Not only does she oversee the operational integrity and profitability of these branches, but she also seeks small and large business commercial loan and deposit opportunities and assists managers in building new relationships. Hisler says that managing more than 100 employees provides her with the rewarding challenge of finding ways to integrate multigenerational team members together so they understand and respect each other, and use each other's strengths to deliver top performance and an exemplary customer experience.
Michael Pucciarelli, CPA, CVA
Principal, Hill, Barth & King, LLC
Michael Pucciarelli co-founded Bartolomei Pucciarelli, LLC, in 1986, a firm that merged with Hill, Barth & King, LLC, in 2013. Today Pucciarelli heads the HBK New Jersey office's innovative business development department. In this role, and during his professional career, he has helped numerous small- to medium-sized businesses with their accounting, auditing, tax and consulting needs, keeping in mind the challenges the management teams of these businesses face. Pucciarelli says he hopes to triple the size of the HBK New Jersey office by 2018, but the biggest business obstacle he says he faces—attracting talented young professionals to the industry—may make this a challenge.
Marc Isdaner
Senior Vice President and Principal, Colliers International
Marc Isdaner manages the Mount Laurel office of Colliers International and is the Philadelphia region Colliers manager. Specializing in the leasing and sale/acquisition of commercial and industrial properties, he has been recognized as a member of Colliers' Everest Club, which recognizes top production across the Colliers International Americas platform. Also a past president of the Camden County Division of the American Heart Association, Isdaner says his biggest influences were his father and grandfather. "[They're] easy choices as they were both in the real estate business before me. No cell phones, no faxes, no Internet. How did they do it?"
Michael A. Munoz
Senior Vice President, Sales and Marketing, AmeriHealth New Jersey
In his role at AmeriHealth New Jersey, Michael Munoz oversees new business and retention for the entire sales organization. He is also responsible for the development and execution of AmeriHealth New Jersey's entire product line. An industry veteran with more than 25 years of experience, he says his biggest business obstacle is operating in an industry that is changing from day to day, but he looks forward to "continu[ing] to play an integral role as a change leader in the new health care environment." In addition to his work with AmeriHealth New Jersey, Munoz also sits on the board of the March of Dimes, the CARES Institute and the United Way of Burlington County.
Dan Boychuck
Founder and Owner, Benefit Concepts
Dan Boychuck founded Benefit Concepts with his wife, Anne, in 1990, but he has been working in the employee benefit and financial services area since 1983. His goal as an advisor has been to help clients maximize their benefits and meet their financial goals. Under his leadership, Benefit Concepts has been a top five firm for Signator Investors, Inc.'s Practice of the Year competition in 2012, 2013 and 2014. Sponsored by National Financial, the competition recognizes excellence in several key areas of practice management and client service. Following his success in South Jersey, Boychuck says he is looking to expand the company into northeastern Pennsylvania.
Sivaraman Anbarasan
Executive Director and Chief Executive Officer, New Jersey Community College Consortium for Workforce and Economic Development
As executive director and CEO of the New Jersey Community College Consortium for Workforce and Economic Development, Sivaraman Anbarasan works to develop the state's workforce education and training through the resources available at the 19 state community colleges. Though Anbarasan says unpredictable funding for the consortium's workforce development initiatives remains a significant challenge, this past October the consortium was awarded a $12 million grant from the US & NJ Department of Labor to help assist the state's long-term unemployed. Anbarasan says the award will help roughly 900 long-term unemployed residents find jobs through coaching and training.
Jay Kruse
Associate Vice President/ Branch Manager, Dewberry
In the 13 years since he joined Dewberry, Jay Kruse has steadily been progressing in his management career, serving first as the land development department manager, then assistant branch manager, and now branch manager. Overseeing 40 engineers, surveyors and consultants, Kruse has been vital to the firm's growth and success, and he says his goals for the future include continuing the "advancement of projects that focus on green infrastructure and sustainability to improve the quality of life and leave the planet in a better state for future generations." Kruse is also active in the business community, serving as chair of a number of local organizations.
Thomas Juliano
President, Delco Development
Delco Development was started by William Juliano in 1970. Thomas Juliano joined his father's company in the late 1990s, and has been an integral part of the company's operations and growth ever since. With an eye for seeing the best in parcels of land and distressed or underperforming assets, he has helped to expand Delco Development's portfolio of properties. Not surprisingly, he says his father is his biggest business influence, but he admits being in the real estate development business in New Jersey is difficult. "My biggest obstacle and frustrations lie in the entitlements (approvals) on various projects. Even projects that should be 'no-brainers' are difficult to get done."
Kathie Stone
Senior Vice President and Business Banking Executive, Susquehanna Bank
Moorestown resident Kathie Stone has spent more than three decades in the banking and financial services industry, including more than eight years at Susquehanna Bank. She has been a tremendous contributor to growing the bank's assets since joining its ranks and her leadership has proven to be an asset to the company. Stone cites Rosemarie Greco, former Philadelphia Banking leader and personal mentor, as her biggest influence, as Greco "paved the way for the development of future women leaders in the financial services industry, while focusing on the importance of community/business partnerships."
Michael Devlin
President and Chief Executive Officer, Cape Bank
Having served as president and CEO of Cape Bank since January 2009, Michael Devlin says his immediate professional goal is to "successfully complete and integrate the merger that is currently underway" at the bank, as Cape Bank is in the process of acquiring Colonial Bank of Vineland. Having started two banks, Boardwalk Bank and Premium Bank, in his professional career, Devlin has plenty of experience in the field, and will undoubtedly lead Cape Bank successfully through the merger. Devlin also previously served on the board of trustees at the AtlantiCare Health Services and the Jewish Family Services.
Bill MacMillan, CAE, MBA
Founder and Chairman, Association Headquarters, Inc.
Association Headquarters, Inc.—now home to more than 30 trade associations, professional societies and certification boards, and about 170 dedicated association professionals and support staff—started in 1978 in the one-bedroom apartment of Bill MacMillan with only a few clients and five employees. MacMillan admits attracting new clients was one of his biggest business obstacles initially, but he has been able to steadily grow his business and he looks forward to continuing "in an organic, controlled growth manner with meaningful, mission driven trade associations, professional societies and certification programs as full service client partners with the 'right people on the bus' to manage them."
Mitchell E. Hersh
President, Chief Executive Officer and Member of the Executive Committee of the Board of Directors, Mack-Cali Realty Corporation Mitchell E. Hersh serves as president and chief executive officer of the Mack-Cali Realty Corporation, which currently owns or has interests in more than 280 office and office/ flex properties, in addition to 16 luxury multi-family communities. In this role, Hersh is responsible for the strategic direction and long-term planning for the company. He is also responsible for creating and implementing the company's capital markets strategy and overall investment strategy. Additionally, Hersh serves as chairman and chief executive officer of the company's multi-family subsidiary, Roseland.
Dennis Lusk
Director of Sales – South Jersey, Farmers Insurance
A 16-year veteran of Farmers Insurance, Dennis Lusk was tapped to bring the Farmers brand to New Jersey in 2011. Lusk helped build an operation that employs 33 full-time staff members in the recruitment, training, and ongoing performance management of over 100 Farmers Insurance Agency owners across the state, which have helped drive significant market share growth in New Jersey for the national insurer. Lusk also serves as vice-chairman of the Farmers Employees and Agents Political Action Committee (FEAPAC) board of directors and is the board secretary for the Camden County Regional Chamber of Commerce.
Tim Kerrihard
President, Chief Executive Officer, YMCA of Burlington and Camden Counties
Tim Kerrihard has been with the YMCA organization for the past 22 years, working in San Francisco and San Jose, Calif., Princeton, and most recently in Southern New Jersey. Fluent in Spanish, he even served for one year as a YMCA World Fellow in Montevideo, Uruguay. As president of the YMCA of Burlington and Camden Counties, he has been integral in its growth, and today the organization serves more than 30,000 people each year, over half of whom are under the age of 18. Kerrihard also co-directs the New Jersey Partnership for Healthy Kids–Camden.
Roy Fazio
Partner, Chief Marketing Officer, The Protocall Group
Roy Fazio is partner and chief marketing officer of The Protocall Group of companies, a family-owned and operated staffing company comprised of six specialty divisions in the South Jersey and Philadelphia region. He is also a founding member and chairman of the Affiliated Staffing Group, a national staffing industry network of non-competing independent staffing companies throughout the United States, and is active in the business community, serving on the board of Liberty Bell Bank, as well as on the Burlington County Chamber Economic Development Committee. He cites the "many outstanding executives on the boards that he serves" as his biggest influence. "I learn from each on the way they lead their organizations," he says.
Mary Gordon
President, Centryco Inc.
Mary Gordon joined her father's business, Centryco Inc.—a company based in Burlington that makes protective covers for machinery and its operators—right after graduating college in 1979. Since then, she has ascended the ranks to president, helping the company build a foundation for growth and continuity. During her tenure, she has moved the company through ISO 9001 certification, WBENC certification and Lean manufacturing. Since becoming president, she has found replacing people when they retire as one of her biggest business obstacles. "It's hard to find people with the skill sets that we need with a really good work ethic," she says.
Published (and copyrighted) in South Jersey Biz, Volume 4, Issue 11 (November, 2014).
For more info on South Jersey Biz, click here.
To subscribe to South Jersey Biz, click here.
To advertise in South Jersey Biz, click here.