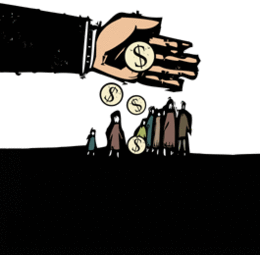 Corporate Philanthropy
South Jersey's executives may be focused on strengthening their businesses, but these 15 local companies are also doing their part to strengthen their local community through their philanthropic efforts.
For many local businesses, the importance of corporate philanthropy begins in the company's earliest stages. For Parke Bank, its founding as a community bank inspires their corporate giving; today, all employees are required to participate in charitable giving, whether it's via donations or getting involved with annual events to benefit local nonprofit organizations.
"It has become a job requirement for our employees. … When we're hiring, we're always looking for someone who is involved in giving back, and can represent our bank in the community," says Daniel Sulpizio, senior vice president and director of retail banking for Parke Bank, who was recently named board president of Habitat for Humanity of Gloucester County.
Mike Carbone, regional president of Pennsylvania and New Jersey for TD Bank, agrees that the time a company and their employees spend participating in local charitable events can often mean far more than monetary donations. The organization sponsors programs ranging from tree-planting days to helping beautify local communities to partnering with local food banks to collect food for those in need. "We always have more employees volunteering than we need for any of our philanthropic activities, because our culture means something to them. … They know they really can play a role in strengthening the community," Carbone says.
South Jersey banks are continuing to prove that there's always something that can be done to help support those who live and work in their community. "We take pride in the local areas we serve, and it goes beyond helping customers achieve financial success. … We feel that partnering with our community and volunteering or investing funds is just as important," says Deborah Smith, senior vice president and community affairs manager for the Wells Fargo Foundation of Connecticut, New Jersey and New York. Last year, Wells Fargo invested a record $6 million to approximately 730 nonprofits in the New Jersey area, with a focus on community development in the areas of affordable housing, workforce development, financial literacy and education, such as a $500,000 donation towards the creation of the Salvation Army Kroc Center in Camden.
But according to Smith, what's most important is inspiring employees to go out into the community and do their part. The company's New Jersey team members logged more than 28,000 hours of community service in 2013 alone.
For other local businesses, the basis of their giving revolves around their industry. Brown's Super Stores, Inc., which operates ShopRite supermarkets, strives to establish grocery stores in regions of South Jersey that were once considered "food deserts," according to Jeffrey Brown, founder, president, and CEO of Brown's Super Stores, Inc.
To that end, Brown founded UpLift Solutions, a national nonprofit organization that supports food businesses, government and other nonprofits to help create sustainable environments for underserved communities. "We feel that the best way to solve problems in our society is to make it part of our work. … It adds a dimension of sustainability and allows us to use our entrepreneurial skills to help solve problems within our communities," Brown explains.
The company played a role in developing the Healthy Food Financing Initiative, in addition to opening offices in ShopRite stores to help customers connect with professionals who can assist with everything from attaining affordable car insurance to meeting their basic health care needs.
The company also launched ShopRite Partners in Caring in 1999, a hunger-fighting initiative that partners with more than 50 food industry manufacturers to provide $2 million every year to more than 1,700 charitable agencies.
Similarly, Horizon Blue Cross Blue Shield of New Jersey channels their company's mission into their charitable efforts by focusing on helping people prevent chronic disease, including diabetes, obesity and asthma. They have also donated $30 million over the past decade to local nonprofits in South Jersey to support the arts, including Mainstage for the Arts in Blackwood, The Discovery Museum in Cherry Hill, The Ritz Theatre in Haddon Township and Moorestown Theatre Company.
"Since we serve all of the state's counties, and our employees live and work in many communities across the state, it's important for us to serve as a corporate citizen and to give back to New Jersey … and to support local organizations that are trying to improve the health and well-being of their communities," says Jonathon Pearson, director of corporate philanthropy and community affairs for Horizon BCBSNJ.
But the company's main focus remains tied to their corporate mission of providing resources to help people stay healthy. They launched the Healthy U program with the New Jersey YMCA Alliance to help prevent obesity—a program designed to prevent childhood obesity by instituting behavioral changes in children from ages 3 to 13, and educating children on proper nutrition, increasing their physical activity and engaging parents.
Atlantic City Electric takes a similar approach to serving their local customers. The company supports more than 285 South Jersey organizations, and employees perform more than 20,000 hours of volunteer work annually to benefit organizations including the ALS Association, American Heart Association, American Red Cross, Community Food Bank, March of Dimes, Special Olympics and United Way. Last year, Atlantic City Electric contributed more than $700,000 to local nonprofit organizations, in addition to sponsoring events such as the PHI Community Foundation's Atlantic City Electric Charity Golf Classic, which has raised more than $1.1 million for nonprofit organizations in South Jersey that are committed to health, youth development, education or low-income advocacy.
"We've been South Jersey's reliable energy resource for more than 100 years," says Vincent Maione, region president of Atlantic City Electric. "Our history brings us closer to the communities we serve, and we are proud of our longstanding connection to South Jersey."
Tony Mahon, president of AJM Insurance Management takes a similar approach when it comes to developing programs to help the families in his own backyard, whether it's sponsoring a series of free summer youth football and cheer clinics, serving on the board of "Teal Talk on Tour 2014," an ovarian cancer education and awareness group based and started in Burlington County, or serving on the board of MEND, a Moorestown-based nonprofit that develops, builds, owns, and manages affordable rental housing in Burlington County.
The company has also remained closely involved with the Burlington County College Foundation, which was formed to offset the cost of tuition and books and supplies for students. "It feels good to be in a place where our company can come up with ideas, and then inspire others to get involved and help implement them," Mahon says.
The region's colleges and universities are also doing their part through an array of programs, such as Rowan University's Volunteer Income Tax Assistance Program (VITA), which helps to prepare basic federal and state income tax returns for low- to moderate-income taxpayers, senior citizens, individuals with disabilities and others.
Currently, Rowan University is also participating in the New Jersey State Employee Charitable Campaign; university employees participate annually in this state-wide initiative that dates back to 1985, and has since raised millions of dollars to support charities across the globe. "Over the years, it has been gratifying to witness the overwhelming generosity of Rowan's employees throughout the campaign," says Margaret Van Brunt, assistant dean of the Rohrer College of Business. "Collectively, we are deeply invested in serving our communities, and this philanthropic spirit makes the university a special place to work. Every gift—at any level—helps to enrich the lives of those in need."
Many local companies choose a cause that has personal meaning to their business, while others take it a step further and develop their own charitable foundations. Mount Construction's charitable foundation has raised hundreds of thousands of dollars for various charitable organizations, and is always looking for new ways to give back. The company makes donations to numerous local benefactors with the hope of helping local individuals in need, whether it's local organizations working to provide affordable housing or arranging toy drives for children during the holiday season, to larger organizations like the Salvation Army or Cooper University Hospital.
"I lived in a hotel room in 1991 when I was first starting my business; and I've always had a theory that if you've been fortunate enough to have personal success, or your business can serve as a platform in some way, that it's your moral obligation to get involved and do anything you can to help those in need," says Dave Smith, founder and CEO of Mount Construction.
Law firm Capehart Scatchard shares a similar philosophy. Since its inception in 1876, the firm and its employees have held a strong belief in performing community service, making donations, and doing their part to fulfill a need in the community.
The company's executive leadership serves on the board for organizations including the Perkins Center for the Arts to Friends of MEND to Twin Oaks Community Services. Additionally, the firm inspires employees by choosing a local cause to benefit each month. "Everyone has a cause that's important to them, and we encourage everyone in our company to do their part to make donations and get involved," says Peter S. Bejsiuk, Esq., managing shareholder for Capehart Scatchard.
South Jersey Industries also serves on the board of many local organizations, with a focus on health and social services, economic development, cultural diversity, education and environmental preservation. The company supports a variety of nonprofit organizations within its footprint, including the United Way of Greater Philadelphia and Southern New Jersey, the American Heart Association, March of Dimes and the New Jersey Audubon Society, among others, but also extends their corporate philanthropy all across the company by communicating with employees on the causes that matter most to them, like Mothers Matter in Gloucester County or their children's schools. "We always ask what we can we do for individual families along with continuing our participation in larger charities," says Gina Merritt-Epps, associate general counsel and assistant secretary for South Jersey Industries. "We feel a company's success should be measured with regards to how strong of a community partner they are."
For Capaldi, Reynolds, & Pelosi, the firm's charitable giving also revolves around several larger organizations in addition to local causes that are important to their employees. The firm has partnered with organizations like the United Way and Gilda's Club, in addition to sponsoring local charitable events like the AtlantiCare Gala and contributing to local schools, including Holy Spirit High School. "Most of our employees grew up right here in South Jersey, and they see the need for philanthropy. South Jersey can sometimes be overlooked, but there are always people in need—so we try to choose organizations and causes that are close to our employees' hearts," says Robert D. Reynolds, chairman of Capaldi, Reynolds, & Pelosi.
For Investors Bank, inspiring employees to get involved has remained a crucial element of their corporate giving. The bank's charitable foundation contributes to organizations including Thomas Edison State College, Habitat for Humanity and Robert Wood Johnson University Hospital, but the corporate team is also involved in hands-on volunteerism at local events. "From our executive leadership to our employees, we believe in creating that energy and motivation for our team by leading by example. … If a company can engage their employees in philanthropy and develop a culture of giving, that's when we really start to demonstrate how important it is to give back," says Sharon Lingswiler, regional vice president at Investors Bank.
Melitta USA has been located in the Cherry Hill area for more than 40 years, and the company has a strong reputation for remaining active in the community and supporting local organizations and efforts. "We feel a strong connection to this area and are committed to giving back to the communities in which we live and work," says Donna Gray, director of public relations for Melitta USA.
Melitta regularly donates coffee served from its mobile café, and offers sponsorships to nonprofit groups. "We believe that if a company gives to the community, their employees should be engaged in philanthropy as well. … But it also works the other way. When we see our employees giving back, we will jump right in," Gray adds.
Conner Strong & Buckelew and the Norcross Foundation have supported nonprofits and community organizations in the Philadelphia and South Jersey region for decades, and have donated nearly $2,000 per employee to local organizations. "Each of us plays a vital role in the health and success of our local neighborhoods. By supporting the organizations that are tackling the region's most pressing challenges, we are validating their missions, raising awareness and helping to create meaningful solutions," says Karen Wallace, vice president and marketing director of Conner Strong and Buckelew. "These organizations improve the community, and, in turn, vitalize the economy. It's a win-win."
Published (and copyrighted) in South Jersey Biz, Volume 4, Issue 11 (November, 2014).
For more info on South Jersey Biz, click here.
To subscribe to South Jersey Biz, click here.
To advertise in South Jersey Biz, click here.