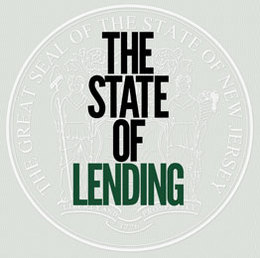 The State of Lending
South Jersey's small businesses struggle to borrow amid a tougher lending climate.
A number of key financial developments have shaped the economic climate of the South Jersey region over the past year. But probably one of the bigger ongoing issues has been the state of loan access. When it comes to growing a small business, loan availability can really make or break a business' success.
There's no doubt that the financial state of the nation has been rocky in recent years. Many companies have fought hard to survive the recession and are still wary about where it left them. Although many have grown since the economic upturn, a lot of businesses report feeling that there's still a long road to get where they want to be. Lending access has been part of that battle. The ability to get a loan to grow one's small business has been somewhat limited in recent years, but many hope that's changing. However, the answer to whether change is on the horizon appears to be, "It depends."
Right now, the lending climate seems to depend on how small businesses are coming to the table. Those that have their ducks in a row and are meeting certain criteria are finding that securing a loan has become a lot more viable. Loans are more accessible and have better terms for those who are in a strong position. But that's not been the case for everyone. For companies that are still facing certain areas of struggle, securing a loan might not be that simple.
The strength of the request
"The state of loans right now depends on the strength of the request," says Arthur C. Campbell, president and CEO of the Camden County Regional Chamber of Commerce. "Some small businesses are finding loans more difficult to get because the collateral of choice for many is real estate. With real estate equity still suffering from market conditions, that collateral is reduced or gone. In addition, very low interest rates increase risk for lenders if the borrower runs into difficulty with payments or collateral deterioration."
But Campbell says that if the company has a strong Profit & Loss statement with significant business equity and is not heavily burdened with debt, they may find that the climate for borrowing has improved. "Low interest rates make borrowing more attractive for businesses wanting to expand, purchase equipment or fund infrastructure improvements that reduce operating costs," he says. "Most banks do have a lot of money to lend and competition is fierce for the best borrowers. This results in the strongest borrowers doing more 'shopping' for the best rates."
"The best customers are certainly able to find borrowing opportunities, but for businesses that aren't at the top of their game, loan access is a bit sluggish right now," adds Dennis Vogt, CPA of Alloy Silverstein, Shapiro, Adams, Mulford, Cicalese, Wilson & Co., which has offices in Cherry Hill and Hammonton. "Banks and regulators have tightened their requirements and reduced the ability to lend to those who are showing any sign of struggle."
"I definitely think the lending climate is good for those who are in a strong position right now," agrees Gary A. Farnesi, senior vice president and regional manager of Cape Bank in Mount Laurel. "Those that have made it through the tough times and have a strong balance sheet are desirable to banks as many are trying to grow their portfolio. If you're in a good position, then you'll find it's pretty competitive."
The problem, says Farnesi, lies among those in the other tier. Even a small issue could be holding a business back from securing a loan. "Especially with larger institutions, which are more ratio-oriented," Farnesi adds. "A little weakness somewhere in the company's credit could cause a lot of trouble with lending possibilities. It could just be one little thing but it could be enough to hold you back. That's where the struggle is right now."
Farnesi says that's where working with a smaller bank could be beneficial. "That's where we shine," he adds. "We do deals with local small businesses that might have struggled somewhere else because we look at the whole picture. We evaluate everything going on."
Susan B. Boyle, MRP, senior environmental practice leader with GEI Consultants, Inc., a leading geotechnical, environmental, water resources, and ecological science and engineering firm based in Mount Laurel, says there may also be issues surrounding the amount of money loaned. Some financial institutions may be unwilling to work with smaller loan requests. She says one of her clients, the Licensed Site Remediation Professionals Association (LSRPA), which represents more than 500 licensed environmental professionals working with property owners, recently ran into this dilemma.
"There was a recent extension deadline that required about 1,000 companies/properties to post remediation funding sources," Boyle recalls. "It was very difficult to find banks that would work with some of the lower dollar funding sources needed. The need for posting remediation funding sources at thousands of clean-up sites in New Jersey is not going away. That work represents a niche for some banks to consider—especially if they can work with smaller cases."
On the positive side
But there have also been quite a few success stories in the region, which indicate hope for the future and an improving local economic climate. Sally Halim, OD, owner of Village Eyecare in Woolwich took out a substantial business loan when she first opened her practice in 2011. She found Wells Fargo Practice Finance easy to work with and felt the biggest benefit was that they used the practice as collateral, as opposed to using her home.
"If you really need a business loan, the money is out there," Halim says. "You just have to do your research and find the right fit for you and your business."
Halim says the small business climate in Woolwich has been very friendly, and that she feels the town has been helpful in getting the word out about supporting small businesses in the area. "The residents of most towns do want to stay local and shop local," she notes. "That's one of the great things about having a small business in a town like Woolwich."
Lynn Bardowski, a local speaker, author, and consultant who helps coach women entrepreneurs on growing their business, agrees that the local climate is very friendly for small businesses. "With national campaigns like 'Shop Local' and 'Small Business Saturday,' there's a renewed focus on supporting small business owners in our backyard," Bardowski says. "But we can all do more to keep our dollars in our community. That's when small business will really thrive."
Pam Cyr, chief retail banking officer at Beneficial Bank, which has locations throughout South Jersey, says she remains positive that an increasing availability of loans in the region will only continue to help the local economic climate.
"Overall, I'm optimistic," Cyr says. "Loans in our area are much more available now than they were a year ago. Among borrowers in the Greater Philadelphia/South Jersey region, the continued improvement of the overall economy has created a positive mood, heating up competition for their business from local lenders. Smaller businesses are growing and looking to either improve or expand their operations. Plus, companies seem to be more focused on adding staff instead of cutting it. These are all encouraging signs."
What to know before you go
As South Jersey businesses aim to pursue lending opportunities, Jim Wall, vice president of sales for Horizon Keystone Financial in Mount Laurel, advises that they be prepared. He says every company should view their Dun & Bradstreet report at least twice a year. "The same applies to one's own credit report," Wall adds. "Many agencies provide free copies of your personal credit report once a year."
When pursuing loans, Wall says business owners should always ask the lending institution what their minimum credit requirements are and what will need to be supplied in the form of financial disclosure for the dollar amount they are requesting. "I would suggest knowing your company's credit as well as your own personal credit," he adds.
Cyr says their advice to a potential borrower is that "knowledge is power." "Do your homework and tread carefully when dealing with a lender because you really need a solid relationship in order to ensure your interests are secure," she says. "At Beneficial we put a lot of importance in relationships and each interaction begins with a very honest conversation about future goals and objectives, providing our customers with the education to do what's right and make responsible decisions."
The first step in getting a loan is knowing who to talk to, Cyr adds. It's important to be educated on the process. That's because good preparation can help the entire process go more smoothly. Be ready with the appropriate paperwork and information.
"Do they have both business and personal tax returns readily available? Their interim business financials? A personal finance statement? A business plan?" asks Cyr. "All of these things are vital if people want to be successful. Preparation gives you credibility and knowledge gives you a tremendous leg up on the competition."
A look at the future
Some say that the limited access to loans for those who really need them may be holding the region back a bit. Vogt feels the tight lending policies don't allow for new ideas and fresh opportunities to enter the space. "I do feel that the South Jersey economy is a bit sluggish," he says. "I'm not seeing a whole lot of new business or new ideas. Those that might have new ideas are keeping them to themselves because they don't have the funding to make them a reality. I also see a lot of existing businesses that are holding their own but not necessarily doing tremendously better."
Farnesi agrees. "I think there are a lot of businesses that survived the recession but are still trudging along," he says. "There haven't been any significant increases in business in South Jersey. A lot of them are just doing 'OK' and hanging on. They aren't bringing in a lot of new people or doing a lot of growing, and much of that has to do with the fact that there are still a lot of uncertainties on the table. Obamacare and the potential for tremendous increases to small business healthcare costs is one major uncertainty right now."
But Farnesi says that some businesses have beaten the odds and are seeing growth right now. Halim is among them. "I have seen growth every year since opening my practice in 2011," she says. "South Jersey is growing and is wonderful for small businesses. I am very optimistic about the future of being a small business owner here. While researching where to open my practice, Woolwich was rated as one of the fastest growing townships on the East Coast and I have seen it first-hand over the last three years."
While future growth might be a bit sluggish, Campbell says he does think it will happen. "For the future, I see a slow, but steady increase in borrowing as more businesses adapt to the economic landscape," he says. "Lenders will still be cautious but perhaps a bit less so. We may also see growth in borrowing for new and start-up businesses using non-bank funding sources."
The consensus seems to be that things are improving. Boyle says she would sum the future up as "getting better." She is also already seeing an uptick in regional work for the Greater Philadelphia/South Jersey region. And Wall notes that a look at how the office furniture industry is doing is a little sneak preview at how the overall economy is doing.
"One of the markets we've seen incredible growth in is office furniture," he says. "If companies are moving, expanding, and/or renovating their space, they need office furniture—and financing for that furniture. If that industry is performing well—and it is—it tends to be a good indicator for how the rest of the local economy is trending."
Published (and copyrighted) in South Jersey Biz, Volume 4, Issue 10 (October, 2014).
For more info on South Jersey Biz, click here.
To subscribe to South Jersey Biz, click here.
To advertise in South Jersey Biz, click here.