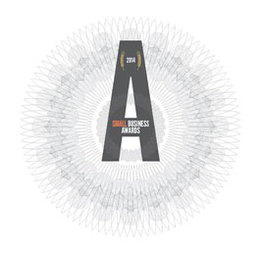 2014 Small Business Awards
It's no secret South Jersey is a great place to grow your business. From its ideal location to its access to various modes of transportation and everything in between, it's no surprise that a number of businesses have decided to call our area home. And while big businesses in the area seem to have set the course for success, there are just as many small businesses that have been able to flourish in this part of the state. To recognize the efforts these small businesses have put into making South Jersey so great, we present to you the 30 recipients of our first-ever Small Business Awards. These businesses go above and beyond to give their customers the best services available, and we commend them on their efforts. From a law firm to an energy expert, these companies are setting the standard for small businesses in our area.
Automatic Door Installation
Automated Access Systems, Inc.
Anneliese Glaesman, president
You want to offer your customers and employees easy access to your business, and when it comes to cost-effective solutions that add value, Automated Access Systems, Inc. has the answers. 78 Pequot Trail, Medford, (609) 654-1554, AutomatedAccess.org
Business Consultant
Business ExSellence
Eleanor Togneri, owner
Offering a variety of consulting services backed by more than 35 years of experience in customer service and sales, Business ExSellence can help when you want to take your company to the next level. Cherry Hill, (609) 332-2797, BusinesssExSellence.com
Collections
C&H Collection Services
Claude White, director
In business since 1985, C&H Collection Services prides itself on being successful at collections without harming customer relationships. 3 Executive Campus, 2nd floor, Cherry Hill, (800) 308-4357, CHCollects.com
Commercial Cleaning
H & S Cleaning Service
Sheila Ramsey, owner
Specializing in commercial cleaning for medical facilities, schools, offices and more, H&S Cleaning Service will help keep your business looking its best. 109 Nocentino Drive, Swedesboro, (856) 241-1061, HAndSCleaning.com
Commercial Mover
Simonik Transportation & Warehousing
Jim Pippin and Frank McCartney, co-owners
Robert Kandetzke, president
Keith Wood, VP operations
Offering a variety of commercial moving services, including relocation budgeting and inventory control, no move is too big or too small. 122A Kissel Road, Burlington, (856) 258-7075, SimonikAllied.com
Courier
A-1 Courier Service
Brian Lane, owner
A-1 Courier Service can get your same-day deliveries to their destination on time. There's no job too small, and delivery is available throughout the tri-state area. 2 Split Rock Drive, Suite 5, Cherry Hill, (856) 424-8393, A1CourierServiceNJ.com
Electrical Contractor
D.P. Murt
Dennis P. Murt, owner
Whether you need a lighting solution for your existing business or you're expanding and need a complete electrical overhaul, veteran-owned D.P. Murt is there to help. 9028 Collins Ave., Pennsauken, (856) 665-3488, DPMurt.com
Emergency Equipment Personnel
Power Equipment
William E. Friend, owner
For those unexpected failures at your business in the middle of the night, Power Equipment offers 24-hour services for all facets of emergency backup power systems. 1259 North Church St., Building 2, Moorestown, (609) 267-7373, TheGenPros.com
Energy Solutions
Harriett's Energy Solutions
Bob Harriett, Ann Harriett and Bonnie Harriett-Crosby, co-owners
Quality customer service is a priority at Harriett's Energy Solutions, where they provide innovative solutions to your energy needs. 101 South Main St., Medford, (609) 654-2035, HarriettsES.com
Exterminating
Hoffman Exterminating
William T. Hoffman, president
Having a pest problem may feel like the end of the world, but Hoffman Exterminating can help you remedy any situation you're dealing with. 532 Bridgeton Pike, Mantua, (888) 463-3628, HoffmanPest.com
Financial/Investment Advisor
HFM Investment Advisors, Inc.
Michael Pallozzi, president
HFM educates and empowers clients to make wise financial decisions, while helping prepare individuals, families and businesses for life's transitions like retirement, higher education, separation or loss. 215 Fries Mill Road, Turnersville, (856) 232-2270, HFMAdvisors.com
Financial Services
Cappelle Accounting, LLC
Jefferey M. Cappelle, owner
When it comes to tax preparation, accounting or any other financial service, Cappelle Accounting aims for the best possible results and maximized returns. 4551 Route 42, Suite 7, Turnersville, (856) 629-2111, CappelleAccounting.com
Health and Wellness
Down Dog Wellness
Kerry Morgan, owner
When life and business grinds you to the breaking point, Down Dog Wellness provides the bridge to elevate, regroup and reenergize you. 200 N. Route 73, Berlin, (609) 634-9491, DownDogWellness.com
Information Technology Services
Xact IT Solutions, Inc.
Bryan Hornung, president
Delivering fast and affordable services to small businesses, you won't reach an automated service when you call Xact and they'll respond to requests in an hour or less. 901 Route 168, Suite 405, Blackwood, (856) 282-4100, XITX.com
Marketing
Stokes Creative Group, Inc.
Joanne Stokes, Chris Stokes and Bob Palumbo, principals
With more than 20 years of experience, Stokes specializes in conceptualizing, designing and producing print collateral, websites, interactive media and video productions. 1666 Route 206, Vincentown, (609) 859-8400, StokesCG.com
Managed Print Services
Allied Document Solutions and Services
Rob Richardson, president
With a local appeal, Allied Document Solutions and Services offers managed print services to not only local businesses but also the region and across the U.S. 200 Church Street, Swedesboro, (856) 241-2000, ADS-S.com
Payroll Services
Business Accounting Systems, PC
Leon A. Elwell, RA, EA, president, L. Scott Elwell, MST, EA, vice president
As payroll is an accounting function, Business Accounting Systems, PC, which has been in business for more than 43 years, offers the perfect combination—an accounting firm preparing your payroll. 943 Kings Highway, West Deptford, (856) 853-5422, BAS-PC.com
Printing Supplies
Perfect Image Cartridge Solutions
Anita Schultz, owner
There may be big box office supply chains offering the same services as Perfect Image Cartridge Solutions, but there's no way the big stores can beat their customer service. 901 Kingston Drive, Cherry Hill, (856) 321-1300, PICSI.com
Renewable Energy Experts
Eastern Energy Services, Inc.
Fred Hauber, CLMC, CSLC, CLEP, CET, REP, owner
As pioneers in the renewable energy and energy conservation field, Eastern Energy Services can help you make your business as energy efficient as possible. 2 Coleman Court, Southampton, (609) 801-1990, EasternEnergyServices.com
Staffing
Express Employment Professionals
Emidio Mariani, owner
Whether you're looking for full time or temporary staffing, Express Employment Professionals can help you find the right candidate for the job. 110 N. Broad Street, Woodbury, (856) 845-0800, ExpressPros.com
Architecture and Engineering
DCM Architecture and Engineering
DCM is committed to high-performance design and to provid­ing clients with appealing, energy-efficient buildings that provide competitive returns of investment. Company president Eduardo Guzman, RA, LEED AP, says this focus, along with DCM's "integrated approach to full building services, which includes in-house design, construction and maintenance capabilities," is what sets the firm apart from its competitors. While DCM has had a hand in a number of successful projects locally, Guzman notes the future goals of DCM include expansion, and to "establish our company as a leader in the design and construction markets along the East Coast of the United States, Mexico and the Caribbean." 200 Federal St., Suite 435, Camden, (856) 479-9101, DCM-AE.com
Business Attorney
The Law Office of Robert J. Incollingo
Concentrating on real estate and construction litigation, The Law Offices of Robert J. Incollingo offers its clients experience, personal attention and effective representation in difficult circumstances. "I think my clients appreciate the benefit of my experience, rather than being passed on to a junior attorney as they might expect at a bigger firm," says Robert J. Incollingo. "These relationships are personal with me. I go in prepared, and I go in to win." Though the construction and real estate industries were especially hit hard during the last several years, and the recession took its toll on the firm's client base, Incollingo says, "It's coming back now, and I see good things ahead." 4 Munn Ave., Cherry Hill, (856) 857-1500, RJILaw.com
Commercial Signage
Sunrise Signs
An independent company founded in 2008, Sunrise Signs specializes in providing fleet branding solutions for small- and medium-sized businesses looking to increase their brand recognition and create a unified company identity. Owner Adam Sokoloff says, "Every wrap we produce is underscored with the goal of creatively solving challenges for our clients. These challenges can range from simply increasing exposure all the way to rebranding a service fleet to create a single, unified, and consistent brand identity. No matter the scale of the project, knowing that we're truly helping local businesses improve themselves is really a reward within itself—no matter how cliché that may sound." 1325 Crescent Blvd., Unit D, Gloucester City, (856) 456-1809, SunriseSigns.com
Business Solutions
Envoy Business Advocate
Owned by Bonnie Natal, a certified payment professional, Envoy Business Advocate offers a number of business solutions for everything from credit card processing to PCI security. Natal bases her business on building lasting relationships with customers, which is something she says many business owners do not have with their merchant services representative. "My clients have my cell phone number and I always answer the phone. If a terminal stops working, I make sure they have a replacement as quickly as possible. It can be in as little as 1 hour, or by the next day." 100 Springdale Road, Suite A3 PMB 209, Cherry Hill, (856) 577-3360, EnvoyBusinessAdvocate.com
Relationship building
Jest Notes and Baskets
Jest Notes & Baskets is a corporate gift basket company with a niche in the client retention arena, focusing on developing loyalty and building relationships for its clients. Based on the tag line, "Designed to build your business," owner Cheryl Plisken says Jest Notes & Baskets can customize, personalize and ship their products anywhere in the country. "Our goal is to handle all of the work and have our clients take all of the credit," she says. "What we make is easy and affordable." 106 Ark Road, Lumberton, (609) 714-3366, JestNotes.com
Environmental Consulting
Resource Renewal
An integrated group of companies in the environmental consulting and remediation fields, Resource Renewal offers solutions for environmental problems. The company's objective, according to Jeffrey C. Dey, CEO of Resource Renewal, is to have all environmentally impacted real estate in the region be renewed and reused. "Our goal is to be involved in as many of these projects as possible. Real estate is not being created, what we have is all there is, so finding ways to remedy the impacts so that what is unusable can be used again is our primary goal." 10 Lippincott Lane, Unit 1, Mount Holly, (866) 736-3348, ResourceRenewal.com
Transportation
Albert's Transportation
Family owned and operated by experienced professionals since 1985, the fleet of Albert's Transportation is large and diverse enough to meet all your transportation needs. Whether you're traveling for your own business or you have a client to take care of, Albert's has a transportation option for you. "Our primary goal is to make your ground transportation as satisfying as possible," notes Bob Schiavo, who owns the business with his wife, Chris. Open 24-7 and available every day of the year, while being conveniently located in Mount Laurel and offering the newest model vehicles with certified drivers, Albert's can be your confident transportation choice. 1126 Route 73 S., Mount Laurel, (856) 222-9600, AlbertsLimo.com
Recruiting
Emerson Group
Since 1971, Emerson Group has provided recruiting, staffing and consulting services to companies in all industries. Founded on the core values of honesty and integrity; fairness, respect and genuine care for others; and personal touch, president Bill Emerson says Emerson Group's core purpose is to "help others become more successful." With the goal of continuing to strengthen its presence in the tri-state area while providing a unique approach to the services his company provides, Emerson says he would also like to "continue to improve our processes, so both clients and candidates put us in a class all by ourselves." 1040 Kings Highway N., Suite 400, Cherry Hill, (856) 667-9180, EmersonGroupInc.com
Construction Manager
New Road Construction Management
Established in 1979, New Road Construction Management has earned a reputation for delivering quality construction projects completed on time, within budget and free of claims. Specializing in providing comprehensive facility support services to a variety of clients as the owner's representative, corporate principals Scott Weitz, RA, PP, Dave Macken, RA, and Chuck Romanoli, CCM, are continuously working to go "above and beyond to ensure our client's satisfaction with our services," says Romanoli. "[All of the principals] are actively engaged with our clients and make every effort to ensure the projects we manage are successful." 1876 Greentree Road, Cherry Hill, (856) 424-8888, NewRoadConstruction.com
Vending
LMS Vending /Avanti Markets
LMS Vending/Avanti Markets is a company that has brought a new approach to the classic vending machine options. Offering micro markets to companies with 150 or more employees, these markets allow employees the benefits of a full service convenience store right in their cafeteria. This fresh food allows employees to have access to healthy alternatives to the typical vending offerings, and there are hundreds of different menu options available. One challenge owner Keith Levin says his company faces is "working with decision makers to help them see past vending machines, which is all they've ever known. The concept of change for some people is difficult to overcome." 9275 Commerce Hwy., Pennsauken, (609) 352-4747, TryAvanti.com
Published (and copyrighted) in South Jersey Biz, Volume 4, Issue 10 (October, 2014).
For more info on South Jersey Biz, click here.
To subscribe to South Jersey Biz, click here.
To advertise in South Jersey Biz, click here.