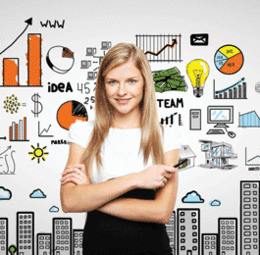 What's Your Business DNA?
Are you cut out for the corporate world or are you equipped to go out on your own?
The decision to take the entrepreneurial leap is never an easy one. But the fact is, some are more suited for corporate life rather than taking on the world of entrepreneurship, and vice versa.
So we decided to talk to some experts to find out just what it takes to become an entrepreneur, or if there is more success to be found climbing the corporate ladder? Read on to find out what your business DNA is.
What does it take?
Pursuing an entrepreneurial dream has a lot of pros. Many are attracted to the idea of being their own boss, making their own hours, and pursuing what they really love. But there are downsides, too. It's hard to escape the business when you're the boss; and you may even end up working longer hours and often taking work home. What's more, starting a business can also require some serious capital and financial sacrifices. All of this can be very stressful to the new business owner, and why experts say being an entrepreneur takes a certain kind of person.
"An entrepreneur has to be very diverse in their skill set," says William Emerson, president of Cherry Hill-based Emerson Personnel Group, which provides recruiting, staffing and consulting services to companies within all industries. "When you're first starting something up, you're the salesperson, the CFO, the marketing guru—basically you're wearing all of the hats in the business. And whether it's a product or a service that you're selling, you have to have the ability to go out and actually sell it. People won't come to you automatically. Not everyone has that makeup to be passionate and willing to market and sell your business."
Those who are well-suited for corporate life often have that drive and passion—after all, that's what it takes to climb the ladder. But they also crave stability, says Emerson. Whereas entrepreneurs have to be risk takers, those looking to make their way up the corporate ladder typically have at least some sort of safety net with their company.
"Someone who is going to do well in the corporate setting has to be a team player," Emerson says. "They typically like structure and they appreciate a clearer career path, which the corporate world will often provide. Those working within the corporate structure typically have opportunities to rise in the ranks and hard work often pays off."
Corporate employees often get to "leave work at work," adds Emerson. But when you're the boss, the job is often 24/7, he says. "Even when you're home at night, you're at least still thinking about it," he adds.
Pursuing the Dream
But for many, that's the dream. "I do find that entrepreneurs are tenacious as they tirelessly work towards their vision with unwavering determination," says Merrick Rosenberg, president of Team Builders Plus, a Marlton company that offers career development, management training and team-building opportunities. "Second, they have optimism that is linked to a healthy dose of confidence in their ability to turn their dream into a reality. Third, they have a strategy for bringing their ideas to life—not just a hope that it will happen. And fourth, they embody passion and commitment to change the world or make a difference."
For entrepreneurs with a true passion and a serious dream, it's not just about making money, Rosenberg says. That was certainly the case for Patti Maltese, co-owner of TLC HomeCare Services, LLC in Moorestown. When Maltese and her business partner, Kelly Tandourjian, first decided to start a business, it was because they saw a need for non-medical services to be offered in the home. They each had personal experience with family members who needed some additional assistance such as cooking, cleaning, errands, or other chores, but didn't require full nursing care or assisted living. Maltese and Tandourjian had first worked together in the staffing industry and they knew they made a good pair. But it was still scary.
"We had been working for other people and within companies for all of our careers up until that point in 2009," Maltese says. "It was a daunting but exciting concept to be able to do things the way you want to do them. In 2009, we were at a crossroads in our career paths; and it was a true opportunity. You talk about it and dream about it for years, but when the reality of it comes to fruition, it is both an exciting and a scary journey."
Part of the excitement is realizing the opportunity to make your own decisions—and to make a difference. Maltese says that when you work within the structure of a company you realize you only have "so much say in the decision making" and only so much control over what happens. "You always have that feeling that, 'If I owned this company, I would do things differently.' You want to make change, but change is not always a welcomed idea to companies that may be set in their ways. I've always believed, however, that change is good."
It's that passion for change where new ideas and ultimately new businesses are often formed. That was the case for friends Matt DeNafo, Nick Gargano and Mark DeNafo, who always enjoyed playing in local sports leagues, but found that they were not very well organized. They saw opportunity for change—and possibly a business model.
"We thought we could take all the unenjoyable aspects of the current leagues we played in and improve them to make the most well-run leagues around," says DeNafo, who is now co-owner of PlayMore Sport & Social Club in West Berlin, which has expanded from a seven-team softball league to a 10,000 member sports and social club since it began in 2009.
DeNafo agrees with business experts like Rosenberg and Emerson who say that it's not just enough to have the dream. You have to have a passion to see that dream come to fruition. "We believe that anyone can take an idea and turn it into a business," he says. "But making it successful takes a person that has extraordinary qualities and a vision that he or she believes in from the bottom of their heart. That's the mark of a successful entrepreneur."
Published (and copyrighted) in South Jersey Biz, Volume 4, Issue 9 (September, 2014).
For more info on South Jersey Biz, click here.
To subscribe to South Jersey Biz, click here.
To advertise in South Jersey Biz, click here.