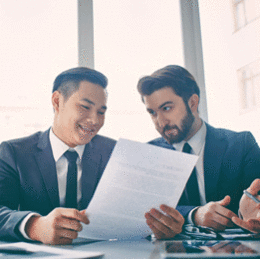 To poach or not to poach?
Experts sound off on potential ramifications of wooing employees from competing businesses.
Poaching employees from competing businesses has become an emerging trend in today's business world, experts say.
"As a search firm, we do spend a great deal of time attracting candidates from one position to the next; our business spends about 50 percent of the time doing just that," says Stephanie Batchelor, owner and general manager of Express Employment Professionals, a specialized recruiting group with offices in Somerville and Edison.
"Social media has certainly made it easier for headhunters to identify top talent that may be open to hearing about new opportunities."
Batchelor says poaching, or wooing employees, has a lot to do with the economy. "The better the economy is doing, the more often this occurs. As talent becomes harder to find, recruiters have to be smarter and better at attracting folks who may be employed but not necessarily seeking new employment," she says. While Batchelor says she sees this happening with every level of employee, it happens more frequently with high-level employees.
The effects of this phenomenon are mixed.
"I think [it] can be good and bad. I think candidates or prospect candidates need to be smart about going from one good opportunity to go to the next," she says. "Oftentimes, candidates are wooed by the salary increase and leave great jobs for positions that pay more. I don't believe employees should ever allow themselves to be poached simply for financial gains; there has to be more to making a move other than just a bump in salary."
But Batchelor says it's important for employees considering a move to do their homework.
"It's important to ensure that candidates are not pursued to accept a position under false pretenses. Oftentimes, companies may do or say anything to attract a candidate; it's very important to do your homework and ask the right questions in order to avoid this from happening," she says. "[But] another benefit of poaching is the transference of knowledge and skills amongst organizations."
Wooing employees can also have legal ramifications. Gary N. Elkind, owner and founder of Elkind and DiMento, P.A. in Cherry Hill, says there are a few questions to ask before poaching an employee.
"We'd have to look first at the written contract that the employee would have signed with the employer, see what the terms of that contract say. In contract work, everything is really determined by the writing itself. While there are always extrinsic factors, [the writing] is always your first guidepost," he says. "You need to see if there is an employee contract, what the terms of that employee's contract say … if the contract is at-will."
An at-will contract, Elkind says, means either the employer or employee can terminate the relationship, as there is no specific term of employment within the contract. "[It means] you can terminate the contract or they can terminate you," he says. "Typically, there is a notice provision in there, whether it [is] 30 days or two weeks' notice."
Other types of contracts include term-certain contracts. Even a term-certain contract may have certain provisions within it for termination, he says. Another key point is whether a potential employee has a restrictive covenant.
"For example, let's assume you have a contract with your employer. Your contract may say, upon termination, that for a period of 'x' time—typically one or two years—you cannot go work for a competing employer within a certain geographical area; you cannot call on or solicit any of the customers with whom you did business with prior to the termination of your employment; you cannot utilize any confidential or proprietary information; you cannot solicit any former coworkers of yours to leave your former employer; you cannot solicit any customers," Elkind explains.
Restrictive covenants, he says, are common in certain industries. "The restrictive covenant cannot prohibit an employee from making a livelihood. They are just there to protect the interests of the business," Elkind says.
Elkind says he represents the other side of the issue, as well—the company the employee has left. "Let's assume I represent a company that is being poached. The first inquiry for my client is, does the employee who has left have a restrictive covenant? Is the restrictive covenant being violated?
"For example, if I represent a sales company, did the salesperson go to a competing company within the same geographic area, which most likely is going to be covered by a restrictive covenant if there is one," he says. "Then what you do is you seek to enforce the restrictive covenant. This is the option of the company whose employee is poached wherein the former employee had a restrictive covenant in place."
Even if an employee does not have a restrictive covenant, there are certain common-law duties that employee has, Elkind explains. "Those are duties of loyalty to your [current] employer, as well as your former employer. You are not supposed to be utilizing proprietary or confidential information from your former employer, regardless of whether you had a restrictive covenant. "
He also says he often represents the employer who has hired the new employee, oftentimes not knowing that employee had a restrictive covenant.
"If I represent an employer—and this happens all the time—where they hire a salesperson who, as it turns out, has a restrictive covenant, the company will let me know if they want to stand by the employee or try to defend the action, or whether they want to try to work around the restrictive covenant so there is no violation," he says. For example, the company could put the employee in a different sales territory. "In certain cases, my employer may say, I'm going to let the employee go, [that they] didn't know they had a restrictive covenant."
In regards to poaching, Elkind puts it simply.
"A key for poaching is whether or not the employee being hired by the new company had a restrictive covenant or not, what the terms of the restrictive covenant are, what the role of the new employee is with the new employer, and whether it violates in any manner the restrictive covenant," he says. "To file proceedings against a violating company is very expensive, and judges are somewhat reluctant to enforce restrictive covenants unless the violation is somewhat egregious."
And when it comes down to it, many fall back on the capitalist values of the United States, Elkind says.
"For the business that is doing the poaching, the defense always is, this is America, there is free competition, and you can poach employees—depending on the framework.
Published (and copyrighted) in South Jersey Biz, Volume 4, Issue 9 (September, 2014).
For more info on South Jersey Biz, click here.
To subscribe to South Jersey Biz, click here.
To advertise in South Jersey Biz, click here.