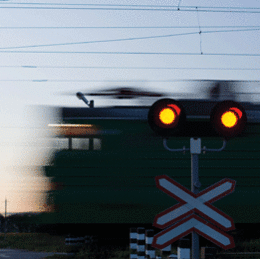 South Jersey's Role in Transportation
How growth in freight, rail and air transportation options are putting the area on the map.
Among the benefits of living and work­ing in South Jersey is the region's access to both local and international portals to conduct business with clients based anywhere from Manhattan to overseas. Thanks to South Jersey's ever-improving transportation infrastructure, from advancements in air and rail to improvements in local highways, it's becoming easier than ever for businesses to become successful players in markets all over the world.
"There's a lot of growth happening for businesses in South Jersey, and having a viable transportation network only makes the region more attractive," says William Ragozine, executive director of Marlton's Cross County Connection, funded by entities like the Federal Highway Administration, New Jersey Transit, North Jersey Transportation Planning Authority and the Delaware Valley Regional Planning Commission. "We have a lot of room to grow, and when land values and the cost of building or leasing are less costly here than in North Jersey—and we have a strong network of transportation—it makes it really enticing for companies to do business here."
The role of technology in business has also helped. According to Dr. Richard C. Perniciaro, vice president of facilities, planning, research, and executive support and director of the Center for Regional and Business Research at Atlantic Cape Community College in Mays Landing, one of the most important ways South Jersey can compete with cities like New York and Philadelphia is through its convenient transportation options for both consumers and businesses. "Now that companies no longer have to be located in the middle of big cities to stay afloat, and can conduct their business from anywhere via the internet, the region's most important task isn't always how well it moves its goods … but how well it moves its people," he says.
Among the region's key players in connecting South Jersey businesses to the global marketplace—and its local residents to the world—is Atlantic City International Airport, which is becoming one of the fastest-growing regional airports in the Northeast. Last year, the Port Authority of New York & New Jersey (PANYNJ) entered into a management agreement with South Jersey Transportation Authority, operator of the airport, to provide services including airport business de­velopment.
According to E.J. Mullins, program director of PANYNJ for Atlantic City International Airport, the organization has been actively engaged in route analysis and connections with other airlines regarding service to underserved routes.
In April, the PANYNJ connected Atlantic City International Airport to United's hubs in Houston and Chicago, effectively connecting the airport to more than 100 domestic and 60 international cities. "Intermodal transportation options are critical to an airport's success … and infrastructure projects that facilitate the movement of freight onto and off an airport are also important," Mullins says.
Though there is currently little air cargo activity in Atlantic City due to the type of aircraft and airlines that serve the airport, Mullins notes there could eventually be an increase in air cargo capacity brought on by the carriers that serve the airport, a crucial method of expediting air shipments and transporting local business travelers to their national and international destinations. "Quick connects to major arteries will be critical in facilitating the movement of time-sensitive air shipments, and access to nearby major metropolitan cities like New York and Philadelphia, in addition to Atlantic City, will be a prerequisite for increased air service—both domestic and international," he adds.
But perhaps one of the biggest leaps forward in the region's expanding transportation network is the progression of the long-awaited Paulsboro Marine Terminal project, which moved forward this summer when Holt Logistics Corporation, an 88-year-old family-owned port terminal and warehouse operator with facilities in Gloucester City and Philadelphia, partnered with the South Jersey Port Corporation for the construction of the new multi-purpose terminal. The first new marine terminal to be built in South Jersey in five decades, the expansion's benefits are promising, with the hope of generating some 850 new jobs. Though Paulsboro's port location has been vacant for more than a decade, its new terminal is expected to cover 150 acres of waterfront land, with the opportunity to expand to 190 acres. A new pier will also be built to accommodate tenants at the port; 1,500 linear feet of deep-water berths will allow companies to ship wares down the Delaware River and across the globe.
Evesham-based energy firm Holtec International also accepted $260 million in state aid to build a factory in Camden's port district, ultimately supporting almost 400 jobs. It will serve as a training academy for unemployed Camden residents and veterans. Along with the Port at Paulsboro, the two projects are expected to generate thousands of construction jobs. "One of the best things about expanding our ports is the construction jobs that we will create now and as we continue to build our wharf, while new opportunities for water-born commerce will allow for ship activity and cargo … which will also create jobs," says Jay Jones, deputy executive director of administrative Services for the South Jersey Port Corporation.
"If you look at global exports in New Jersey, upwards of 20 percent of all manufacturing services depend on exports for their jobs," says Linda Mysliwy Conlin, President of the World Trade Center of Greater Philadelphia (WTCGP), a source of international business support for the region that provides international trade assistance and global relationships for businesses. The organization is one of more than 330 World Trade Centers that help connect businesses to a global network of trade resources and potential customers for their companies through services and programs to help companies expand their businesses globally and generate economic growth and job creation both in Pennsylvania as well as South Jersey.
"These projects are going to be transformative for Camden, as we enhance the aesthetics and reconfigure the port complex, and even make some operating improvements," adds Kevin Castagnola, executive director and CEO for the South Jersey Port Corporation. The Economic Opportunity Act has also helped support the development of jobs on the Delaware River Complex for all three states that touch the river. "We're bringing in new cargo and new job opportunities, and this is only the first phase," he says.
From the Coast Guard to crane and forklift operators to freight truck drivers, the expansion of the port will allow South Jersey to dock ships and handle cargo in a way that has become challenging since the economic downturn, Castagnola says. This year, the port is already 38 percent ahead of last year in terms of total tonnage through July, and at 516 tons of imports in the first three months of this year, it has already handled more than any other time in its history.
"Ports mean prosperity, and now we have this opportunity to expand New Jersey's transportation infrastructure to compete and serve as a viable player in the global marketplace," Castagnola notes. "The Delaware River is a highway that provides very powerful connectors, logistics, and transportation between manufacturers and distributors across the globe."
The last decade has seen an uptick in the number of companies that are turning to global exports in efforts to expand their businesses, which is why South Jersey's transportation options have become so critical in allowing the region to compete not only with New York, Pennsylvania and Delaware, but also overseas, Conlin says.
"The Philadelphia and South Jersey region have an active port system and a competitive airport. … We're certainly seeing a lot of growth, and that's going to continue to support the expansion of South Jersey's role in trade all over the world," she says. According to Conlin, New Jersey exports some $37 billion in goods and merchandise, with more than 21,000 companies currently exporting in the state.
Approximately 92 percent of those exporters were small and mid-sized companies with fewer than 500 employees. "These transportation avenues help local companies look beyond domestic markets, which have been a little sluggish, to help grow their sales and create more jobs and employees right here," she adds.
But when it comes to enhancements in transportation, it's not all about commercial projects. From improvements to Route 295 to a new rail line proposed from Camden to Glassboro, local transportation entities recognize that an efficient, easy commute is more important than ever to local businesspeople. That's why NJ TRANSIT has been making great strides in the proposed South Jersey Bus Rapid Transit (SJBRT) System, which is expected to improve transit service along the Atlantic City Expressway, New Jersey Routes 42 and 55, Interstates 76 and 676, and downtown Camden and Philadelphia.
"Bus Rapid Transit uses transit priority treatments, improved facilities and technology to provide an enhanced transit experience that's quicker and more reliable than traditional bus service," explains William J. Smith, senior public information officer for NJ TRANSIT. The SJBRT System will provide a new high-quality transit service between Gloucester and Camden counties, as well as downtown Camden and Center City Philadelphia.
"The BRT project will give residents and workers a new route of travel that's safer and more economical," Ragozine adds. "It will be a real boon to the economy by saving workers money and providing them with a new route of travel, possibly even eliminating the need for a vehicle and all the costs associated with driving," he says.
Similarly, the New Jersey Department of Transportation's (NJDOT) I-295/I-76/Route 42 Interchange project in Bellmawr, Mount Ephraim and Gloucester City was designed to improve safety and reduce traffic congestion at the intersection, which currently doesn't provide a direct connection for I-295 through traffic. The current intersection requires motorists to reduce their speed to negotiate ramps, and all while competing with vehicles entering from Route 42 and I-76.
"Offering a safe, efficient, low-cost way for workers to travel keeps them here in South Jersey; a lot of people end up quitting their jobs because the travel becomes too expensive or difficult, so a project like this can do so much in making their commute easier to afford—and with the added bonus of camaraderie and company that you can't put a dollar amount on," Ragozine says.
The Glassboro-Camden Line (GCL) is a proposed 18-mile passenger rail line between Glassboro and Camden being studied by The Delaware River Port Authority (DRPA) and PATCO as a way to help transport workers across Gloucester and Camden counties, including communities like Glassboro, Pitman, Sewell, Mantua, Deptford, Wenonah, Woodbury Heights, Woodbury, Westville, Brooklawn, Gloucester City and Camden. NJ TRANSIT is funding the $8.1 million environmental study, with the DRPA serving as project manager.
"In South Jersey, we have every option imaginable when it comes to transportation, from vanpools and carpools to NJ TRANSIT to PATCO," Ragozine says. "I think local employees are happy about the options they have here, and when you have something like BRT or a new rail line in the future, it's exciting for local businesses and consumers alike."
Published (and copyrighted) in South Jersey Biz, Volume 4, Issue 9 (September, 2014).
For more info on South Jersey Biz, click here.
To subscribe to South Jersey Biz, click here.
To advertise in South Jersey Biz, click here.