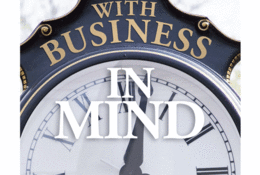 With Business in Mind
We take a look at the towns in South Jersey that make it easy to start a business and the incentives that can help along the way.
When it comes to starting a business, the old adage still rings true: it's all about location, location, location. In South Jersey, countless business owners are choosing to open their doors—or relocate—in Burlington, Gloucester, and Camden counties to take advantage of the array of business-friendly amenities the region has to offer, from an educated workforce to convenient transportation options.
Best of all, New Jersey is making it easy for businesses to set up shop in the region. Thanks to the introduction of tax credits and incentives for developing in urban zones such as Camden, to programs like Grow New Jersey, there are numerous municipalities in South Jersey experiencing an influx of new and relocating businesses.
"We absolutely can't ignore what the state has done with Grow New Jersey, and how that's benefiting the business community in towns like Camden," says John M. Adderly Jr., executive vice president and managing director of Mount Laurel-based NAI Mertz Corporation, the region's largest brokerage firm.
Created under the Economic Opportunity Act, the Grow New Jersey program is providing financial incentives and tax credits for job creation and retention in qualified areas. "Due to state incentives, Camden has become an intriguing option for businesses that are looking to take a chance on the revitalization of the once-thriving waterfront town," agrees Todd M. Levin, senior associate for Wolf Commercial Real Estate in Marlton. "The incentives, in many cases, can offer significant impact potential to the net income of a company."
But that doesn't mean a company has to relocate to Camden to take advantage of state-sanctioned financial assistance. Experts like Bruce Farrell, senior vice president of development and construction for Sewell-based real estate development firm Sora Northeast, LLC, expect growth to continue all over South Jersey. "The economy is just starting to recover. … Many towns are putting programs in place that will have a big impact when lending becomes more accessible again," he says. "Before the bubble burst, South Jersey towns weren't taking full advantage of the existing incentive programs—but now with the Economic Opportunity Act, which simplified many existing programs, and a better understanding and acceptance of redevelopment and similar programs as tools to spur economic development, towns are better prepared to take advantage of the next era of prosperity."
In turn, Farrell notes that lawmakers have had success in creating more equality throughout the state in terms of grants and other financial incentives for both North and South Jersey-based corporations. "South Jersey municipalities are starting to really take advantage of some of the economic development incentive programs offered by the state. This forward thinking helps to create confidence within the business community," he adds. While in the past North Jersey businesses may have received a heavier share of government funding, Orlando Rivera of Tannenbaum and Mehta Professional Business Brokers in Cherry Hill notes that the southern half of the state is starting to attract more attention.
Indeed, in many cases, a town's governing body—and their knowledge of how to identify and implement financial incentives—can prove a crucial element to any company's bottom line. "It's up to the business owner to do the research and find out if the town they're looking at has the right characteristics … [but] a proficient local government and an active economic development program in any town is very important, along with a town's willingness to utilize available financial incentives," Farrell notes. "A town with a good vision of what they want to achieve—and the competency to achieve it—will help any business be successful."
More importantly, a particular municipality has to do their part to help their local businesses thrive, whether it's willingness to approve new construction or signage, or creating business associations to help support their growth. "When it comes to identifying a top town for business, it's always going to be those that are most supportive and willing to take those extra steps to help their businesses succeed," Rivera asserts. "The towns with the most demand will be those where the mayor and other leaders are the most receptive to the needs of their local business community."
Of course, there are many "tried-and-true" business-friendly towns throughout the region that are continuing to prove an attractive location for companies to open their doors. According to Levin, municipalities that are fortunate enough to serve as the home to a college or university, such as Rowan University's Glassboro, are attracting significant attention from retailers and businesses.
Meanwhile, there are other towns that have proven historically attractive for new business, such as "the 3 M's": Mount Laurel, Moorestown and Marlton, Adderly adds, in addition to towns like Cherry Hill. "These towns have good schools, convenient access to major roadways and various other amenities that help people strike a good work-life balance," he says. "When you're a business owner, you have to think of locations that people might consider attractive not just to live, but to start a family, with plenty of recreational and educational offerings."
When it comes to retailers and office users, the consensus is that towns like Cherry Hill, Marlton and Mount Laurel continue to be among the most attractive destinations. "Cherry Hill is a town that's been a solid, stable choice for business owners for many years," Rivera says. Gloucester County as a whole continues to thrive due to its array of distributors and light industrial businesses. "With small businesses in particular, it can come down to common sense when it's time to choose your location: Certain towns tend to attract particular types of businesses because they're doing their research and modeling what's already working," Rivera adds.
Fortunately, the region's proximity to both qualified workers in Pennsylvania and Northern New Jersey, and an ample array of major highways and public transportation options, is proving endlessly beneficial to the region's economy. According to Marc R. Isdaner, senior vice president and principal of brokerage and industrial for Colliers International, a commercial real estate firm in Mount Laurel, it's the towns with the most quality space choices, development sites and immediate or easy interstate access that are attracting the region's array of distribution companies. "Whether you're an engineering or medical staffing or accounting firm, when you're employing 100 or more people, you can have the most beautiful, state-of-the-art facility, but if it's in an inconvenient location then you're going to lose your workforce to your competitors," Adderly says.
That could be a factor in why larger manufacturers are booming in South Jersey towns like Florence. Express Scripts, Destination Maternity and Burlington Coat Factory all have buildings under construction in Florence, while Subaru opened its new parts distribution center in the township last year. Located at the junction of U.S. 130 and the New Jersey Turnpike, as well as the Pennsylvania Turnpike bridge crossing, Florence has immediate access to the major metropolitan areas. W.W. Grainger just announced that it will be building a distribution center in Bordentown at Exit 7 of the turnpike as a replacement or expansion from their existing operations in Robbinsville. Further south, Swedesboro is also attracting warehouse and manufacturing companies.
"Food users have also been particularly active here, especially those that need access to the ports of South Jersey and Philadelphia," Isdaner adds. Mission Produce, Vistar Foods and Albert's Organics have all opened temperature-controlled facilities in the last two to three years, he says, while Dr. Schar USA, a maker of gluten-free foods, has a manufacturing operation and Foodcomm International, a meat importer, is building a 123,000-square-foot cold storage building. "Pennsauken and Bellmawr have also had an increase in small to medium warehouse users purchasing buildings. These towns are very close to the Delaware River bridges, and are key locations for companies with daily distribution requirements within the Philadelphia area," Isdaner says.
But what are some of the other factors that make a town like Cherry Hill or Marlton a "top town" for business? Experts say there are several factors businesses should consider when looking to open (or reopen) their doors in a new community. It may all boil down to one major factor: access to a qualified workforce. "Nobody wants a 45-minute commute to work every day. So if you're a new business or a company that's considering relocating, the first thing you're going to ask is, 'Can I find a workforce here?'" Adderly explains. "In Philadelphia, people don't mind taking public transportation, but in South Jersey, everyone wants to drive their own car, and they want to work as close to home as possible. … So it's all about launching your business in the best residential neighborhoods you can find."
On the same token, business owners must also consider all of the variables of a particular town's demographics, from its people to its transportation, when choosing where to locate or relocate their operations. "The location can make or break certain retail businesses. Warehouses need good highways. Office users need amenities. Public transportation can benefit all companies," Isdaner says. A college town might be ideal for a company in need of a highly educated workforce, while a more affluent town with a proven track record of successful retail operations might serve the needs of a clothing store.
"There isn't a 'one-size-fits-all' town. Businesses have to determine what will work best for them," Levin says. Generally speaking, he pinpoints Marlton as among the region's most business-friendly towns in recent years. "The average household income levels of the area, including surrounding towns, close proximity to major roadways, and the willingness of the boards to approve new construction and signage—and allow various uses of properties—make it a desirable destination for businesses," he explains.
Another factor boosting the success of South Jersey as a prominent location for new business is the cost of real estate. "From a real estate development perspective, land is still relatively inexpensive in South Jersey, and there are plenty of opportunities for both new development and redevelopment," Farrell explains. According to Levin, there are vast swaths of land still readily available in South Jersey, particularly in Gloucester and Burlington counties.
Not only do many companies find South Jersey's commercial real estate options enticing, but housing remains affordable for the average homeowner, with lower rents and sale prices than those in Central and Northern New Jersey. Isdaner notes that there's reasonably priced housing near school districts, shopping, recreation, open space, and within close proximity to Philadelphia and the Shore, and right in between New York and Washington, D.C. "There's a 'small town' feel, but with 'big town' amenities in South Jersey," Levin says.
Above all, combined with the region's financial incentives and unique location and amenities, the fact that the economy is starting to recover is leaving real estate experts confident that South Jersey's business appeal will continue to flourish. "Startups and small business owners are becoming more active in all counties, and financial institutions are lending again. ... This has given the planners, 'mom and pop' operators, and the dreamers an opportunity to realize their plans," Levin says. "Those small businesses today will become the juggernauts that drive South Jersey well into the future."
Published (and copyrighted) in South Jersey Biz, Volume 4, Issue 7 (July, 2014).
For more info on South Jersey Biz, click here.
To subscribe to South Jersey Biz, click here.
To advertise in South Jersey Biz, click here.