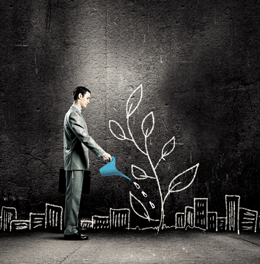 Land of Opportunity
In less than a year's time, a new, robust package of economic incentives is making its impact felt in South Jersey.
When the Economic Opportunity Act was signed into law last September, it was met with open arms in South Jersey. As legislation that combines five state programs and takes strides to expand their reach, its primary goal in South Jersey seems to be helping the region attain access to grants and tax incentives that will ultimately lure new businesses and investors to the region.
Several months later, South Jersey is already starting to see evidence of burgeoning economic opportunity as a result of the act; in areas like Camden, the new law makes provisions that include up to $175 million in state aid for economic development projects for the city, in addition to $600 million for qualified residential projects statewide.
The act also created Garden State Growth Zones in Camden, Trenton, Paterson and Passaic—the cities with the lowest median family income throughout the state. "The point is that this legislation is trying to close the gap in funding for economic development projects, so for us, it's doing exactly what it's supposed to do," says Bruce Farrell, senior vice president of development and construction for Sora Northeast, a redevelopment firm based in Sewell. "There are cities that are being targeted in efforts to help them rebuild and rejuvenate, and we feel that it is working."
"This legislation is creating buzz in South Jersey and helping to fill the gap in projects that have been lined up and ready to go but needed that financing. … We'll see a positive impact in the short-term, but looking forward, I think we're going to see tremendous economic growth in our region," confirms Gregory Filipek, principal of Sora Northeast.
Investment and redevelopment
As part of the new law, businesses that move to these struggling urban zones will be privy to an array of incentives along with additional funding to help jumpstart new development projects. According to Jeff Arnold, principal at Markheim-Chalmers, Inc., a 92-year-old commercial real estate brokerage and appraisal firm in Cherry Hill, the company is already seeing office tenants in southern New Jersey that have benefited from the Economic Opportunity Act. Recently, a lease for a 10,000 square-foot facility was completed in Camden; relocating from Marlton, the company will receive more than double the tax incentives that it pays in rent. He also notes that the program is not just for large corporations; it can benefit small companies with 10 to 15 employees, although the more employees, the higher the incentives, he notes.
"We are confident that this will be an impetus to solidify some investments and tenant commitments in South Jersey," Arnold says. Though the incentives are available in all southern New Jersey municipalities, he is seeing the largest incentives available in the most challenged areas, such as Camden, Mount Holly, Collingswood and Vineland. "The Economic Opportunity Act is a game changer for southern New Jersey—especially the city of Camden," Arnold adds. "The opportunity is now there to locate your business in Camden and potentially make more in incentives than the cost of the real estate, lease or purchase … and a tenant or owner can actually make money on its occupancy."
The same is true for other parts of South Jersey. According to Dan Bosak, a real estate broker and investor with Coldwell Banker Preferred in Haddonfield, the future of South Jersey may see an increase in both residential and commercial properties that are able to take full advantage of the law's provisions. "There are a lot of vacant properties here that need to be updated and redeveloped in order to make them usable and effective, and businesses are going to choose to relocate to areas where they can do just that," he says. Bosak also believes the act will ultimately help bolster the region's downtown areas and improve living conditions for residents. "We are seeing a lot of downtowns taking an opportunity to redevelop and create a community where people want to live, work and visit, in addition to a call for more public transit options," he confirms. "The towns that need the funding the most are going to start building more restaurants and shops; people won't come in if there aren't any businesses, and businesses won't come in if there aren't any people, so it really depends on how each individual town is going to take advantage of this opportunity."
A level playing field
Indeed, the Economic Opportunity Act's credits serve as a particularly attractive offering; companies can now pursue an assortment of tax credits that will ultimately help create full-time jobs. Under the legislation, the Grow New Jersey Assistance Program is now the primary program to help create new jobs, while the Economic Redevelopment and Growth Program offers development incentives. Of course, it's still early; many local experts say it's going to take time before the region sees any real economic growth as a result of the legislation.
"None of my peers or vendors have noticed much change with such a young act; however, it does seem as though it has the ability to succeed in growing the number of businesses in South Jersey and allowing for more development and inventory in the area," says Gregg Rego, co-owner of Blackwood-based Patriot Land Transfer, a title insurance agency licensed to provide title and settlement services throughout New Jersey and Pennsylvania. "Hopefully, the act will spur business owners to grow, expand or simply just start using the tax incentives and grants in specific industries … with the direct result being an increased number of jobs."
Possibly the best news of all for South Jersey is that the new legislation was designed to reflect regional differences in population and industry in an attempt to lead to more balanced development throughout the state. South Jersey's businesses—and their smaller-scale development projects—are now eligible for a larger pool of money that may have once been dedicated to the large-scale projects that are common in the northern half of the state. In fact, many local businesses and experts believe that the Economic Opportunity Act may ultimately help level the playing field between North and South Jersey.
"When you think of cities like Newark and New Brunswick, it feels like they could be in another state. You just can't compare North and South Jersey … it's apples and oranges, and you can't draw comparisons to what it's like working down here as opposed to closer to New York," Farrell says. "But what this act does mean is that we both now have the same tools to work with, so our projects down here can receive the same type of stimulus as the multi-million dollar high-rises in North Jersey."
Roy Kardon, vice president of the industrial division for NAI Mertz in Mount Laurel, a commercial and industrial real estate company and the largest brokerage firm in southern New Jersey, agrees that the act's incentives could be the key to helping South Jersey better compete with the allure of the industrialized north for many of the state's businesses and residents. "Proximity to New York may always be a bigger draw than Philadelphia, but there are still a lot of reasons to move to the southern half of the state, like the lower cost of renting and greater availability of space … so any incentives that get people thinking about locating here is going to be a huge help," he explains. "Businesses are going to look very closely at these incentives and what it will cost them to do business in South Jersey."
A brighter future
Local politicians also have high hopes for the Economic Opportunity Act and how it will impact the South Jersey region in the coming months. "The economic incentives that New Jersey had in place were designed more for the northern half of the state; a $50-million project in Newark is sizeable, but done all the time … to do that kind of project in Camden or Trenton would be huge," explains Sen. Donald Norcross, fifth district, Camden/Gloucester counties. "Here in the south, we're dealing with Philadelphia and a very different market of competition, but we think this final legislation is going to help us develop a new way of doing business … particularly in those growth zones."
According to Norcross, the legislation is also helping to boost both the educational and health care sectors in the region by enhancing other initiatives that have already been a focus for local government, such as legislation devoted to higher education. "We have more than 20 higher education institutions in North Jersey, but in the south, we have Stockton, Rowan and Rutgers … the seats just haven't been available for our children to attend college, so they're leaving the state to go to school and then not coming back to New Jersey," he says. But with the Economic Opportunity Act's focus on redevelopment in growth zones in South Jersey, the government is now rolling out initiatives that can only help strengthen the region's "meds and eds," such as the Rutgers and Rowan merger.
In the meantime, Norcross says the act paved the way for two supermarkets that will soon be calling Camden home, including a Shop-Rite and another major supermarket chain, which will help break the city's reputation of being known as a "food desert," he says. The coming months will also hold other major announcements related to the creation of manufacturing and other jobs in the area, along with plans that will move forward with new light rail options for residents, like the Glassboro-Camden line.
"More and more companies are going to come in and create jobs based upon our health care and educational offerings, and the light rail is going to be extremely important to help spur our long-term economic development," Norcross concludes. "What's happening in our region has been truly unprecedented in my lifetime."
Published (and copyrighted) in South Jersey Biz, Volume 4, Issue 4 (April, 2014).
For more info on South Jersey Biz, click here.
To subscribe to South Jersey Biz, click here.
To advertise in South Jersey Biz, click here.