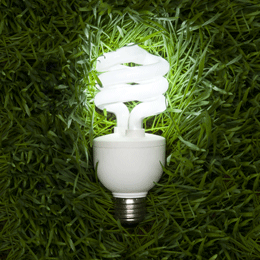 The 2014 GREEN AWARDS
The companies that are reducing their carbon footprint, one step at a time
For this, our fourth annual Green Awards, we introduce to you a number of innovative and pioneering businesses in South Jersey that are doing what they can to reduce their impact on the environment. From a company that completely converted its manufacturing processes to solar power to a well-established nonprofit that has continued to evolve its recycling efforts, the recipients of this year's awards are truly inspiring. We understand converting to green alternatives isn't always easy, but these businesses prove the effort truly is worthwhile.
Beyond Solar
OPEX Corporation
High-speed mailroom automation, document imaging and material handling equipment manufacturer OPEX Corporation, of Moorestown, is one of the only manufacturers in the world to build its entire product line using electricity derived from 100 percent renewable resources. It received this distinction after converting its 250,000-square-foot manufacturing, warehousing and administrative facilities to operate on 100 percent solar power. OPEX also incorporates other green initiatives, including providing electric charging stations for employees who drive electric vehicles. Additionally, OPEX recycles all scrap metals and oils, and the company dug its own well to irrigate its eight acres of open land, which is replanted with native fescue. "It is central to our mission to be good stewards of our resources and to demonstrate that alternatives to conventional, waste-intensive manufacturing practices and energy generation not only exist, but can yield products, processes and lifestyles that are more sustainable and in harmony with our environment," says Dave Stevens, president and CEO.
Sustainable Retail
Deptford Mall
As one of the prime retail hubs in South Jersey, the Deptford Mall is in the position of impacting thousands of local shoppers every year. That's one reason why "going green" is so important to Macerich, the company that owns the mall and similar centers throughout the country. "Deptford Mall is committed to improving its natural resource efficiency and demonstrating that the operation of a shopping center can be conducted in an environmentally responsible and sustainable manner," says property manager Jim Mackey.
Some of the ways they do that is by recycling a third of the mall's waste stream, using waterless urinals and hand dryers instead of paper towels in the restrooms, and converting 100 percent of all cleaning products to greener alternatives. Many of the retailers offer reusable bags, the cooking oil used in the food court is collected and recycled, and the security staff uses Global Electric Motorcars and Segways instead of vehicles powered by gas. The mall is also in the beginning stages of converting its parking lot lighting to LED technology.
Green Building
RPM Development
Kevin Kavanaugh, vice president of development at RPM Development, says "green building is a priority" for the company. In fact, he says the last 11 buildings Montclair-based RPM has completed achieved LEED Platinum status, the highest level of green building awarded by the U.S. Green Building Council. It should be no surprise then that the developer of the GG Green building in Woodbury had green building in mind during its historical renovation. The former opera house is now home to 52 one-bedroom and three, two-bedroom apartments, which include modern kitchens with Energy Star appliances and energy efficient HVAC systems, along with drought-free landscaping outside. Thanks to its green focus, the building is the first in the state to receive LEED Platinum status under the 2015 LEED standards, and it just won the NJ Future Smart Growth Award.
Responsible Steward
Atlantic City Electric
Atlantic City Electric (ACE), headquartered in Mays Landing, strives to reduce its carbon footprint through the use of energy-efficient lighting and equipment at its facilities. The company is an active participant in New Jersey's Energy Master Plan, which set forth a goal to achieve about 22 percent of the state's electricity needs from renewable sources by 2021.
ACE's vehicle fleet contains nearly 40 hybrid cars, SUVs and bucket trucks, eliminating more than 200 metric tons of carbon dioxide emissions each year. ACE plans to convert all of its truck fueling facilities to emission-reducing biodiesel fuel.
The company is recognized by the National Arbor Day Foundation and the National Association of State Foresters as a Tree Line USA utility. The company has implemented an Energy Saving Trees program to promote energy conservation for its customers through planting shade trees. On average, each tree will capture an estimated 200 pounds of carbon dioxide each year and absorb one pound of additional pollutants. ACE employees volunteer twice each year to clean the beaches of Atlantic City, and participate in local Earth Day and Arbor Day events to provide educational and interactive activities centered on environmental awareness and stewardship.
Eco-Friendly Cleaning
Nothing But Green Living Enterprises, LLC
With a name like Nothing But Green Living Enterprises, LLC, it's pretty clear that this Mount Laurel-based company operates with a focus on green cleaning processes. In doing so, company COO Nathaniel Anderson says "Nothing But Green Living Enterprises is looking to promote efficiency and improve overall performance, cut costs and maximize profitability, and prove how sustainable approaches to waste/carbon footprints can leave a big impact on both the environment and a company's bottom line." Since introducing this thinking to municipalities, churches, schools, housing authorities and more along the East Coast, Nothing But Green Living Enterprises has helped hundreds of clients achieve these goals. In fact, those clients utilizing their green floor finishes and cleaning products—which have no zinc or styrenes and have low VOCs—have experienced a reduction in floor stripping cycles, which translates to an annual chemical reduction of 60 to 70 percent and a decrease in labor, time and effort by 45 to 55 percent. Some schools that contract with them, for example, have yet to strip floors after 12 years.
Ahead of the Curve
Parkeon, Inc.
Parkeon, Inc., which has its U.S. headquarters in Moorestown, uses an eco-friendly process encompassing materials, components, engineering, power management and IT systems to design a product most of us probably take for granted: parking meters. The goal is to minimize the environmental impact of the product over its lifecycle: from material choice through manufacturing, to installation logistics and on-street operations, all the way to removal and recycling when that time finally arrives. These solar-powered meters, and other transportation-related technologies developed by Parkeon, Inc., are utilized by companies, universities and cities around the world, facilitating urban mobility in order to reduce traffic congestion and pollution, even as city centers continue to expand.
Green Education
NJM Insurance
As the founding sponsor of the Sustainable Jersey for Schools program, NJM Insurance is taking an active role in helping area youngsters gain an appreciation for the green movement. The company made a $50,000 commitment to the new certification program, which is designed for New Jersey public schools and charter schools and provides specific guidance and resources for developing comprehensive sustainability programs. Participating schools will be rewarded for such initiatives as performing energy audits, establishing sustainability curriculum and boosting recycling efforts.
"NJM first became interested in supporting the Sustainable Jersey for Schools program because of its mission to spread awareness among boards of education, staff and students about the need for sustainable communities," says NJM Communications Administrator Eric Stenson. "The students of today are the adults of tomorrow who will play a large role in the future of our communities."
NJM's Hammonton facility, which opened in 2011, is another example of advancing sustainability measures. The design and construction of the building included energy-efficient heating, cooling and lighting systems, low-flow plumbing fixtures and modular office furniture. The company also stresses the importance of recycling office paper, computers and electronic equipment, and it recently diverted more than 9,000 pounds of used carpeting from entering landfills with a recycling program.
Upcycling
Magnum Computer Recycling
South Jersey entrepreneur John Martorano Jr. didn't mean to get into the electronic recycling business. He stumbled into the idea—literally—as he was hiking in the woods and discovered several discarded computer monitors. Soon after, Magnum Computer Recycling was born. Founded in 2006, Magnum is an EPA-registered company that is certified by Responsible Recycling Practices (R2). They provide businesses, schools, municipalities and other organizations safe and eco-friendly recycling options for computers and electronics—basically any device that operates with a battery or power cord. Magnum has shown tremendous growth and now handles the electronic recycling for all South Jersey counties from Burlington to Cape May, offering convenient pick-up and drop-off locations.
Magnum is dedicated to reusing as much of the equipment as possible, working with charities to donate electronics in the area and recently opening a showroom to sell refurbished computers and laptops for as low as $80.
Sustainable Lodging and Travel
The Hotel ML
The Hotel ML, located on Route 73 in Mount Laurel, gives its guests peace of mind in knowing it's doing what it can to decrease its impact on the environment. Last August, the hotel completed a solar panel project that will reduce the property's carbon footprint by more than 335 metric tons of carbon dioxide. With the ability to produce 473,000 watts of solar energy, the solar panels are not the only green initiative implemented by the hotel. Also included in the project was the installation of two GE DuraStation car-charging stations. "The Hotel ML is proud to be [among the first] in the region to support electric cars," says Jason Dowd, The Hotel ML's general manager. The Hotel ML also recently installed occupancy sensing thermostats to help conserve energy, and has LED lighting in all guest rooms, another energy conservation effort.
Wyndham Hotel Mount Laurel
The Wyndham become the first hotel in the area to install a solar-energy system in 2012. Now two years old, the system provides 45 to 50 percent of the hotel's electricity needs per year, reducing its carbon footprint by 1.6 million pounds of carbon dioxide annually. They also added two electric car chargers last fall, recently replaced more than 2,000 light bulbs in the hotel with LED lighting, and posted a weekly diversion rate of 60 percent in 2013 thanks to recycling and composting. The Wyndham also has a "Green Team," which is comprised of individuals in all the different departments and is constantly looking for new sustainable measures. "They become our innovators," says Rishi Shah, general manager. "That's one of the things I'm most proud of at the hotel."
Green Leader
Bovio Heating Plumbing Cooling Insulation
Bovio may be based in Sicklerville, but its presence is felt across New Jersey as the pre-eminent energy conservation expert in the state. With more multifamily home performance project completions in the state than any other contractor, their multifamily, residential and commercial energy efficiency expertise has earned them 2010, 2012 and 2013 EPA Century Club Awards, something few contractors in the nation can say. As such, Bovio offers a number of conservation options to its clients, a fact that Brian Bovio, president/CEO, says is important to the company. "We pride ourselves on offering all of our clients energy-reducing green alternatives to help preserve the planet for our children while offering sound energy-cost reducing investments to South Jersey business and homeowners," he says.
This includes offering high-efficiency mini-split cooling and heating systems for commercial applications such as server rooms, offices, spot cooling and tenant fit-outs, as well as commercial service and maintenance contracts, energy audits, and rooftop heating and AC units to ensure peak facility efficiency. Bovio also has rebates available for commercial building energy upgrades, and offers spray foam insulation, weatherization and water conserving plumbing services.
Energy Overhaul
Goodwill Industries of Southern NJ & Philadelphia
Mark Boyd, president and CEO of Goodwill Industries of Southern New Jersey and Philadelphia, puts it best when he says "Goodwill began recycling long before the term 'going green' became a household name." Recycling more than 50 million pounds of textiles and diverting 5.4 million pounds of e-waste from area landfills in 2013 alone, Goodwill expanded its green initiatives last year by participating in the New Jersey Office of Clean Energy's Direct Install program, in which buildings are eligible to save up to 70 percent on energy efficient projects. Under the program, Goodwill's Glassboro store and donation center was retrofit with new lighting, and the HVAC systems at the Glassboro and Hammonton stores were upgraded. Boyd says it was just another way for Goodwill to grow and expand its "green" efforts. "For more than 100 years, we have collected and recycled unwanted items and then sold them in our retail stores to fund important job training programs that help individuals with disabilities get to work. Beyond contributing to a more sustainable environment, we are building stronger families and communities."
Clean Water
Rutgers Cooperative Extension of Camden County and the Camden County Soil Conservation District
One of the goals of the Rutgers Cooperative Extension, which uses science-based knowledge to aid local communities, is to protect the state's environmental resources. Similarly, the Camden County Soil Conservation District aims to conserve soil and water resources in the area, and the two organizations often work together to pursue their common objectives. One such collaborative effort had great benefits in 2013 and led to prestigious honors for both groups.
The project, guided by Michael Haberland and Craig McGee, addressed issues regarding Haddonfield's Hopkins Pond. During warm weather, Hopkins Pond experiences intense blue-green algae blooms, caused in part by excessive nutrients that enter the pond through fertilized lawns, soil erosion and other sources. Blue-green algae can spoil water quality with pungent odors and scum, affecting other plants and animals.
To solve the problem, the pond was fitted with a diffused air aeration system "designed to maximize the water lift rate and transfer rate of dissolved oxygen" by improving circulation. Artificial floating wetlands were also installed to help with nutrient removal. As a result, the pond didn't experience a bloom until late August instead of all summer long. For their contributions, Haberland and McGee received several awards, including the "Environmental Achievement Award" from the Association of New Jersey Environmental Commissions.
Living by Example
Adventure Aquarium
In addition to providing families with enjoyable and educational experiences about sea life on a daily basis, Adventure Aquarium in Camden also has an impact in the community. Its conservation program, called Fins for the Future and made up of staff volunteers, is committed to making positive changes in the environment.
Some of the ways they do that is through several tree-planting events a year in partnership with the New Jersey Tree Foundation; their annual horseshoe crab counts in Cape May; an African Penguin Awareness Weekend, which has raised more than $2,400 over the past two years for SANCCOB, an organization devoted to saving endangered seabirds; and FrogWatch USA, which invites individuals to learn about area wetlands and help conserve amphibians by reporting the calls of local frogs and toads to a national research website.
But the area that really hits home for Fins for the Future is their river cleanups, particularly in the Delaware River, and their contribution to eliminating harmful plastic bottles from the world's oceans. "That's important for me," says Dave Littlehale, the aquarium's zoological operations manager and the chairman of Fins for the Future. "The river sweep that we do at [Camden's] Michael J. Doyle Park along the cove is one of my favorite activities."
Smarter Commute
Delaware Valley Regional Planning Commission
Anyone who faces a long drive to work every day knows that not only is it a hassle and very expensive, but also that it has a negative effect on the environment. RideECO, offered by the Delaware Valley Regional Planning Commission, addresses all three of those concerns.
An employer-offered benefit program in place since 1991, RideECO allows employees to set aside up to $130 a month in pre-tax dollars to apply to public transportation for their commute to work. The options include passes, tickets and tokens for all transit agencies in the Delaware Valley, such as PATCO, NJ Transit and SEPTA. The tax benefits can give you a savings of more than $500 a year, while employers also make out, as pre-tax deductions save them on FICA taxes.
But RideECO doesn't just save money. As the only local, nonprofit transit benefit program, it helps promote a greener way to commute by eliminating cars from the roads. "One of our projects is air quality, and this fits right into that," says Stacy Bartels, manager, office of marketing and commuter services. "I think that certainly there's more interest in the program [lately]. Part of it is because of a movement to be more green, and some of it is just the bottom line with the tax savings."
Published (and copyrighted) in South Jersey Biz, Volume 4, Issue 4 (April, 2014).
For more info on South Jersey Biz, click here.
To subscribe to South Jersey Biz, click here.
To advertise in South Jersey Biz, click here.