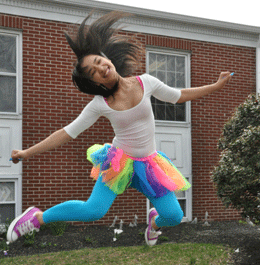 Close of Biz: The Goodness Project
Happiness is in the spotlight thanks to a group of Camden-based nonprofits.
Unless you've got a broken radio, chances are you've heard Pharrell Williams' hit song "Happy," an infectious and uplifting song that inspires impromptu dance moves and sing-a-longs. The song and music video have prompted a storm of YouTube videos that mimic the freedom, creativity and (you guessed it) happiness that Williams exudes in the video. Lauren White and Sonia Mixter Guzman of the Ronald McDonald House of Southern New Jersey were also inspired by the song and decided to create their own music video to showcase the heart and happiness of the Camden community they work with every day. With the support of 11 other nonprofits from the Camden area, White and Guzman created The
Goodness Project, a mission to showcase all of the good works being done by nonprofits and Camden community members that make the city special. With the help of Steve Acito, an Emmy-nominated producer and director, and film students from Drexel and many others, their music video—which was shot at several locations around Camden—was unveiled on Good Friday on GoodnessProject.org in hopes of becoming a viral hit.
"Sonia gave me a copy of the song and said that it should be the anthem for the year; after that, we came up with the idea of making the video to promote what is good and what has been for so long," says White. The Goodness Project was also a collaborative effort that strove to quiet the voices that speak against Camden and its community. "The media has always attached themselves to the crime and drugs, but at the end of the day, there's always good happening, and goodness will prevail if you show it," says White.
The 12 nonprofits that participated in The Goodness Project each contribute something different to Camden, and most charities work directly with the community to improve the lives of those around them. The Cathedral Kitchen provides 325 meals a day, six days per week to those who are in need, and hosts a culinary training school that teaches 40 students how to cook during a 17-week program that has a 75 percent job placement rate. Colleen Rini, development director at Cathedral Kitchen, says of their charity's role in The Goodness Project, "We just wanted to put a spotlight on the good work done in Camden. One of the performers spoke to one of our staff people and said she had been coming here since she was a child; it shows how we've been impacting the lives of good people over the years."
Along with participating groups like Guadalupe Family Services, the Boys and Girls Club of Camden County, Camden Cycle, Camden Sophisticated Sisters, Camden Children's Garden, and Hopeworks, UrbanPromise works within Camden to improve the lives of each individual in the community. As an organization that has been running in Camden for 26 years, UrbanPromise has helped children and young adults through their after-school and summer programs, and their job training program for teens. "Coming together with all these nonprofits to say we have awesome people in this city and be able to give a nod to that was really important. I think, whenever you have an opportunity to collaborate with other organizations and kids, it's always exciting to help," says Shannon Oberg, creative director at UrbanPromise.
Every organization that participated in The Goodness Project has a strong confidence in their community and the people that make that community great. "Many of our teens, who are employed [at UrbanPromise], help their parents make ends meet with bills and everything. Our kids are so in touch with the pain and suffering of other people and aware of the reality of what's around them. They have a special spirit," says Oberg.
Guzman also commends the essence of the project and the participation of the community. "It's a very small way to say thank you for your service, that it's not just about me, it's about how can I do a good job and continue helping those around me. The good always has to beat the bad, even if it takes a little longer."
Published (and copyrighted) in South Jersey Biz, Volume 4, Issue 4 (April, 2014).
For more info on South Jersey Biz, click here.
To subscribe to South Jersey Biz, click here.
To advertise in South Jersey Biz, click here.