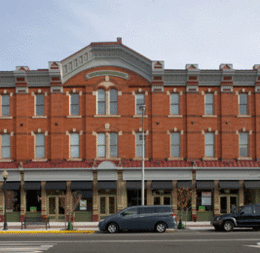 Historical Renovations
South Jersey towns recognizing that what's old can be new again, and how preserving the past benefits business and community
South Jersey is home to many sprawling new commercial developments that have provided both value to their surrounding communities and a boost to the local economy. But the region is also known for numerous historical buildings which local developers, small businesses and entrepreneurs have successfully rehabilitated; from decrepit buildings on the verge of demolition to properties that have been out of use for decades, South Jersey is rife with success stories of how older properties can also breathe new life into downtown areas.
In fact, the unique aspects of a historical property can often provide the ideal opportunity to help revitalize municipalities throughout South Jersey. "Repurposing historic buildings and neighborhoods can create popular, successful downtowns where people enjoy working, living and visiting," asserts Regan Young, president of architecture/engineering firm Regan Young England Butera (RYEBREAD).
Preserving the past, revitalizing the future
In 1999, RYEBREAD moved its offices to Mount Holly in an effort to help revive the county seat, and saw an opportunity to achieve their goal through designing historical, adaptive use projects. Some of the projects the company has worked on include Dempster's, a stationary store that was rehabilitated as a sports bar; Active Environmental, a feed store that is now an office and retail building; and the Warden's House, a historical residential property that now serves as an art gallery.
The company also had a hand in establishing Main Street Mount Holly, a downtown revitalization organization that utilizes the Four-Point approach developed by the National Trust for Historic Preservation. "Historic buildings present an opportunity to save and enhance assets that contribute to the town's character and distinctiveness," Young adds.
Audrey Winzinger would probably agree. The vice president at Winzinger, Inc., a full-service contracting firm in Hainesport, was recently involved in the purchase of a property at 30 Church St. in Mount Holly. After her sister, Robin, opened the doors of her restaurant, Robin's Nest, in a rehabilitated historical building in the center of the oldest section of town, the family put their heads together and decided to put their efforts into transforming the entire downtown into a destination that would help support the business and promote growth for other entrepreneurs. They achieved their goal by making efforts to rehabilitate other historical buildings in the downtown area.
The project began 25 years ago, and Winzinger and her family continued to purchase properties and transform them into retail and residential space. Today, Mount Holly's Mill Race Village encompasses a variety of shops on the ground floor of several buildings, along with apartments upstairs.
The company recently acquired a property built in 1878 at 30 Church St., known as The Eagle Foundry, that once served as a factory for turbine engines, a location for town records, and an array of other purposes. It will soon serve as an extension to the downtown area. "We're lucky enough to have several shops in the village who have blossomed and now need to expand upon their footprint in town. It's time for them to grow but we don't want them to move because of what they've done for the community, so we're thrilled to be able to provide them with this new space," Winzinger says. Other plans for the building are inspired by its architecture: 60,000 square feet with high ceilings. "It's perfect for studio space," she adds. "It seems we tend to attract tenants who have a bit of an artistic background, and we think the historical buildings have something to do with that."
Aesthetic and community benefits
Cherry Hill resident Tom Marchetty is finding a similar phenomenon in Collingswood. Marchetty fixes machine shop equipment for a living, and shortly after taking over his father's business in 2006, he went looking for a space in South Jersey to house an overflow of approximately $300,000 worth of machinery and equipment. The recession forced many of his clients to close down or move their operations overseas, and school budget cuts meant the end of high school shop programs. "I ended up purchasing many of these incredible machines, and always wanted to have a community shop where people could come in and tackle woodworking or metal projects, or really just have an opportunity to build things," he says.
When he stumbled upon Collingswood Theatre, a movie theater from the 1920s that happened to be for sale, he knew he found the place to house his vision. Listed on the National Register of Historic Places, the 13,000-square-foot theater went out of commission in 1962. "Most people don't have garages or their basements are less than 6-feet high, and as a homeowner, I feel it's important to have a place to work on projects or to build things for your home instead of relying on what can be made in China and sold in stores," he says.
A building that once served as a rehearsal space for the Philadelphia Orchestra, the theater boasted its original plaster moldings, 40-foot ceilings, murals and carvings, and 1920s oil canvas paintings embedded into the walls, and it had more than enough room for everything Marchetty could imagine. He collaborated with friend and investor Josh Longsdorf and soon began work on transforming some of the building's original architecture, such as a sprawling projection room, for practice and recording studios for musicians. The theater's stage will remain as it was, and serve as a gallery for residents to display and even sell their work. Today, "The Factory" is known as a "maker space," where numerous local entrepreneurs and artists call home, whether it's the coffee roaster on the ground floor or the photographers upstairs.
Anyone can pay a monthly fee to come in and complete various woodworking and metalworking projects on the first-floor "maker space." "It's now a complete woodworking, welding, metal and machine shop, where local residents can build and make whatever they can possibly imagine," he says. "The idea was also to bring like-minded individuals and professionals together to have access to everything they need to fulfill their vision and work together." As such, entrepreneurs and artists are renting studio space as a place to work, and The Factory also houses the offices for an art magazine and various other businesses. "It's a labor of love, and has been so rewarding; I think people are now really recognizing Collingswood as a destination, and seeing how its arts, trades and crafts scene has blossomed," he says.
Taking on the challenges
Of course, unlike brand new commercial or residential developments, the renovation or rehabilitation of a historical property comes with its own unique set of challenges. "When you're dealing with historic properties, there are often structural challenges, use challenges, zoning challenges ... and there are nuances to be aware of in terms of renovating a building as opposed to rehabilitating a building," says Lance Silver, a developer and real estate broker with NAI Mertz in Mount Laurel, a managed network of more than 300 commercial real estate firms.
"Financially, a developer really has to make use of tax credits and other incentives and assistance; there's a reason why, in areas like Atlantic City, so many old hotels have been torn down to avoid inheriting the issues that can exist in older buildings and become too costly."
Looking ahead, experts like Silver see tax credits as a crucial way to help historical buildings in South Jersey become vital components of downtown areas across the region. "Without tax credits, historic rehabilitation projects wouldn't work because it would require raising capital or finding investors, and for entrepreneurs or other businesspeople looking to rehabilitate a building as opposed to using a new space, it has to make economic sense," he adds.
Still, it can be done; in Woodbury, the GG Green Building is considered a great success and a prime example of the repurposing of a historic property. Developer Kevin Kavanaugh, vice president of RPM Development Group, a Montclair-based development firm, came across a building that served as a former opera house in the late 1880s and a theater in the early 1900s, in late 2012. A Fashion Bug moved in sometime in the 1990s, he says, and the building has since been largely vacant after the retailer moved out. "You can't help but think about what these kinds of buildings must have been like back in the day; you can see pictures of the way it looked back in the late 1800s when the streets weren't even paved," he says. "It makes the building interesting, and because of the history and its character, these properties have the capability of making a really big impact on the town." Kavanaugh saw an opportunity to rehabilitate the vacant, decrepit building into something positive and beneficial for the town. "It was having this negative impact on the community; this huge, individually listed historic building was surrounded by construction fencing and approved for demolition by the National Park Service," he explains. The city was looking at a sizeable demolition bill, he says, so Kavanaugh and his company teamed up with the city to purchase the building and renovate it into something that could benefit Woodbury and its residents.
Though they were ultimately granted their request, the project first had to undergo an approval process by Woodbury's Historic Preservation Commission, and the developers also had to grapple with significant structural issues that were the root cause of its impending demolition before the restoration process could begin. The building now operates as 55 units for low- to moderate-income residents who are 55 years of age or older, many who are veterans, with 6,000 square feet of retail space on the ground floor.
Much like Marchetty made the decision to preserve some of the building's original structures in his vision for The Factory, the property in Woodbury will continue to boast a 3,500-square-foot space; once a ballroom, it will now serve as a community room for residents. "When you're renovating a historical building, you have to work with a lot of the existing structure, whether it's windows, ceiling heights or the location of certain elements and other interesting interior features within the building," Kavanaugh says.
Fortunately, like many historical buildings, the GG Green Building was eligible for federal historic tax credits in addition to grants from the Federal Home Loan Bank of New York. The project came with a $13.5-million price tag to develop; the New Jersey Housing and Mortgage Finance Agency (HMFA) provided financing through the federal Low Income Housing Tax Credit Program. The building is also in the process of becoming LEED Platinum-certified.
"Through smart design enhancements, existing buildings can be made more energy efficient and functional," Young concludes. "Historic buildings present an opportunity to save and enhance assets that contribute to the town's character and distinctiveness ... [they are] now seen as fundamental to successful and sustainable redevelopment."
Published (and copyrighted) in South Jersey Biz, Volume 4, Issue 2 (February, 2014).
For more info on South Jersey Biz, click here.
To subscribe to South Jersey Biz, click here.
To advertise in South Jersey Biz, click here.