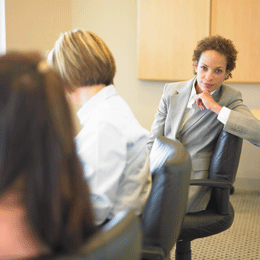 Living in a Man's World
While the 'glass ceiling' has been shattered for some, there's still hard work ahead to maintain equal rights.
In her last speech as secretary of state, Hillary Clinton's ideals were clear: "If women and girls everywhere were treated as equal to men in rights, dignity and opportunity, we would see political and economic progress everywhere."
Even one of the United States' most powerful women faces the backlash that can come with being a woman in a man's world, which was made alarmingly evident after a heated moment in a hearing last year that led news outlets on a Clinton-feeding frenzy, questioning her temper and self-control.
As citizens of the United States, we are all privileged to have rights that allow us to prosper and protect us, but many women of power agree that there are obstacles to face strictly based on their sex and outdated perceptions of gender roles. Take for instance Linda Rohrer, Haddon Township native and president of Rohrer and Sayers Real Estate, who admits she has had male clients try to schedule appointments after 5 p.m. by asking her out for a drink, under the guise that they want to follow up on their real estate queries.
Still, amid double entendres and innuendos, women like Rohrer aren't letting the sex wars slow them down. "It's still a man's world," Rohrer says. "Don't cry about it; accept it and keep working hard."
Focusing on the goal
Rohrer wears many hats in the male-dominated work arenas of her life. She is the chairwoman of the board of trustees at Rowan University, chairwoman of the board at 1st Colonial Community Bank, vice chairwoman for the Camden County Improvement Authority, and she serves on the Haddon Township Planning Board—just to name a few. Through it all, she continues to work hard and challenge herself, lessons she learned from strong mentors like her father, William G. Rohrer, who was a charitable businessman and mayor of Haddon Township for 36 years. She now serves as a trustee for the William G. Rohrer Charitable Foundation, continuing his legacy of giving back to the community.
That continuous work ethic has earned her the respect of coworkers across all her fields of work, both male and female, and has served as an inspiration to local young females looking to "break the glass" in their own careers. Her advice? Never miss the opportunity to roll up your sleeves and go the extra mile. Rohrer's success comes not from being a strong, hard-working woman, but from being a strong, hard-working person with a passion for accomplishment.
Her values are shared by Debra A. Maiorano, of Magnolia, a former analyst for the U.S. Postal Inspection Service who recently began working with the New Jersey Attorney General's Office, Financial/Computer Crimes Bureau. With the Postal Inspection Service, she worked with a team of 10 agents, nine of which were men. She supported the team by providing research, assisting on scene for investigations, and preparing for trials, among other duties. Her strategy for thriving? To not think of herself as a woman in her job, but an accountable teammate.
"Women need to prove themselves in a non-threatening way—through hard work," says Maiorano, who had worked her way up through the organization. She adds that sometimes women who work with a lot of men feel the need to challenge them as a means to prove their worth, which isn't always the most successful way to stand out.
She earned the respect of her strong-willed male teammates by providing the best support every day, and not expecting to be treated any differently. She also helped assemble a team that valued respect. "They were gentlemen; they looked at me as a good worker, which was good for me. They looked at me as a peer, and that's a compliment not many support people can say."
Room to grow
While the perception of a struggle for women may hold some back, businesswomen all across the country are proving that excuse isn't cutting it anymore. "When women are successful in their careers, it's not because they are women, it's because they are skilled hard workers. They are owning the equality that is rightfully theirs," says Kristina L. Meyers, director of programs for the Alice Paul Institute, named for the Mount Laurel suffragist of the early 1900s who helped get the 19th Amendment passed. The Institute holds tours and events in Paul's local home, Paulsdale, and staff and volunteers dedicate their time to honoring female leaders and acknowledging education opportunities for women.
Though it's been more than 90 years since women gained the right to vote, the Equal Rights Amendment written by Paul and introduced in 1923 has yet to be approved. It reads in part, "Equality of rights under the law shall not be denied or abridged by the United States or by any state on account of sex."
The Girls Advisory Council, one of the Institute's programs, traveled to Washington, D.C., last year lobbying for the ERA, which would be a tool for both men and women, a constitutional guarantee to support them in court, Meyers explains. And although the ERA is an ongoing topic, small legislative steps are happening, such as the Lilly Ledbetter Fair Pay Act, President Barack Obama's first order of business in 2009, which provides a loophole on the statute of limitations that only gives workers 180 days from their first paycheck to file an equal pay complaint. The 180 days now resets with each new paycheck.
Last year, the 1994 ban on women in combat was lifted, allowing women to join enlisted men at the front lines of battle. Sgt. Jaime Wurternberg, a member of the Army National Guard, is a Deptford native currently living near Fort Dix who joined women across the country in embracing this new nod to equality. "I remember when my recruiter showed me a bunch of infantry videos before enlisting," Wurtenberg says. "I told him I wanted to do all that and he told me I couldn't because I am a female and that was only for males.
"As soldiers, we all go through the same training, minus some schools still for males only, and we as females should not be looked at as incapable of doing the same jobs or tasks as the males," adds Wurternberg. She is now looking forward to the more mentally and physically challenging opportunities this advancement will bring. Currently, Wurternberg is working on a degree in criminal justice and hopes to become a military police officer on the front lines, a once unimaginable goal for any woman serving the country. She believes these new opportunities and challenges will not only better serve the women, but will entice more to enlist. Male competition is not a problem for Wurternberg, who stressed that no one should underestimate the abilities of a woman in uniform.
It's true that times are changing, which is something that can be said for all sectors, as more and more women are breaking into once male-dominated fields such as technology, engineering, law and more.
Recent data from the Department of Labor's Women's Bureau indicates there are many male-dominated fields seeing sharp increases of women in leadership roles, such as accountants and auditors—now 61.8 percent female—and insurance underwriters—now 62.8 percent female. Plus, according to U.S. Department of Education data, women now earn three bachelor's degrees for every two earned by men, and are graduating at just as high a rate as males from law and medical schools.
So while Wurtenberg says no one should underestimate a woman in uniform, the same can be said for a woman in a suit.
Published (and copyrighted) in South Jersey Biz, Volume 4, Issue 2 (February, 2014).
For more info on South Jersey Biz, click here.
To subscribe to South Jersey Biz, click here.
To advertise in South Jersey Biz, click here.