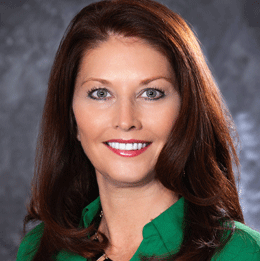 On The Move: December, 2013
Comings, goings, hirings, retirings and more in South Jersey.
Lisa Morina (pictured) was named vice president of government and external relations for Kennedy Health System. In this role, Morina will focus on building and strengthening the integrated health care system's relationships with a wide variety of external leaders whose support is vital to its mission. Prior to her new role, Morina had served since 2004 as the director of economic and business development for Gloucester County, where she was responsible for creation, business growth, workforce investment, public/private partnership development, and many other initiatives focused on the growth of the South Jersey and Gloucester County region.
Jeff Banasz was named an account executive at Cook Maran & Associates, a full-service insurance broker and consulting firm with offices in Marlton and Fairlawn. Long is an active resident of South Jersey and is currently vice chairman of the Moorestown Zoning Board of Adjustment. Prior to joining Cook Maran, he was an insurance broker/consultant with The Graham Company for more than five years.
M&T Bank expanded its commercial and business banking teams in South Jersey by adding five experienced professionals to its local staff, including: Bill Cornelius, coming from PNC Bank, named vice president and senior relationship manager for commercial banking; Christopher Wolf, coming from Fulton Bank, also named vice president and relationship manager for commercial banking; Momin Sheikh, named an associate for commercial banking; John Semple, coming from Fulton, named vice president and relationship manager for business banking; and Richard Lane, coming from PNC, named assistant vice president and relationship manager for business banking.
Weisman Children's Rehabilitation Hospital named Shannon Sherry director of nursing of the Weisman Children's Medical Day Care Center in Pennsauken. Sherry began working as a staff nurse for Weisman in March 2012. She also worked as a staff nurse at St. Christopher's Hospital in Philadelphia. Her current responsibilities as nursing director include coordination of care with primary physicians, specialists and therapists; staffing, integration of daily care and communication with families.
Flaster/Greenberg announced Joanne "Annie" M. Kelley joined the firm as an associate in the Litigation Department. Kelley, who will work in both Flaster/Greenberg's Philadelphia and Cherry Hill offices, will focus her practice on commercial litigation. Prior to joining Flaster/Greenberg, Kelley worked as a law clerk for The Honorable Albert John Snite Jr. in the First Judicial District of Pennsylvania, Court of Common Pleas.
T. Christian Rollins, MBA, CFRE was appointed Samaritan Healthcare and Hospice's first chief development officer. Rollins came to fundraising as a volunteer, serving in a leadership role in the Development Council of Frederick Memorial Hospital, before subsequently serving as executive director of the Southern Regional Medical Center Foundation in Atlanta, Ga.; the West Jersey Health & Hospital Foundation (now Virtua Health); and the Southern Ocean Medical Center Foundation in Manahawkin. Most recently, as executive vice president of Pride Philanthropy, he delivered fundraising consulting services to nonprofit organizations across the eastern United States.
Duly Noted
The Inspira Health Network Board of Trustees unanimously selected John DiAngelo, the network's current chief financial officer and executive vice president, as the next president and chief executive officer of the health network. He will take the helm of the organization on Jan. 1, replacing current Inspira President and CEO Chet Kaletkowski, who announced his plans to retire more than two years ago. During his 13-year tenure as a member of the organization's senior management team, DiAngelo has played a major role in both the financial and strategic aspects of numerous large projects. Under DiAngelo's leadership, the health system increased its Moody's bond rating three levels since 2002 and was the only health system to receive an upgrade in 2010.
Parker McCay associate Brett E.J. Gorman was appointed as the 2013-2015 Burlington County Young Lawyers Trustee. The Young Lawyer Trustee chairs the Young Lawyer Committee, which consists of attorneys who are under the age of 35 or have been practicing law for less than five years. As a trustee, Gorman will oversee the committee, including providing a sounding board for the concerns of the committee to the Bar Association's Board of Trustees, teach and organize Continuing Legal Education courses and coordinate seminars.
Sharon Larmore, Parker McCay associate in the School Law Practice Group, received the appointment to the Committee on Character for Atlantic, Burlington, Camden, Cape May, Ocean, Cumberland, Salem and Gloucester counties for a three-year term. The Committee on Character ensures lawyers applying for licensure meet the necessary ethical, character and professional standards established by the Supreme Court of New Jersey.
Cooper's Ferry Partnership received a Gold Excellence in Economic Development Award for its 2012 project in the category of Sustainable & Green Development for communities with populations of 25,000 – 200,000 from the International Economic Development Council (IEDC). The honor was presented at an awards ceremony during the IEDC Annual Conference in Philadelphia in October.
New Jersey Partnership for Healthy Kids-Camden (NJPHK-Camden), a program of the Robert Wood Johnson Foundation, announced that it received the "Best Collaborative Effort of the Year" Award by the Non Profit Development Center of Southern New Jersey. Presented at the inaugural awards and networking event honoring local nonprofit agencies and leaders for excellence in service in South Jersey, NJPHK-Camden was recognized for its outstanding community action in implementing and strengthening childhood obesity prevention strategies to support access to healthy foods and increase opportunities for safe physical activity for children in Camden City. The NJPHK-Camden is co-directed by United Way of Greater Philadelphia and Southern New Jersey (UWGPSNJ) in Camden County and the YMCA of Burlington and Camden Counties. NJPHK-Camden partnerships include: Campbell Soup Company, Cooper's Ferry Partnership, and Rutgers Cooperative Extension of Camden County.
Bowman & Company LLP partner John F. Dailey Jr., CPA, was recently elected northeast regional director of the National Association of State Boards of Accountancy. Dailey is currently the president of the New Jersey State Board of Accountancy, the regulatory board for Certified Public Accountants and Public Accountants in the state. Dailey has 40 years of accounting and auditing experience servicing municipalities, school districts, charter schools and other governmental clients.
Kennedy Home Health Care, based in Voorhees, was named a Top Agency of the 2013 HomeCare Elite, recognition of the top-performing home health agencies in the United States. It is one of only six home health care agencies in New Jersey to be included in the prestigious listing. Now in its eighth year, HomeCare Elite identifies the top 25 percent of Medicare-certified agencies and highlights the top 100 and top 500 agencies overall.
Stanker & Galetto, a leading general contracting firm in southern New Jersey, broke ground last month on the construction of an industrial freezer building on an 8.1 acre lot on West Forest Grove Road in Vineland for RLS Logistics. RLS Logistics is one of the region's leading temperature-controlled logistics providers offering transportation, warehousing, packaging and distribution services. Customers include refrigerated and frozen food processors, importers and marketers, food service distributors, supermarket chains and shopping clubs. This project marks the second Vineland location for RLS Logistics. The company has additional facilities in Newfield and Pittston, Pa.
Jeffrey Brown, president and vice chairman of NFI Industries, was named the recipient of the JCC's Lifetime Achievement Award. Brown, a former JCC board member who has chaired multiple committees and served as both vice president of the executive board and chairman of the fundraising council, is the founder and two-time chair of the Sports Award Dinner, one of the JCC's major fundraising events. He also spearheaded the Brown Family gift to the JCC Health & Wellness expansion.
The Garden State Council of the Boy Scouts of America (BSA) recognized Nina S. Sorelle, a partner with accounting firm Bowman & Company LLP, as one if its Outstanding Women in Business. Sorelle has more than 25 years of accounting and auditing experience serving nonprofit and commercial clients. She is also a certified fraud examiner.
Durand, based in Mount Laurel, a multi-service agency which serves special needs children and adults throughout southern New Jersey, announced its chairman of the board of trustees Richard Hoffman was the first recipient of the South Jersey Humanitarian of the Year Award by the Volunteer Center of South Jersey. The 2013 Spirit of Community Awards ceremony honoring volunteers in South Jersey was held at Masso Caterers in Glassboro in October.
Kennedy University Hospital in Cherry Hill again received the American Heart Association/American Stroke Association's Get With The Guideline – Stroke Gold Plus Quality Achievement Award. The award recognizes Kennedy – Cherry Hill's commitment and success in implementing excellent care for stroke patients, according to evidence-based guidelines. Kennedy's two other hospitals—in Stratford and Washington Township—are also Get with The Guidelines-Stroke Gold Plus Quality Achievement Award winners. To receive the Gold Plus Award, Kennedy – Cherry Hill achieved 85 percent or higher adherence to all Get With The Guidelines-Stroke Quality Achievement indicators for two or more consecutive 12-month intervals and achieved 75 percent or higher compliance with six of 10 Get With The Guidelines-Stroke Quality Measures, which are reporting initiatives to measure quality of care.
Apex IT Group, based in Pennsauken, was awarded an exclusive contract to provide Managed IT Services for the remainder of 2013 and 2014 to the Camden Riversharks. The 2014 Managed Services contract will include proactive and preventive maintenance services, 24/7/365 support, network administration, business technology consulting, cloud computing solutions, mobile device management, data protection and IT security services.
Rizzieri Salon in Washington Township, located on Egg Harbor Road, will relocate in January to a new home right around the corner at the Virtua Health & Wellness Center – Washington Township Campus on Hurffville Cross Keys Road. Rizzieri Salon in Washington Township opened in the late 1980s, and was the first salon to open under the Rizzieri brand name.
Agilence, Inc., of Mount Laurel, was the only South Jersey company included in a list of 54 organizations to share $60 million approved by the New Jersey Economic Development Authority through the state's Technology Business Tax Certificate Transfer Program in Fiscal Year 2014. This competitive program enables technology and biotechnology companies to sell New Jersey tax losses and/or research and development tax credits to raise cash to finance their growth and operations. Since the program was established in 1999, more than 490 different businesses have been approved for awards totaling $770 million. Each of the 54 applicants approved this year will receive an estimated $1.1 million, which is a 21 percent increase from last year.
Don Bompensa of Lennar Homes' New Jersey division recently presented a check for $3,000 to Bancroft, the locally based, nationally acclaimed nonprofit provider of services for people with intellectual and developmental disabilities, including autism and acquired brain injuries. The donation was made on behalf of Lennar Homes' "We Care" Foundation, which was created 12 years ago by Bompensa as a means of giving back to the community through year-round fundraising to support worthy causes and a variety of local charities.
Published (and copyrighted) in South Jersey Biz, Volume 3, Issue 12 (December, 2013).
For more info on South Jersey Biz, click here.
To subscribe to South Jersey Biz, click here.
To advertise in South Jersey Biz, click here.