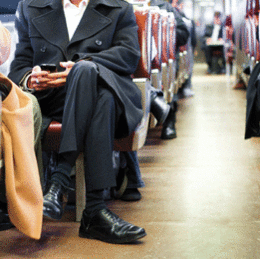 The Cost of Commuting
With rising transportation costs, local organizations work to minimize the impact on your wallet.
When new jobs are in scarce supply and local residents have to travel longer distances to get to work, it's no surprise that both employers and employees alike are concerned with transportation options and costs throughout the region.
In South Jersey, where the use of mass transit and other transportation options have continued to rise, what has also grown are the costs associated with jumping on a train or taking a bus to work. Fortunately, the region's major transportation agencies are working hard to streamline commutes as much as possible while keeping fees manageable for the average commuter.
For New Jersey Transit, not surprisingly, the top two requests gathered via customer surveys and outreach forums are keeping fares stable and ensuring customers reach their destinations on time. According to William J. Smith, a spokesman for New Jersey Transit, the 2014 budget, approved in August, committed to no fare increases for the fourth consecutive fiscal year. Meanwhile, the agency's rail service continues to show gains in on-time performance, up from 94.7 percent in the 2011 calendar year to 96.4 percent in 2012. In 2013, five of the last seven months have posted an on-time performance of 96 percent and above.
The increase in on-time performance can largely be credited to the organization's launch of its Scorecard initiative, designed to set corporation-wide standards of accountability and help the agency make more strategic decisions to maximize resources and demonstrate customer service efforts. "We're proud of the strong show of confidence Scorecard has helped us to develop among the people who use our system day in and day out … and [it] is the direct result of the fact that we're listening to our customers who have clearly ranked their priorities for what they want from their public transportation," Smith says.
The cost of wear and tear
Of course, rail isn't the only cost that South Jersey commuters need to concern themselves with. With gas prices constantly rising and recent toll increases, the average South Jersey resident also has to contend with the ever-rising cost of driving to work—and deal with the congestion. That's why organizations like the Cross County Connection Transportation Management Association exist to help encourage people to carpool or take advantage of mass transit options whenever possible.
"We have definitely seen an increase in the use of public transit, but in South Jersey, the car is still king," asserts William Ragozine, executive director for the Marlton-based organization, which offers carpool or vanpool matching services, bus, train and shuttle schedules and route information, real-time traffic information and construction updates, and other commuter services.
The state's abundance of major highways makes for a convenient way to get to work or school, or simply to get some shopping done, but it brings with it the need to hit the gas station and add increased wear and tear on your vehicle. According to figures released by AAA in 2013, the cost of driving a medium-sized sedan for 15,000 miles per year is approximately $9,100 a year; locally, that's due to gas costing between $3 and $4 per gallon, a $5 bridge toll to access Philadelphia—where many South Jerseyans work—and parking fees in the range of $10 to $20 in the city.
"You may not see the type of congestion here that you'll find in North Jersey, but when gas prices alone are enough to convince people to seek other options, looking at public transportation isn't a bad idea," Ragozine says. He notes that even opting to carpool one day per week can save the average person up to 20 percent on their overall weekly commuting costs. "You don't have to change your entire lifestyle to see real savings in your pocket and significantly less congestion on the roads," he adds. "Most people think about the cost of the gas they're putting in their tanks, but not necessarily all of the other costs associated with driving a car every day, from the insurance to the maintenance … it really adds up."
Toll prices are of significant concern to many commuters, and certainly to those whose livelihood may depend on traversing the state's highways, such as trucking organizations. The chief financial officer for National Freight Inc., based in Cherry Hill, recently testified before a Senate committee about rapidly increasing highway tolls—such as the planned 163 percent increases in tolls for 2015 on bridges between New York and New Jersey—as a threat to both consumers and the trucking industry; the company reportedly paid $14 million in tolls in 2011 alone. In the meantime, what some organizations are doing to even the playing field is reinvesting funding into projects that will help to ease the concerns of commuters—and all while keeping fares stagnant wherever possible. Since its launch in March of 2004, NJ Transit's River Line has proven a catalyst for economic growth and development in the communities along its corridor, and according to Smith, there are now various other redevelopment projects in the works.
Late in 2011, the New Jersey Transit board of directors authorized the agency to enter into agreements with the township of Bordentown and the municipality's designated master developer, Bordentown Waterfront Community, LLC, for the design and construction of a new light rail station that would serve as a planned transit-oriented development project in the community. The new station will be located between the Roebling and Bordentown stations and include a new center-island platform, commuter parking lot, pedestrian and vehicular access to and from the parking lot, modifications to the signal system, and a relocated grade crossing.
The best news of all? All of the costs of the project are being fully funded by the developer. "This public-private partnership is one that will promote economic development on the River Line and increase New Jersey Transit ridership, and all while offering New Jersey residents another way to access the system," Smith adds.
Decreased costs, improved efficiency
Though many South Jersey residents may complain about the costs associated with mass transit, they may not always be considering how public transportation can actually help save them money. Ragozine points out that the process of building new roads or other transportation-related options to reduce congestion is an expensive process that often comes directly out of the taxpayer's pocket. "The government knows that we can't build our way out of traffic congestion, and that's why they want us to help convince people to at least consider using mass transit … and why that can actually be a more cost-effective option for them in the long run," he says. That's why organizations like Cross County Connection are often funded by government organizations. "We do our best to help people understand the mass transit options that are available when it comes to getting around, and how it really can benefit them," he says.
In fact, according to Tim Ireland, director of corporate communications for the Delaware River Port Authority (DRPA), any time there is a spike in gas prices—or parking fees—South Jersey mass transit options like PATCO will see an increase in passengers. The DRPA is a regional transportation agency that serves southeastern Pennsylvania and South Jersey; it owns and operates the Benjamin Franklin, Walt Whitman, Commodore Barry and Betsy Ross bridges. "Ridership has remained pretty steady throughout the last few years because of the number of commuters in the area who are going into Philadelphia and watching as gas and parking prices increase … and that's when they turn to mass transit," he says.
Much like New Jersey Transit, fares have remained stable despite improvements being made to rehabilitate the rail cars, the track and electrical system, in addition to accessibility initiatives such as equipping all stations with elevators. "This is a transportation system that was built in the 1960s, and we're working hard to create a better customer experience for all of our passengers by helping to transform it into a 21st century train," he says. A suburban commuter train that runs on a schedule similar to a subway, PATCO helps commuters easily access various destinations throughout the South Jersey region as well as Philadelphia. "It really allows people to live in the suburbs but still enjoy the best of an urban lifestyle … with access to all of the best attractions in the cities," he says.
One of the most popular features of the PATCO system, however, are the minimal costs for passengers; throughout its four fare zones, customers will pay no more than $3 one-way from the farthest distance, or a minimum of $1.40 for shorter distances. "If you look at it in terms of the $5 you'll pay to cross the bridge, the $20 or $30 in parking for a full day, the gas, the wear and tear on your car … to pay a maximum of $6 for a round-trip is really quite economical," he says. "Most of the trains are full at rush hour, so we think that says a lot about the number of commuters who obviously value the ease and convenience of relying on the train."
Like other South Jersey-based travel organizations and agencies, the DRPA plans to continue to work to make improvements in its service and do what they can to stem the tide of rising transportation costs. "All of the capital improvements we're working on right now were anticipated years ago, and we consider them to be more related to customer service, logistical and engineering issues as opposed to fiscal … our goal is always figuring out how to build a better PATCO with the least amount of inconvenience to our customers," he says.
Published (and copyrighted) in South Jersey Biz, Volume 3, Issue 9 (September, 2013).
For more info on South Jersey Biz, click here.
To subscribe to South Jersey Biz, click here.
To advertise in South Jersey Biz, click here.