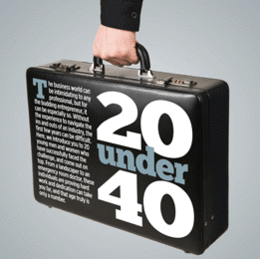 20 Under 40
The business world can be intimidating to any professional, but for the budding entrepreneur, it can be especially so. Without the experience to navigate the ins and outs of an industry, the first few years can be difficult. Here, we introduce you to 20 young men and women who have successfully faced the challenge, and come out on top. From a landscaper to an emergency room doctor, these individuals are proving hard work and dedication can take you far, and that age truly is only a number.
John Lorenzo
Owner, PostNet, Sicklerville
Age 23
At the young age of 22, after working his way up and becoming the full-time manager, John Lorenzo purchased PostNet, a store that opened in 2004 equipped with printing, copying and shipping services, and in nine months helped to make the company see its best sales year ever. Capitalizing on its success last year, PostNet is also on track in 2013 to increase its sales from 2012 by 20 percent, and was recently recognized with the PostNet Turnaround Award. Since joining the business community, Lorenzo has also been named co-chair of the Gloucester Township Chamber of Commerce and head of the membership committee for the BNI (Business Network International) Turnersville chapter. Lorenzo says much of the success he has had so far is thanks to his employees at PostNet. "Good help is hard to come by and I feel as though my team is the best in the business," he says. Best Career Advice Received: "The best career advice I was ever given was that as an owner, your job is to work on your business and not in your business." First Job: "PostNet of Sicklerville was my first job in high school. I walked in one day to ship a package and I'm still not sure what I said to Gary Chernow, the original owner, but he offered me a job on the spot."
Anthony Mazzarelli, MD, JD, MBE
Senior Vice President of Operations/Deputy Chief Medical Officer/Medical Director, Institute of Population Health, Cooper University Health Care, Camden
Age 38
Emergency room doctor, deputy chief medical officer, professor, radio talk show host and active member of his community are just a few of the hats Dr. Anthony Mazzarelli wears. He also was one of the original three team members to integrate Cooper University Health Care and Rowan University in preparation for the new Cooper Medical School of Rowan University, which welcomed its first class in 2012, and he helped to organize a free health care clinic for Camden residents. A member of the board of trustees for the YMCA of Burlington and Camden Counties, as well as the Camden Coalition of Health Care Providers, Mazzarelli has also received commendations for his leadership, and was named an Outstanding Young American by the U.S. Junior Chamber of Commerce. Mazzarelli was also named Washington and Lee Universities' Distinguished Young Alumnus in 2009. Best Career Advice Received: "The harder you work, the more luck you will have." Ultimate Goal: "That no South Jersey resident ever leaves New Jersey for their health care." Career Mentor: Adrienne Kirby, PhD, President/CEO of Cooper University Health Care
John D. Rothamel, ESQ.
Partner, Rothamel Bratton, LLC, Haddonfield
Age 34
John D. Rothamel, Esq., is a product of Lenape High School and earned a degree from the University of Maryland before moving on to the Widener School of Law. A partner at Rothamel Bratton, he specializes in real estate law, both residential and commercial. He represents more than 500 clients a year in a broad range of transactions, including first-time homebuyers and large-scale mergers. Rothamel helps guide his clients through the intricate process, from contracts to title reports and inspections to settlement. He has been named an "Awesome Attorney" by South Jersey Magazine from 2008-2012, and "Top Attorney" by fellow lawyers from 2009-12. Rothamel is also an in-demand speaker who often gives seminars covering all aspects of real estate law. Favorite Book: "The Little Blue Truck. It's actually my 3-year-old son's favorite book, but there is nothing better than coming home from a long day and reading it together." Favorite Way to Unwind After a Busy Week: "This really depends on when you ask. If it is during the winter, you will likely find me with friends and family, and a few bottles of wine, enjoying pizza at Tacconelli's in Maple Shade. If it's during the summer, I head down to Beach Haven on Long Beach Island and clock in at the Shore with my family for the weekend."
Elizabeth R. Archer
Vice President, Anne Klein Communications Group, Mount Laurel
Age 33
Elizabeth R. Archer has put her degree in corporate communications from Drexel University to good use during the last decade. After serving in a management communications role at the Unisys Corporation, an information technology company, she moved on to Exelon Nuclear. There she oversaw media relations, community outreach and internal communications at four nuclear power plants in New Jersey and Pennsylvania. Archer joined Anne Klein Communications Group in 2011 and provides strategic counsel and service for clients in the energy, health care and higher education industries. She is also the president of the Philadelphia Public Relations Association and gives much of her free time to volunteering, having worked with the Children's Village in Center City and the People's Emergency Center in University City. Go-to Smartphone App: "I'm the planning type, so I enjoy making—and completing—to-do lists. The simplicity of the ColorNote app and its widgets helps me manage my work and home tasks." Favorite Book: "My favorite business book is Made to Stick: Why Some Ideas Survive and Others Die, by Chip Heath and Dan Heath. My favorite leisure reading is Bossypants by Tina Fey."
Dominic Fahey
Northeast Division President, North American Title Company, Cherry Hill
Age 36
A long-time South Jersey resident, Dominic Fahey grew up around the title business and has experience in all facets of the field, from his first job as a file clerk at Independence Abstract and Title Agency to his current leadership position at the firm, now called North American Title Company. In addition to his many years of service, Fahey is also a real estate investor himself and keeps abreast of market trends, both locally and nationally. Fahey stresses to his employees the importance of communication, accuracy and professionalism for a successful closing and believes that North American Title delivers on this promise. A graduate of the University of Notre Dame School of Engineering, he is currently pursuing a graduate degree at the Rutgers – Camden School of Law and is a member of many professional organizations. In his spare time, Fahey enjoys raising funds for various charities by competing in marathons and triathlons. Best Career Advice Received: "Do it now." Go-to Smartphone App: "Evernote—my brain in the cloud." Favorite Way to Unwind After a Busy Week: "I slip into my Kinvara running shoes and pile on a few miles around Cooper River."
Scot McCray
Assistant Vice President, CAMCare Health Corporation, Camden Freeholder, Camden County Board of Freeholders
Age 34
Scot McCray began his career in 2001 as the regional cancer control director for the American Cancer Society in Cherry Hill. In 2003, he began working with Cooper University Hospital, where his titles through the years included community relations coordinator and director of urban health initiatives as well as director of special projects. McCray began working for CAMCare in 2011, and in the same year was sworn in as a freeholder for Camden County. He has also served as a member of the regional board of directors of the American Cancer Society, co-chairman of the Camden City Cancer Leadership Initiative, and as a member of the board of the Camden branch of the Settlement Music School. McCray also served as a commissioner on the Camden City Housing Authority from 2005 to 2009. Ultimate Goal: "As a professional, my goal is to become an innovative leader in the new landscape of health care where we must find a balance between performance, costs and the patient's experience. As an elected official, my goal is to leave my community and Camden County 100 percent better for my sons and their friends." Go-to Smartphone App: "Without question the Calendar app on my iPhone. It is a lifesaver … balancing family, work and civic duties is not easy."
Ronald Lieberman
Partner, Shareholder, Adinolfi and Lieberman, P.A., Haddonfield
Age 39
A busy family law attorney with his own practice, Ronald Lieberman is admitted to the bars of New Jersey, New York and Pennsylvania, as well as the United States Tax Court, the United States District Court, the Third Circuit Court of Appeals, and the United States District Court for New Jersey. He has also been a trustee of the Camden County Bar Association since 2009, and will be sworn in as secretary this month. Lieberman also serves as co-chair of the local Jewish Cardozo Society, and acts as executive editor of the peer-reviewed scholarly journal, New Jersey Family Lawyer. On a personal level, he is a volunteer board member for both the Katz Jewish Community Center and the Jewish Federation of South Jersey. Career Mentor: "That would probably be the superior court judge I clerked for, Lee Forrester." Go-to Smartphone App: "An app I look at every day is Newspapers. It allows me to read news from all across the globe, really. You can set up which ones are your favorites, and you can read the articles and headlines, and I find that to be go-to."
John Taulane
Business Development/ Commercial Insurance, Hardenbergh Insurance Group, Voorhees
Age 28
As a member of the business development team within the commercial lines division of Hardenbergh Insurance Group, John Taulane serves both public and private clients throughout South Jersey. While serving his current clients is important, he says he also feels a commitment to give back to the communities he works in. "I believe we have a duty and obligation as young business professionals to give back to the communities that we work, live and play in," he says. Currently, Taulane serves on the board of directors for the Burlington County Chamber of Commerce as the Young Professionals Network representative to the board. He also volunteers for the YMCA of Burlington and Camden Counties' risk committee. Best Career Advice Received: "Ask. Basically, you have to ask if you want something. Don't assume you're just going to get it." First Job: "Super Fresh—I was a 'utility clerk.'" Go-to Smartphone App: "The Weather Channel app. I need to know when it's going to be beautiful out."
Lauren Dunn
Vice President, Dunn Company Landscape Contractor, Harrisonville
Age 32
Lauren Dunn and her husband Patrick founded Dunn Company Landscape Contractor when they were just sophomores in college, combining his background in horticulture and her background in accounting. Based in Gloucester County, the company provides landscaping, hardscaping and maintenance programs for residential and commercial clients. After earning her accounting degree in 2003, Lauren Dunn also worked in the public accounting field until busy tax seasons were taking up too much of her time and she gave up her position to focus on growing the business with her husband. She now operates in an administrative and sales role with the company, while also working as contract manager for Allied Document Solutions and Services, a print and imaging specialist serving the Delaware Valley. Outside of work, Dunn is very active in the community and charities such as the Boys and Girls Club and Relay for Life. Best Career Advice Received: "Early in my college career I was told, 'If someone offers to teach you something, you take them up on it, even if you think you already know it all or you're not interested in what they are teaching. When someone offers you knowledge, it's a gift.'"
Debra Arthur
Marketing Coordinator, Camden County Regional Chamber of Commerce, Cherry Hill
Age 37
Debra Arthur has certainly proven over the years that she is multi-dimensional, having worked in a variety of fields including banking, education and insurance. Most recently, she's found a home with the Camden County Regional Chamber of Commerce, where her responsibilities include coordinating and promoting more than 120 functions a year, from networking dinners to business expos. Arthur also does contract work as a public adjuster for Nottingham Adjustment, but her No. 1 passion just might be her volunteer efforts with the United Service Organizations, which supports men and women in the U.S. military and their families. Arthur, who comes from a military family, is a charter member of the USO's Young Leadership Council and acts as its Fundraising Committee chair. During her time with the USO, she has successfully chaired the "Cigars For Our Troops" program, a "Christmas in July" donation and a "Rock the Troops" benefit concert, among other events. Career Mentor: "Mary Jo Spicer, my director at the before- and after-school program, Safe and Sound, where I worked for six years as an aide and her assistant. She taught all of us the value of never portraying yourself as more important than the person working beside you, no matter your or their title. She never asked any of us to do anything she herself wouldn't do. We were all treated like a team, and that's how we worked, as a unit. I try to emulate that daily." Favorite Way to Unwind After a Busy Week: "Sleep in Saturday morning."
Robert Almond Jr.
Vice President of Operations, NEST International, Gloucester City
Age 32
Robert Almond Jr. has been with NEST International since 2002 and has been helping the facility maintenance and consulting firm, which has locations in South Jersey and South Florida, develop a strong workforce ever since. In fact, NEST has been recognized as one of the fastest-growing private companies for the last two years, and was recently named one of the top workplaces in the Delaware Valley. On a personal level, Almond was named one of the "Top 40 under 40" by Chain Store Age magazine in 2007, but he is quick to note the success is a group effort. "It was a collaborative effort between myself, our employees and the executive team here at the office," he says. "I have a great team that I work with and under me and all those accomplishments, I believe 100 percent, could not have been done without them." Best Career Advice Received: "The second you try to be perfect, you're going to fail. … Anyone here will tell you I'm huge on calling the client when we're doing a good job, but more importantly, I'm also big on letting them know when we have a problem and how we're going to correct it." Ultimate Goal: "I would like to be the premier employer in South Jersey and South Florida and wherever else we might end up. I would like to be the Google of South Jersey. I know that probably won't happen, but I want to make it an attractive workplace."
Lexie Norcross
Vice President, Digital Operations and Corporate Services/ Director, Interstate General Media, Philadelphia, Pa.
Age 25
A Cherry Hill native, Lexie Norcross attended The Lawrenceville School and graduated from New York University with a degree in environmental policy. With plans on going to medical school, she returned to South Jersey after college and worked at Cooper University Hospital for several years as a critical care technician and researcher. After moving to Philadelphia, Norcross switched gears in her career, volunteering as relocation project coordinator for Interstate General Media, parent company of The Philadelphia Inquirer, Daily News and Philly.com. In that role, she helped lead the company's move from its Broad Street offices to its current home at Eighth and Market streets. Norcross now fulfills a leadership role at Philly.com, which she considers an opportunity to apply her passion for "raising awareness and continually breaking through the barriers of various social issues, while providing the public useful news, information and diverse opinions." Norcross is also a board member of The Larc School, a special needs school in Bellmawr, and actively assists military families. Career Mentor: "My dad [George Norcross]. He never gives up on what he believes in and started working with people much older than him at a young age, which has influenced him to teach me how to listen carefully, take notes and go back and figure out what I don't understand later. He has always stressed that making mistakes is part of life, but making the same mistake twice is not an option." Favorite Way to Unwind After a Busy Week: "There is no better feeling in the summer than driving over the bridge to LBI after a long week."
Jeff Onofrio
Director of Renovation Lending, AnnieMac Home Mortgage, Mount Laurel
Age 36
Jeff Onofrio works in a niche sector of lending and has helped AnnieMac become an industry leader in the field with the program he has developed. In fact, AnnieMac is now one of the top 10 lenders in the country in renovation lending, and Onofrio has appeared on many media outlets to discuss the program, including CBS' Talk Philly, ABC News consumer reports, and The New York Times. "My main focus is to get out there and educate people," he says. "This type of lending has been around since the late '70s, but it has not gained a wide acceptance because of its complexity. But when you're working with the right team, it doesn't have to be hard." Career Mentor: "That would be our vice president at AnnieMac, Nick Cettei. I've always called him my dad in the business." Go-to Smartphone App: "I use Yahoo! Finance. I also use Rate Alert, a mortgage rate app." Favorite Book: Think and Grow Rich, by Napoleon Hill
Angela Barnshaw
Owner and Broker of Record, Agent06, LLC, Haddonfield
Age 38
Angela Barnshaw entered the family business when she chose her career field, as she is a third-generation real estate professional. A product of the acclaimed advertising program at Virginia Commonwealth University, she began her real estate career in Richmond, Va., before relocating to this area when she married her husband Bill. After five years as a licensed real estate agent in South Jersey, Barnshaw developed a unique marketing process for her clients called "Six Steps to Sold," and the Agent06 office in Haddonfield was born. Agent06 breaks down the real estate process into six phases and provides each client with a market consultant, staging team, professional photographer, marketing manager, processing manager and real estate attorney for the same price charged by a traditional agency. Barnshaw also wants her company to be known for social consciousness, and donates $100 on behalf of her clients to a local charity after each settlement. Career Mentors: Mindy Holman and Joan Lyons. Go-to Smartphone App: Houzz and irunurun. Favorite Book: Oh, the Places You'll Go and The Sneetches, both by Dr. Seuss.
Krista Collings
Vice President/ Market Manager, Susquehanna Bank, Richwood
Age 31
Krista Collings has quickly moved up the ranks in the banking industry. After earning her bachelor's degree in business administration from Rosemont College in 2003, she completed her master's degree in strategic leadership at Neumann University in 2007. She started out as a part-time customer service representative at Commerce Bank upon graduation before ascending to her current role at Susquehanna Bank. "As a market manager, I enjoy networking within my community and I pride myself on being a financial resource," Collings says. "Building a strong rapport and making connections with local professionals is a go-to part of my position that I find very gratifying." Collings believes strongly in giving back to the community and volunteers for a number of organizations. She is president-elect of the Rotary Club of Mullica Hill, a partner in the creation of New Visions Networking, and an ambassador for the Gloucester County Chamber of Commerce. Best Career Advice Received: "Whatever you do, give it your all and always dress for the position you want." Career Mentor: William Plick, Susquehanna Bank Commercial Lender Favorite Movie: Pay it Forward
Rishi A. Shah
Asset Manager, Wyndham Philadelphia—Mount Laurel/ Managing Member, R Cubed Advisory, LLC, Branchburg
Age 35
In both his position at Wyndham and at R Cubed Advisory, Rishi A. Shah has made it his goal to help promote positive environmental change in the community. "The guiding force behind my passion in sustainability has been that our customers want change and it makes economic sense for business," he says. "It's also the right thing to do for our community." At Wyndham, he has helped implement green initiatives that not only helped the environment, but increased profitability within the company, while the central purpose of R Cubed Advisory is to advise businesses on how to become more sustainable while becoming more profitable. Shah also serves on the Camden County Regional Chamber of Commerce Board of Directors, as well as the Wyndham Franchise Green Board of Directors. Go-to Smartphone App: "CardMunch by LinkedIn. It's a go-to for quickly capturing business card information and automatically transcribing it into contact form." Favorite Book: "Into Thin Air, by Jon Krakauer, because it is an adventurous and riveting story that is told so well that you feel as if you are right there on Everest on the expedition."
Courtney Kronenthal, Ph.D.
Director of Communications & Development, Coriell Institute for Medical Research, Camden
Age 34
Since Dr. Courtney Kronenthal started working for the Coriell Institute for Medical Research in 2007, she has made a name for herself as an enterprising woman. She serves as a key architect and an associate investigator on the Coriell Personalized Medicine Collaborative research study—a study that seeks to understand best practices in using patients' personal genetic data in clinical decision-making that is now funded through the Department of Defense and the National Institutes of Health, and has developed new partnerships with Cooper University Hospital, The Ohio State University, Stanford University and the United States Air Force. Kronenthal also enjoys sharing her passion for education and manages the institute's science fair and internship programs for middle school, high school and college students, while also giving scientific or motivational talks to audiences ranging from medical professionals and business leaders to middle school students and the general public. Best Career Advice Received: "In moments of peak pressure, my husband reminds me that if it was easy, everyone would do it." Career Mentor: "My current boss challenges each of us to be enterprising and I appreciate the independence that provides. He also told me the famous hockey player Wayne Gretzky's quote that 'A good hockey player skates to where the puck is, but a great hockey player skates to where the puck is going to be.' From a career perspective, it's about thinking ahead to where I want to be, rather than focusing on where I am today or where I have been."
Joshua N. Silverstein
Partner, Stradley Ronon Stevens & Young, LLP, Cherry Hill
Age 38
As one of the youngest partners at Stradley Ronon, Joshua Silverstein is licensed to practice law in both New Jersey and Pennsylvania, and focuses his work on mergers and acquisitions, transactional health care and insurance matters, and general corporate counseling. Perhaps most notably, Silverstein represented Tasty Baking Company, makers of the popular Tastykake brand, in the company's merger with Flowers Foods. In 2012, he was named by the New Jersey Law Journal as one of the "New Leaders of the Bar," a prestigious list of lawyers under 40 who represent the next wave of leadership of the New Jersey bar. Additionally, he was selected to receive the Rising Star distinction in the 2013 edition of New Jersey Super Lawyers. His community involvement includes serving on the board of directors of the Philharmonic of Southern New Jersey, and he has also coached his son's youth soccer team. Best Career Advice Received: "It's not knowing what to do; it's doing what you know." First Job: File clerk at the Jewish Exponent newspaper. Go-to Smartphone App: Waze (A GPS navigation application).
Gary M. Shickora, CLU
Managing Director and Financial Advisor, Northwestern Mutual – South Jersey, Mount Laurel
Age 32
Gary M. Shickora, CLU, graduated first in his class at East Carolina University, where he earned a bachelor's degree in business administration. After starting his career at Ryan Homes, he joined Northwestern Mutual as a financial representative in 2008. In his current position of managing director, he actively recruits and trains financial representatives in addition to overseeing business operations. Shickora enjoys meeting one on one with clients and helping them formulate a plan for their financial future. "I have a passion for planning, helping clients build a bridge between their current financial lives and the ones they dream of," he says. Shickora, a married father of two, is also very active in the community. He serves as the Young Advisors chairman on the board of directors of NAIFA-South Jersey and also volunteers for the Delaware Valley Alzheimer's Association, Center for Family Services and Relay for Life. Ultimate Goal: "To donate $1 million a year to local charities. Also, I'd like to own a home on the beach at the Jersey Shore where I can entertain our friends and family." First Job: "In fourth grade, I unofficially set up my own candy and food store to compete with the school cafeteria. It lasted about a week before the school shut me down."
Emily Waldorf
Director of Corporate Development, Campbell Soup Company, Camden
Age 35
In her short time at Campbell Soup Company, Emily Waldorf has already left her mark. After joining the company in 2011, she led Campbell's $1.55-billion acquisition of Bolthouse Farms, a provider of smoothies, fruit juices and dressings, among other products. It was the largest deal ever for Campbell's, a $7.7-billion company. Waldorf, who has a bachelor's degree in finance from Penn State University and a master's degree from Harvard Business School, oversees mergers and acquisitions and business development for the North American region. She has extensive experience in large-scale, corporate projects, as she's also worked in leadership roles for Discovery Communications, AT&T and Johnson & Johnson. Before coming to Campbell's, Waldorf was a special advisor for the FBI. Outside of the office, she donates her time to the Campbell Soup Company corporate social responsibility program. Best Career Advice Received: "A former boss told me that the most important lesson is when, and more importantly how, to say no. In my role, it's important to be able to walk away from an acquisition when it no longer makes sense financially or strategically." First Job: "My first, and probably my favorite, job was working at the counter of a small, family-owned Italian pastry shop. It was a great learning experience and helped me realize that I love working in a collegial environment where I can interact with all different types of people. The daily dose of cannolis was a nice perk, too."
Published (and copyrighted) in South Jersey Biz, Volume 3, Issue 5 (May, 2013).
For more info on South Jersey Biz, click here.
To subscribe to South Jersey Biz, click here.
To advertise in South Jersey Biz, click here.