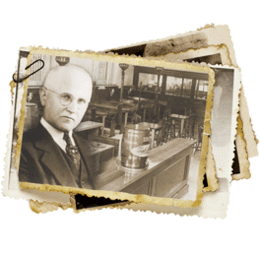 A Boost in Business
Despite competition, this "little guy" has maintained a solid foundation thanks to its local base—and a bit of nostalgia.
It's a rarity for businesses these days to commemorate their 100-year anniversary. In a turbulent economy that has gone through many changes through the years, it seems not many young companies are able to weather the storm. When Benjamin Faunce developed his drink, Tak-ABoost in 1913, it's likely he hoped it would be successful, but—like businesses today—he probably never imagined it would hit the revered 100-year milestone. However, the Riverside-based company will do just that this year, with hopes to carry on for 100 years more.
"It has not always been steady," admits Helen Faunce Anderson, a spokeswoman for the company. "There were some lean years." But that could be said for any company that's been around through the Great Depression, two World Wars and political unrest. Despite the struggles, Boost!, which the drink and company was renamed in 1997, found a business formula that works and ran with it.
A loyal following of consumers—it's hard to meet someone hailing from the Riverside area that doesn't smile when asked about it—also doesn't hurt.
Faunce, a pharmacist, first introduced Tak-ABoost in concentrated form at the soda fountain in his pharmacy on May 20, 1913, where it was mixed with water, seltzer water or milk and in milkshakes and as a topping on ice cream. Back then, the drink was always enjoyed with the pretzel or two that was served with it. The drink was trademarked and patented by the U.S. Patent office on Dec. 2 of that year. As the popularity of the drink grew, Tak-ABoost shops were opened in many South Jersey communities, including Pitman, Blackwood, Palmyra, Burlington and Moorestown. Despite its growth, the company has always maintained its roots in Riverside, and in 1962 a manufacturing plant was built on Harrison Street to accommodate the demand for the drink.
Following Faunce's passing in 1949, a family dispute in 1950 led to a split in the company, and a similar product, Drink AToast, was produced by two of his sons and grandsons. The Boost company eventually sued Drink AToast over the formula of their drink but lost, and in 1957 Drink AToast acquired the Tak-ABoost trademark when the Boost company went bankrupt, but it's continued to grow since.
Today, Boost! is available in original, caffeine free, sugar free with caffeine and sugar free without caffeine flavors. The caffeine-free products were actually made available in 1978, while Diet Boost! was first served in 1997, well before the caffeine-free and diet craze took hold. "There was a lot of customer demand for it, so that's why we went in that direction," says Anderson, who adds it was often avid fans who were working on improving their health but didn't want to give up the sugary treat.
Slushies incorporating the drink are also popular these days, and available in flavors like pink lemonade, berry burst, watermelon and green apple. The drink can be shipped worldwide, and has been shipping since the Vietnam War to places as far away as Italy and Alaska. Florida is the most popular shipping destination, according to Anderson, as a number of Burlington County natives have retired there and like to keep their favorite drink in stock. Boost! can also be found locally in convenience stores and specialty shops.
Anderson says the drink, which is non-carbonated, is an acquired taste, but people who have tried it truly enjoy it. "They compare it to other colas, but it's not really like that," she says. "It has its own taste." In fact, it has even become popular for alumni of local high schools holding their reunions to have bottles of Boost! at the events, because the locals enjoyed it so much both then and now.
Currently there are third-generation family members working in the company, and third- and fourth-generation family members serving on the board of directors, which is a testament to the commitment the family has to its company. Boost! is presently led by Daniel P. McDonough, who acts as president and general manager, and says he could not be more pleased with how the company has grown through the years.
"We are looking forward to another good year [in 2013], and especially celebrating our 100th year," he says. "Ben Faunce would be proud of the company today."
Published (and copyrighted) in South Jersey Biz, Volume 3, Issue 5 (May, 2013).
For more info on South Jersey Biz, click here.
To subscribe to South Jersey Biz, click here.
To advertise in South Jersey Biz, click here.