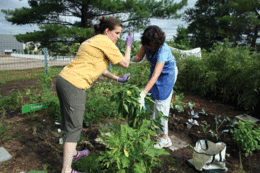 The 2013 Green Awards
We've heard it questioned before: whether or not the idea of "going green" is just a trend in the business world. Will the momentum keep moving forward, inspiring others to follow until green business is the norm? Or will the popularity die down and prove to be more of a phase? To find the answer, just look at the following 15 careful selections for this year's Green Awards. These companies—from construction companies and nonprofits to global organizations—are leaving their mark on sustainability practices in South Jersey and, in the process, they're proving it's anything but a fad.
Brandywine Realty Trust
Headquartered in Radnor, Pa., with regional offices in Mount Laurel, Brandywine Realty Trust was named a 2013 ENERGY STAR Partner of the Year for its efforts to improve the energy efficiency of all the buildings it manages. The ENERGY STAR program is administered by the U.S. Environmental Protection Agency and recognizes companies that are making efforts to protect the environment through energy efficiency. In addition to improving its energy performance, Brandywine has also established a sustainability advisory group in its office, known formally as the "Green Team," that has worked to establish more green practices within the organization, including waste reduction, the use of green cleaning products, water conservation and paper reduction, and it works to educate its tenants on environmentally friendly practices as well. "We really just tried to increase awareness internally first and then we worked with our vendors and contractors and then we tried to heighten awareness with our tenant base as well," says George Johnstone, senior vice president of operations.
Burris Construction Company
Moorestown-based Burris Construction Company has been successfully designing and building properties since 1973, and most recently designed two post acute rehabilitation centers for PowerBack Rehabilitation—one in Voorhees that opened in 2012 and one in Moorestown that is due to open at the end of 2013—that are intended to produce almost as much energy as they consume.
A unique and intense undertaking, the initiative is achieved through a combination of energy reduction and efficiency measures, along with on-site harvesting of renewable energy, according to William G. Burris, chairman and CEO of the company. "We are committed to attaining as close to zero net energy in our facilities as possible," he says. "This is being accomplished through the implementation of such cutting-edge technologies as LEG lighting, geothermal heating/cooling, rainwater collection for irrigation and toilet operation, and solar arrays."
Camden County Board of Freeholders, Camden County Municipal Utilities Authority, City of Camden, Cooper's Ferry Partnership, Department of Environmental Protection, New Jersey Tree Foundation and Rutgers University
Initially these groups came together to develop one rain garden at an abandoned gas station on the waterfront in Camden; now, they have created a plan to put dozens more in place around the city. The rain gardens, which are designed by the Rutgers Agricultural Extension Service, capture stormwater and prevent it from entering Camden's sewer system, a structure that is already taxed and in need of rehabilitation. "We were initially working with the NJDEP and Rutgers to turn the abandoned gas station into a park, or a green space within the city, when Rutgers said, 'We could do rain gardens in Camden,'" explains Andy Kricun, executive deputy director of the CCMUA.
The success of the Waterfront South rain gardens led Kricun to explore options to take the project citywide, and thanks to a grant, 20 more have been built, with an additional 20 more in the works. "We're trying to do everything we can to minimize flooding in the city both for the environment and for the public health," Kricun says.
Campbell Soup Company
The Campbell Soup Company, headquartered in Camden, has made eco-friendly strategies a high priority in recent years, and people are taking notice.
Earlier this year, Campbell's was one of 10 American companies and the only U.S. food and beverage company named to the Global 100 "Most Sustainable Corporations in the World" list. The ranking was compiled by Corporate Knights, a media and investment research company.
In the last four years, Campbell's has cut its water usage by more than three billion gallons and enacted energy savings measures that eliminated more than 280,000 metric tons of greenhouse gas emissions. In fiscal 2012, the company saved more than 1.2 million pounds of plastic by redesigning its plastic packaging. Campbell's also built a 60-acre solar field in Ohio, the site of its largest manufacturing plant, which produces 15 percent of the energy needed to run the plant. Similar projects are being developed throughout North America, including at the Camden campus.
"We are on a path to become one of the most socially responsible consumer goods companies in the world," says Dave Stangis, Campbell's vice president of Public Affairs and Corporate Responsibility.
"We work hard to address a unique range of topics, including sustainable agriculture, responsible sourcing, promotion of sound nutrition and responsiveness to consumers' expectations of the foods they choose for themselves and their families."
Chiusano Homes
Green certifications in hand, Barbara, Jim and John Chiusano, of Chiusano Homes in Marlton, decided to take advantage of a slow housing market and put their education to use by building a home in Haddonfield that would eventually receive silver-level green certification from Home Innovation Research Labs (formerly the NAHB Research Center). In 2012, the project earned them "Best Green Home-Single Family Detached" and "Best Architectural Design-Single Family Detached" awards from the Builders League of South Jersey.
"Our goal was efficiency, and helping to preserve the environment, without being overly extreme so the consumer wasn't frightened away and it wasn't overly expensive," explains John Chiusano, principal and co-owner of the company, noting that often green efforts can be expensive but worthwhile in the long run. The project was entirely green-based, from "soup to nuts," he adds, and Chiusano Homes has been able to take what was learned during this first project and apply it to other projects in the works. "What's green today is going to be standard tomorrow," Chiusano says.
DCM Architecture and Engineering
For DCM Architecture and Engineering, headquartered at the Waterfront Technology Center in Camden, being eco-friendly is more than just a slogan. The firm has been ahead of the curve on environmental issues since its founding in 2006 by Haddonfield architect Eduardo Guzman and Cherry Hill engineer Robert Benson.
The DCM approach is concerned not just with the design and construction of a structure, but the maintenance as well. In addition to creating energy-efficient buildings, its goal is to make sure personnel and occupants are properly trained in the upkeep of the system.
"These are buildings that integrate and optimize all major building systems and attributes, including energy efficiency, durability and lifecycle performance," says Guzman. "In our projects, energy performance is tracked, measured and evaluated."
The DCM business model has helped create environmental and economic perks for a number of clients, including the National Park Service, the U.S. Department of Agriculture, the U.S. Army and multiple New Jersey school boards. "This is our contribution: building facilities that use the right amount of energy, that are durable and foster user productivity and happiness," says Guzman. "We think we do a pretty good job at it."
Joint Base McGuire-Dix-Lakehurst
By the middle of 2013, roughly 1,500 homes in United Communities-operated housing on Joint Base McGuire-Dix-Lakehurst will have been fitted with solar panels, a project that is expected to generate about 13.7 million kilowatt hours of renewable electric power annually. In addition to the solar project on the homes, JB MDL, located 18 miles south of Trenton, also uses solar panels on other parts of the facility, and is in the process of putting together another significant energy project. "We're working on an enhanced-use leasing project," says Richard Sample, asset management flight chief, 87th CES. "We're making up to 500 acres available to interested parties who put together proposals to provide energy for the base." According to a document from MCFA, a company that specializes in planning and executing generational infrastructure investments, such potential energy providers "include, but are not limited to, geothermal, waste to energy, natural gas-fired combined-cycle gas turbine, solar and co-generation hybrid facilities."
The Klein Company
Renters in South Jersey looking for an eco-friendly place to live would be wise to check out the Dwell Luxury Apartments in Cherry Hill. Recently opened by The Klein Company, of Philadelphia, and located on Route 70, Dwell offers a number of green features.
All of the 233 brand-new apartments—available in one- and two-bedroom layouts—come with ENERGY STAR appliances and water-conserving faucets, toilets and showerheads. Dwell residences also contain whole-house ventilation systems to help reduce allergens, and in the private garages the fumes from car exhaust are minimized thanks to air filtration systems.
Underground rain vaults and native plant landscaping are also part of the Dwell experience, and Level 2 electric car chargers can be found around the perimeter of the property.
Finally, Dwell educates and encourages its residents to contribute to the sustainability of the community, providing a manual on greener living for every home.
"Dwell offers high-performance green apartments, designed to be healthy, comfortable, durable, energy-efficient and environmentally responsible," says Clay Chandler, vice president of development for The Klein Company. "We're intent on shrinking our environmental footprint and improving our residents' rental lifestyle in the process."
Laurel Oak Garden Center
As a garden center, it only makes sense that Laurel Oak Garden Center in Marlton would be considered "green," but this environmentally friendly business takes its commitment to a whole new level. From offering a Christmas tree recycling program that includes a $15 store credit, to selling and installing rain barrels and permeable, interlocking pavers that reduce rainwater runoff, Laurel Oak is doing everything it can to give back as much as it takes from the environment. In fact, even the property the garden center is located on is National Wildlife Federation-certified land. "We have everything on our property wildlife needs to sustain and thrive," explains owner Dave Scott.
The company also installed rain barrels and donated ponds to local schools so the students can begin to appreciate their environment at a young age. "We realized early on that we can make a difference in our environment through the education of our customers and helping to educate our kids," Scott says.
New Jersey American Water
The first full week of May is always an important time for New Jersey American Water, as the Voorhees company celebrates National Water Week by educating South Jerseyans on wiser water usage. Speakers are available for schools or community groups, while other activities include watershed cleanups.
Yet environmentalism is much more than a seven-day crusade for NJAW. Through its Environmental Grant Program, grants up to $10,000 are provided each year to help communities across the country improve source water. Last year, $180,000 was distributed for 48 projects in 10 states.
NJAW is also committed to raising awareness of the need to rebuild the country's aging water system. To that end, it has installed a floor graphic at Sahara Sam's Oasis Indoor Water Park in West Berlin. When photographed at a specific angle, the graphic creates a 3D illusion of a crew fixing a water main break.
NJAW is hoping to stress, through the graphic, that a water main breaks every two minutes in the U.S., and that 15 percent of the pipes in this state are almost 100 years old.
"We're hoping to help consumers better understand the value of water, and how continuous maintenance and upgrades to the system ensure that water service will be available for homes, businesses and fire protection," says Suzanne Chiavari, vice president of engineering at NJAW.
Organic Diversion
When Rocco D'Antonio was traveling the country in 2008 doing research on organic waste recycling, he found the practice to be commonplace on the West Coast.
"I was out in California visiting restaurants and supermarkets, and they were absolutely stunned that we didn't separate our food waste in New Jersey," says D'Antonio. "They didn't know any other way. That's what we need to get to."
D'Antonio and his Marlton-based company, Organic Diversion, are doing their part to get South Jersey caught up. Launched in April 2009, Organic Diversion works with supermarkets, corporate cafeterias, school districts and restaurants to develop cost-effective and eco-friendly solutions for their food waste issues.
He estimates 75 percent of food waste from a commercial operation is recyclable. Organic Diversion provides containers, sets up collection schedules, and trains a client's staff on what to recycle, so that the practice becomes second nature. The waste is then composted "and it becomes a mulch and soil amendment that goes back to the farms and gardens in your backyard."
Business has especially picked up over the last year, and D'Antonio believes it will continue to grow. "These people are all getting involved from a sustainability standpoint, and also because it's good for their business."
Organic Diversion is currently going through the approval process to build a renewable energy plant powered by organic waste in Gloucester City. If approved, it would be the first of its kind in the country.
Scotland Run Golf Club
Since the owners of Scotland Run Golf Club in Williamstown depend on the environment for their business, adopting green initiatives is really a no-brainer. The most notable way they're doing that is by embracing solar energy.
Following the lead of sister course Ballamor, Scotland Run recently completed construction of a solar energy system. Through the process, sunlight is converted into electricity, providing at least 25 percent of the power needed to run the 28,000-square-foot clubhouse.
Among the benefits of going solar are reducing pollution from existing power plants and helping to curb global warming.
"As golf course operators who rely on the land for our livelihood, we have an inherent responsibility to care for the earth and do everything we can to protect it now and for future generations," says Anthony Suppa, corporate controller for Scotland Run and Ballamor. "Adopting a green initiative and going solar is one way we can do that."
Aside from solar energy, Scotland Run has also amped up its recycling efforts and the grounds crew chips in by composting grass clippings and leaves.
Subaru of America
When it comes to protecting the environment, Subaru of America, headquartered in Cherry Hill, takes a very firm stance. From the organizations they partner with to the initiatives they have in place for cleaner air, they are focused on helping protect the world we live in."Being green isn't a trend [for Subaru]," says Sheriece Matias, manager of corporate communications. "It's who we are and what we stand for."
Not only does the company build all of its vehicles in zero-landfill plants, but in 2009, an employee garden was started at its headquarters that has since produced more than 3,200 pounds of produce that has been shared with the Food Bank of South Jersey and New Vision Homeless Center. Additionally, two rain gardens were installed at its headquarters in 2011, and in 2012 a wildflower meadow was added. The company also partners with several organizations, including Leave No Trace and United by Blue, an ocean-friendly apparel brand, among others, to continue its efforts to help and improve the environment.
TerraCycle
A company rooted in worm compost and the resulting organic fertilizer, Trenton's TerraCycle started in 2001 as an enterprise thought up by Princeton University freshman Tom Szaky. Now, it's a multi-million dollar waste-eliminating business that operates across the U.S. and in 22 countries around the world. While sales of the organic fertilizer ignited the company, it's the free recycling program TerraCycle developed that really helped it take off. "Since 2007, when we first launched the program, we have collected 2.5 billion pieces of garbage," says Albe Zakes, global vice president of communication for TerraCycle.
The garbage, which is collected mostly by schools or nonprofit organizations that are paid 2 cents for every piece, is put through one of three processes—reusing, upcycling or recycling—and sent back out into the world, rather than into a landfill. The company's most innovative process, recycling, finds ways to transform products that are not normally recyclable, like Capri Sun drink pouches, into products that can be resold, including book bags and lunch boxes, and have a much longer lifecycle.
TD Bank
TD Bank, headquartered in Cherry Hill, bills itself as "America's Most Convenient Bank." Its quest to create simpler transactions for its customers has the added bonus of minimizing its environmental footprint.
TD started in September the process of updating more than 1,900 ATM machines up and down the East Coast, a project that is expected to be completed by the end of this summer. In addition to featuring user-friendly touch screens, the new "Green Machines" are backed by 100-percent wind power, and the elimination of envelopes will save more than 52,000 pounds of paper each year.
"TD is creating legendary experiences with our new ATMs," says Jim Grimmer, senior vice president and head of ATMs for TD Bank Group. "We're … committed to being as green as our logo by using renewable energy sources to back them."
Since 2010, TD has also committed to constructing energy-efficient buildings in accordance with Leadership in Energy and Environmental Design (LEED) standards. To date, 72 of the 90 new stores and office buildings have been officially designated LEED-certified, most of those at a Gold or Platinum level.
Caption: Share the Love Garden, Subaru of America
Published (and copyrighted) in South Jersey Biz, Volume 2, Issue 4 (April, 2013).
For more info on South Jersey Biz, click here.
To subscribe to South Jersey Biz, click here.
To advertise in South Jersey Biz, click here.