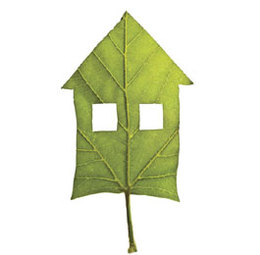 Green Building, Bright Future
There may be challenges in the industry, but between the incentives and companies out there ensuring building sustainability is maintained, the landscape of South Jersey will continue to become more eco-friendly.
It may be relatively easy to "go green" when it comes to how you commute to work or the products you buy, but in the construction industry, the efforts to utilize more sustainable materials and building practices present myriad challenges. However, the future of green building is looking bright—and part of the reason is business owners and homebuyers are increasingly seeking out certified green construction.
According to Richard Van Osten, executive vice president of the Builders League of South Jersey (BLSJ), research shows consumers looking for green-built homes are more sophisticated in their understanding of the ongoing benefits to be reaped from sustainable construction. "I think one misconception is that the only green feature homebuyers are interested in is energy efficiency and saving money on their utility bills," he says. Instead, buying trends indicate more and more consider green buildings healthier places to live and believe they're contributing to a sustainable lifestyle, he adds.
However, whether you're in the market for a new home or office space, Barbara Chiusano, manager and owner of Chiusano Homes, certified green professional, and member of BLSJ, notes it's important for home or office buyers to understand exactly how a building becomes green certified.
Green building—and what it really means
There are many certification programs that take a variety of criteria and standards into consideration and label a building with different levels. LEED, for example, is an international green building certification system with four levels—Certified, Silver, Gold and Platinum—developed to provide a framework for identifying and implementing practical and measurable green building design, construction, and operations and maintenance solutions.
"Consumers should look closely when a home or product is being touted as 'green' and they should be wary of inflated or unsubstantiated environmental claims. They should check for independent, third-party verification and certification to provide credibility and assurance that the claims are truthful and accurate," Van Osten explains. Some of the more recognizable certifications are LEED, National Green Building Standard, and the Environmental Protection Agency (EPA) Green Building protocols such as ENERGY STAR, Indoor airPLUS, or WaterSense.
LEED addresses all building types and emphasizes state-of-the-art strategies in five areas: sustainable site development, water savings, energy efficiency, materials and resources selection, and indoor environmental quality. As of March, the United States Green Building Council (USGBC) of New Jersey listed some 260 LEED-certified buildings in New Jersey and nearly 900 registered buildings that are currently pursuing certification, including approximately 20 projects in Camden, Burlington and Gloucester counties; the Camden County Environmental Center, for example, earned a Silver certification for its green roof, improved daylighting, and reduced water usage.
Sustainable Cherry Hill, a nonprofit designed to foster the sustainability movement in Cherry Hill and throughout the region, notes the Wu and Associates Cherry Hill headquarters is frequently featured as a case study in the organization's green building education sessions; their LEED-EB gold-certified facility features a substantial solar installation, among other features, according to Scott Downie, LEED AP, architect and principal at Spiezle Architectural Group, Inc. and executive board member and task force leader with Sustainable Cherry Hill.
"The terms 'green building' and 'sustainable building' have come to be used so broadly that they really now have no specific definition and the term can encompass any number of meanings," Chiusano says. Typically, however, green building from a residential homebuilding standpoint involves a comprehensive, whole-house approach that includes design, lot selection, processes, systems and products to achieve the most efficient use of resources.
Reaping the benefits
The benefits of opting for a green-certified home or office space can prove to be well worth the effort. According to David Blackwell, certified green professional and member of the BLSJ Board of Directors, a building constructed to green standards can save an individual at least 30 percent more than an older property. The newer certified green house is also eligible for an energy-efficient mortgage, which allows borrowers to qualify for a larger loan by crediting the building's energy efficiency in the mortgage itself, offering the opportunity to finance energy-saving measures as part of a single mortgage, and stretch debt-to-income qualifying ratios on loans. "Green building will increase as the economy improves and building codes require more efficient houses," Blackwell says.
South Jersey is already home to a number of examples of organizations and individuals that are taking the lead. The Rutgers Center for Green Building has partnered with the Energy Efficient Buildings Hub (EEB Hub) based in Philadelphia to focus on sustainable building codes and compliance, such as through their efforts in West Windsor. It's the first New Jersey municipality to participate in a new initiative spearheaded by the Rutgers University Center for Green Building that seeks local communities to experiment with new policies in the area of energy efficiency.
The overall goal of the project is to reduce annual energy use in commercial buildings in the greater Philadelphia region by 20 percent by 2020, according to Laurie Actman, deputy director of the EEB Hub. The Rutgers Center for Green Building reports the local building sector has been slower to decrease its energy consumption than other industries, including automotive, locomotive and aircraft, and the Department of Energy had outlined the need to appeal to builders. "Our big focus is the challenge of making our sustainable initiatives interdisciplinary; the biggest hurdles of energy efficiency aren't just technology or the economy or finances … it's all about educating people about the true benefits of what we're trying to do," Actman says. "We do think the region has become a lot more interested in green building thanks to programs likes ours, political leadership, utility programs and other investments, and we hope to serve as the catalyst to get more building owners to invest in making their buildings more efficient."
The lingering challenges—and getting around them
The largest obstacle is perhaps financial, notes J. Michael Chadwick, field advisor for Tremco Roofing and Building Maintenance and the South Jersey branch chair for the USGBC NJ. While he says the two largest efforts in green building initiatives in recent years have revolved around the solar production of electricity for buildings and overall energy efficiency, the difficulties lie in the fact that the SREC market was flooded and is still unstable, and the other is that it can still be costly for the average business or homeowner to upgrade their building.
"These are the two most aggressive trends in New Jersey in terms of sustainability, but the focus has been on smaller projects by people who are able to afford them ... ultimately, everything is driven financially," Chadwick says. The New Jersey Clean Energy Program has taken a stance on direct install programs to provide 70 percent of the funding, but these tend to be smaller projects in the $100,000 range where it's less costly to upgrade. "There's a lot more that can be done in terms of green building, but unless somebody wants to do it, and has the money to do it, we'll be struggling to initiate a more holistic green building effort in South Jersey until the economy balances out and it becomes financially feasible for everyone," Chadwick adds.
That isn't to say there aren't plenty of examples of buildings and organizations that are epitomizing the green building movement in South Jersey. The Jersey Shore Medical Center is a landmark project in South Jersey for green building, according to Florence Block, LEED green associate and executive director of USGBC NJ. The first hospital to earn the Gold LEED certification in the state of New Jersey, and one of the first on the East Coast, it was recognized for its sustainable strategies, such as gas-fired co-generation units that convert onsite waste into steam heat and have led to a 32 percent reduction in energy costs, and heating and cooling systems that filter and supply 100 percent clean outside air. "Most importantly, they're seeing shorter recovery times for patients, a lower turnover of staff, and everyone is reaping the benefits of a healthy, energy-efficient environment," Block says.
"Green building makes sense—it benefits people, the environment and the bottom line for businesses," Downie adds.
The future of 'green'
According to Downie, codes are evolving to recognize the increased ease with which buildings can achieve better energy performance, and many communities are embracing sustainability. "One thing we have in our nation are utility costs … so that leaves us to look for the diamond in our own backyards and do what's necessary to achieve energy independence," asserts Ed Hutchinson, president of Hutchinson Mechanical Services in Cherry Hill. "These are practices that will help businesses save money by using less energy, and all while making a more comfortable environment for their employees."
The new International Green Construction Code is in review, and could be adopted in New Jersey in the next year or so, Downie notes. "With increased adoption of green building codes and ordinances, these changes will have positive benefits for local communities and regions," he says. As more and more South Jersey property owners, builders, and those seeking their new home or office space recognize the benefits of green buildings, Downie predicts the cost premium once associated with green building will ultimately disappear.
"The notion that these measures increase building costs just does not hold water anymore," he concludes. "Done right, such measures can even encourage more cooperation between planning agencies and developers as they incentivize more environmentally and financially sustainable growth; the market, taxpayers and the next generation are demanding more sustainable, more efficient solutions, and buildings and communities that haven't responded will be seen as less desirable places to live and work."
Published (and copyrighted) in South Jersey Biz, Volume 2, Issue 4 (April, 2013).
For more info on South Jersey Biz, click here.
To subscribe to South Jersey Biz, click here.
To advertise in South Jersey Biz, click here.