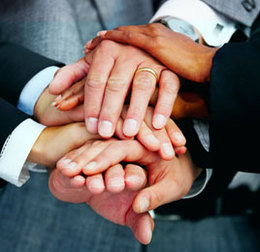 The Business of Doing Good
South Jersey is full of successful, large-scale charity organizations. While they may be nonprofit, they mean business—especially in this tough economy.
It's a cruel irony: Funding to nonprofit organizations shrinks during tough economic times, just as the need for their services soars. Nonprofit institutions in South Jersey have faced this predicament in the last few years, but in spite of these challenges, they are managing to thrive and continue to assist others.
Finding support
Since 1983, Ronald McDonald House of Southern New Jersey has provided a "home away from home" for more than 17,000 seriously ill children, and their families, who are being treated at nearby hospitals. This haven includes 20 family suites, a communal kitchen, dining room, living room, laundry and play areas, as well as the support and camaraderie of other families experiencing the strain of a sick child.
The organization has seen the need for its services rise dramatically in the past few years, according to Executive Director Teddy Thomas. Five years ago, the house averaged 78 percent occupancy; in the last two years, it's topped 99 percent. "With the economy down, we see greater need for assistance," she explains.
The organization has increased corporate networking and relies on fundraisers—from doll fashion shows to black tie galas—to support its $1 million annual budget. The group also increased direct-mail solicitations and personalized them with stories of the families they've helped. "We've found people are happy to give smaller amounts more frequently, rather than write one big check at year-end," Thomas says. "Corporations and individuals are often giving less, so we have to find more people willing to give."
Finding that unique balance between asking for too much and getting pushed to a "back-of-mind" thought for donors is what all nonprofits always strive to do—but much more so since the economic downturn.
Most organizations do still have that one annual event that requires a bigger push than anything else—such as the Relay for Life, held all across South Jersey to benefit The American Cancer Society (ACS).
The need for ACS funding—to support cancer research, patient navigator programs, support groups and more—has increased, according to Frank Mascia, American Cancer Society executive vice president for New Jersey. The ACS relies heavily on the dozens of Relay events in this region, as well as Making Strides breast cancer walkathons, to make it up its funding, which in 2011 was reported at $1.37 billion nationally on CharityNavigator.org. Fortunately, Mascia says he finds that these types of events garner a large grassroots following, often making them more successful than the high-end donor galas.
"Today, many people are uninsured or underinsured, so we've had to step up our fundraising efforts to meet the demand for our services," Mascia says. "Individually, these events bring less to the table, but we have countered by bringing more people into the fold to help."
Getting by with less
According to Bernadette Shanahan, executive director of the Boys & Girls Club of Camden County, which is part of a national group that reported in 2011 it raised $289.5 million in total assets, and relies greatly on support from corporate sponsors and private donors, today's economy has forced non-profits to take a look at their programs and decide what is necessary and what can be eliminated. "We've had to cut programs like art," she says. "The economy has made it harder for people to contribute because they don't have extra money. Since each fundraiser makes less, we have to do more of them, and target different groups." The Boys & Girls Club serves 2,000 Camden children ages 6 to 18, kids who get homework help, tutoring, and structured recreational activities after-school hours—a time, says Shanahan, when they are most at-risk.
Like the Boys & Girls Club and so many other non-profits, Catholic Charities of the Diocese of Camden also faces the difficulty of meeting needs with limited resources. Part of a national organization called to serve all people within its boundaries, regardless of their beliefs, according to Camden's executive director Kevin Hickey, its services are especially important at a time when many people are struggling to get by. The group receives funds from the Bishop's Annual Appeal solicitation of diocesan parishioners, and its Justice for All dinner, which raises more than $100,000 annually, as well as grants from other organizations, and after reportedly making $39 million nationally in revenue during 2010, it has also found that paying close attention to how the funds are distributed is the best way to be successful. "We are wise stewards of our donations and take it very seriously," says Hickey.
Making up the losses
Like all nonprofits, the United Way of Greater Philadelphia and Southern New Jersey is one that has had to work harder to secure volunteers and funding. It's a group of seven separate United Way offices that merged last year in the hopes to consolidate resources, administrative expenses and expertise, while increasing services to improve the education, income and health of community members. The group's programs, which are available worldwide, are tailored to regional needs, and include Success by Six, which promotes kindergarten readiness in Atlantic County by distributing books and supplies to underprivileged preschoolers, Breakfast in the Classroom, which serves breakfast to qualifying Camden City students during homeroom, and Code Blue, which partners with Burlington County churches and other groups to provide lifesaving overnight shelter to the homeless when temperatures dip below freezing.
After a couple of tough years, donations are back, according to Abby Hickerson, communications manager. In 2011, $5.14 billion was raised by the worldwide United Way network, according to the organization's annual report. This year, donations—the bulk of which come from corporations and employee payroll deductions—have been "surprisingly good" recently, she says. "There are still issues due to the economy," Hickerson adds, "but people are realizing it's important to give when we're able, because we're each just one circumstance away from needing help."
How can you get involved?
Now more than ever, nonprofits are reducing costs by relying on volunteers. Each group actively recruits offers a wealth of opportunities to suit one's skill set. "Most everyone finds getting involved is a uniquely rewarding experience," adds Mascia.
But, increasing the volunteer pool is not always a simple and cost-free task for the nonprofit, explains Shanahan. "Nonprofit groups are magicians," she says. "We have to get creative and learn to do more with less. But the people we serve are amazing. There is so much hope."
Published (and copyrighted) in South Jersey Biz, Volume 2, Issue 4 (April, 2013).
For more info on South Jersey Biz, click here.
To subscribe to South Jersey Biz, click here.
To advertise in South Jersey Biz, click here.