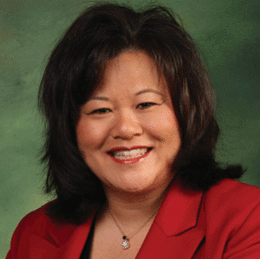 On The Move
Comings, goings, hirings, retirings and more in South Jersey.
Comings and Goings
Century Savings Bank, based in Vineland, hired Jody Hirata (pictured) as vice president of lending/business development. Hirata is a life-long area resident and a 27-year veteran of the banking industry. In her new capacity, she will be responsible for developing and maintaining commercial lending relationships and for generating new business opportunities that promote the bank's Community Banking Plus brand.
The Board of Trustees of the Boys & Girls Club of Camden County (BGCCC) selected Bernadette Shanahan as the new executive director. Shanahan succeeds the retiring Milford Liss. She joined BGCCC in July 2001 and most recently served as the associate executive director.
Sonja Leaven-Davis, of Willingboro, was named assistant vice president of residential and consumer lending at Provident Bank. Based in Provident's Iselin office, Leaven-Davis is responsible for underwriting residential loans, managing consumer segment sales, including retail loan and mortgage originations, and conducting on-site training sessions for the Federal Housing Administration (FHA) program. Leaven-Davis joined Provident in 2004 and has 14 years of banking industry experience.
Christopher M. Howard joined the regional law firm of Parker McCay P.A. as an associate in the Foreclosure and Bankruptcy Department. He is based out of the Mount Laurel office. Prior to joining Parker McCay, Howard was an associate with Powers Kirn, L.L.C., where he represented residential and commercial lenders in foreclosure and eviction actions.
Candice Ogline joined Moorestown retirement community The Evergreens as the new nurse practitioner. Ogline will partner with The Evergreens health care team—led by on-site Medical Director Elisabeth A. Siegert, MD, FACP, CMD, Vice President of Health Services Dakia McMillian, RN, BSN, LNHA, CALA, and Director of Nursing Christopher Kenneally, RN—in bringing comprehensive, high-quality medical services to The Evergreens community.
Attorney Melissa M. Grossman joined Hyland Levin LLP on April 1, concentrating her practice in estate planning, estate and trust administration and business succession planning. Grossman joins Hyland Levin LLP from the Private Client Group at Dechert LLP, where she began her legal career after graduating from New York University School of Law in 2005.
Robert S. Davis joined Flaster/Greenberg PC as shareholder and chair of the Pennsylvania Real Estate Practice on April 1. Davis, who will work in the firm's Philadelphia office, was most recently a partner in the Real Estate Department at Saul Ewing LLP.
Duly Noted
Joan O'Shea, M.D., founder of The Spine Institute of Southern New Jersey, recently welcomed R.J. Meagher, M.D., a board certified neurosurgeon with fellowship training who serves as a NASS (North American Spine Society) Evidence Based Guideline Committee member. Meagher brings a philosophy of care consistent with the tradition of health care excellence at The Spine Institute of Southern New Jersey.
For the fourth year, Benjamin L. Dash, Esq., co-founding partner of the Moorestown law firm Dash Farrow, LLP, was named a New Jersey Super Lawyer, recognizing Dash as one of the top 2.5 percent of attorneys in the state. Super Lawyers is a Thomson Reuters rating service of outstanding lawyers from more than 70 practice areas who have attained a high-degree of peer recognition and professional achievement. The multi-phased selection process includes independent research, peer nominations and peer evaluations using 12 indicators such as verdicts, experience, honors, bar activity, pro bono and community service, and scholarly lectures, and more.
Lourdes Health System has launched a Palliative Medicine consultation service, naming Samaritan Healthcare & Hospice's Pallative Medical Partners practice, headquartered in Marlton, as its preferred partner.
The Greater Philadelphia Chamber of Commerce honored Denise Morrison, president and CEO of Campbell Soup Company, with the prestigious Paradigm Award. The Paradigm Award is one of the most prominent awards for businesswomen in the area and is presented annually to an outstanding professional whose achievements serve as a model for success. As part of the award, Morrison was presented with a $25,000 gift for the charity of her choice—the Camden Coalition of Healthcare Providers, for its pilot program called Pregnancy and Parenting, which improves prenatal and infant care in Camden.
The Aloft Hotel in Mount Laurel, owned and operated by Delco Development, LLC of Willingboro, was recognized as a 2013 Best of Weddings Pick from The Knot magazine. With a ballroom that can host groups of up to 500 guests, and can divide into three smaller spaces, the hotel is also listed as a WeddingWire.com Rated Vendor.
South Jersey Healthcare and Underwood-Memorial Hospital announced the name of their newly-merged organization will be Inspira (pronounced /in-speer-rah/) Health Network. The transition to the new name, which was recently approved by the system's boards, will begin with a formal brand launch and awareness campaign set to start in late April.
Dmitry Temiakov, Ph.D., a biochemist at the University of Medicine and Dentistry of New Jersey-School of Osteopathic Medicine, received a five-year, $1.5 million grant from the National Institutes of Health (NIH) to fund research into the molecular mechanisms that control gene expression in mitochondria, the organelles that are the "power plants" of cellular activity. Defects in the normal cycle of genetic transfer in mitochondria are believed to play a role in the onset of conditions that include diabetes, cancer and age-related cognitive decline.
Alloy Silverstein, a South Jersey accounting and consulting firm, announced branding agreements with six PGA Web.Com Tour professionals. After a successful first venture into professional golf sponsorship last year, the firm has expanded its presence for 2013. The following golfers will be represented as part of the Alloy Silverstein Team: Steve Allan, of Melbourne, Australia; Adam Crawford, of Brisbane, Australia; Ashley Hall, of Melbourne, Australia; Bronson La'Cassie, a Brisbane, Australia native and University of Minnesota alum; Tyrone Van Aswgen, a Johannesburg, South Africa native and current San Diego resident; and Stefan Wiedergruen, a Waiblingen, Germany native and current Charlotte, N.C. resident. The Web.Com Tour, formerly the Nationwide Tour, is the developmental tour for the US PGA.
Teresa Tocco-Davenport, certified interior decorator, founder and owner of Absolute Living Today, LLC, a full-service interior decorating company, is the only interior decorator in the tri-county area to have earned certification as an Accredited Professional in Sustainability by the national Sustainable Furnishings Council (SFC). There are only 12 in the state of New Jersey who hold this certification. The Green AP certification enables Tocco-Davenport to educate interested customers on sustainable, eco-friendly options in wall coverings, fabrics, paint, furniture and window treatments, but still offer the full array of traditional products and decorating guidance.
SERVPRO, a disaster recovery and cleanup Franchise System, signed on as a national sponsor of the American Red Cross Ready Rating program, a free, web-based program designed to help businesses, organizations and schools become better prepared for emergencies, according to Heather McDonough, owner of SERVPRO of Blackwood/Gloucester Township in Blackwood.
Holman Automotive Group and ARI recently donated $3,302 to the American Heart Association, money raised a result of a successful "Go Red for Women" campaign held at Holman's seven South Jersey dealership locations, Steward Financial Services, and ARI.
Woodbury City Council introduced a resolution requesting that the city planner and planning/zoning board evaluate redevelopment of the former Woodbury Country Club and prepare a redevelopment plan. In order for the city to designate an area in need of redevelopment, they must request that the planner and planning board determine if the parcel meets the criteria. Once this study and plan are done, the planning board will present their findings in a public meeting. If the redevelopment criteria are met and a plan is recommended, the mayor and council must adopt the plan at a public meeting and the adopted plan is then sent to the New Jersey Department of Community Affairs for their review.
Flaster/Greenberg PC was selected by the National Law Journal as one of the 20 law firms named to its "2013 Midsize Hot List." The list recognizes 20 U.S. law firms in the 50 to 150 lawyer range with exceptional records of accomplishment and respect from their clients and peers. Flaster/Greenberg was the only firm named to the list that is headquartered in the Delaware Valley.
Published (and copyrighted) in South Jersey Biz, Volume 2, Issue 4 (April, 2013).
For more info on South Jersey Biz, click here.
To subscribe to South Jersey Biz, click here.
To advertise in South Jersey Biz, click here.