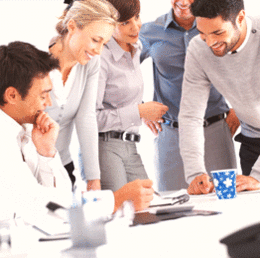 Protecting Your Brand
Whether it's a small business or national corporation, there's nothing more valuable to a business than its image.
From products to slogans to the company name itself, all of the elements of a business' brand come together to help potential customers understand exactly what the business has to offer.
Of course, a brand is more than just a representation of a company's product or service; a successful brand must be strong enough to evoke an emotional response in consumers. "Your brand is your identity," asserts Rhonda Costello, executive vice president and chief retail officer for Republic Bank, with locations in Haddonfield and Voorhees. "It's used for recognition, but it's also how you create a strong emotional attachment to your company and build customer loyalty."
While many South Jersey businesses may already have a firm grasp on their mission statement and company objectives, the process of developing their brand—what makes their product or service distinctive in the marketplace—isn't always so straightforward.
That's why all visual elements of the company's brand in any corporate communications and advertisements must create a unified portrayal of the company's image, whether it's a television or radio advertisement or a corporate memo or presentation. "Branding is key—it's how the public, investors, consumers, and even competitors view the company," confirms Alexis Arena, an intellectual property attorney at Flaster/Greenberg, with a location in Cherry Hill.
In the case of Republic Bank, projecting that consistent image is also accomplished via its storefront; no matter which location you visit, Costello says, customers are going to be met with the same standards of organization. "We're fanatics about our facilities because it impacts both the customer and employee experience," Costello says. "And that's what helps create a celebrated brand. When you put your message out there on a consistent basis, people know what you're about, what you have to offer, and the value in doing business with you."
The company furthers its branding with a twist on casual Fridays; instead of dressing down, employees and clients are encouraged to wear red, the color of the company's signature red "R" in its name. "We want our employees to support our brand; when people love who we are and what we do, it comes across to our customers and is internalized by every employee," says Robert Worley, senior vice president and New Jersey market manager for Republic Bank.
For startup companies, connecting with professionals that can help begin to establish their brand can often make all the difference. Whether its consulting legal professionals to avoid unknowingly committing trademark fraud, or picking the brains of branding experts to discuss everything from slogans to website design, fledgling entrepreneurs have to go the extra mile to ensure that their company makes an impact. "Small businesses have to be very discerning about how they're putting their message out there," advises Leanne Cindea, principal of Laurel Benefit Advisors, LLC, a benefit consulting firm in Marlton. "When you're launching your own business, you're personally involved in every step of the process—and sometimes you're too invested in the details to see what a trained eye can." With the help of branding and design professionals, Laurel Benefit Advisors aimed to present a clear, simple message for consumers, and combined both their company location and the meanings associated with a laurel leaf—wellness and victory—to inspire the company's branding.
For established companies like the Star Group, a marketing communications firm in Voorhees, a brand can evolve right along with the company. "The company originally started out like many 'alphabet soup' service firms, with names that clients would change into initials. As the company evolved and grew, we wanted to make our brand a universal brand that wasn't tied to one or two principals," explains Jan Talamo, co-founder and chief creative officer of the Star Group. "What we did was look at our brand the same way we would do if somebody hired us; we wanted to create a brand that captured the essence of our people—many of whom are stars since we're in the talent business."
Indeed, consistency is the hallmark of branding for businesses. Once a company begins making decisions about the way in which their company will be positioned in the marketplace, they must continue to channel those characteristics into all of their marketing and communication. "You want people to understand that when they hire you, they're going to get a consistent performance, and if your message and your brand are consistent, consumers will never have to second guess what you do," Cindea asserts. "If you're doing a good job with branding your company, then you're building a good reputation and promoting a level of trust … and, in response, people will turn to you and give you their business."
Once a company has established the finer details of their brand, the next order of business becomes not only how to continue building upon that brand, but perhaps most importantly, how to protect it. "Because a company's brand is what sets it apart in a distinct way, and helps build customer loyalty, it becomes valuable intellectual property—and a company has to take steps to protect it," Arena says.
Fortunately, when it comes to protecting their brand, businesses do have rights. The problem is, not every company is aware of the appropriate steps that can be taken to ensure that they retain ample legal protection against established competitors or new companies stealing their defining brand characteristics. "When you put your brand out there for the world to see, you're providing other companies with your business model and experience," confirms Benjamin S. Parvey II, chief executive officer of Blue Sky Power LLC, a clean energy project management and development firm in Camden.
Of course, the Internet has vastly changed the way companies conduct business—with just a click of a mouse, potential customers and clients can gain access to everything they could ever need to know about a company and their services. It has also changed the way consumers process information. "People don't have the time or attention to sit down and read 20 pages of marketing materials," Parvey asserts, which is why Blue Sky Power LLC relies heavily on graphics, colors and other visual representations of the company's services in its branding.
Whether it's posting a status update on Facebook or crafting a specifically targeted banner ad, in some ways, the Internet has added an extra layer to the branding process for businesses. "Today it's more complex than ever, because it's all about how you manage your brand amidst the myriad channels, whether it's broadcast, print, social, [etc.]," Talamo agrees.
Above all, South Jersey businesses must remain vigilant about protecting their brand in the eyes of consumers, which often means making the effort to consider each and every contact a customer or client may have with the company.
"Whether it's your website, your storefront, your signage or your advertising, it's all an opportunity to either enhance and celebrate your brand, or to detract from it," Worley concludes. "No matter what we do at our bank, it's always done in the context of how it's going to help support and build our brand."
Published (and copyrighted) in South Jersey Biz, Volume 2, Issue 12 (December, 2012).
For more info on South Jersey Biz, click here.
To subscribe to South Jersey Biz, click here.
To advertise in South Jersey Biz, click here.