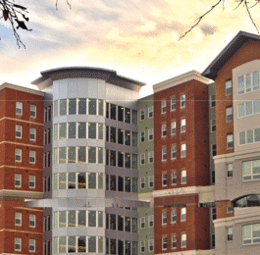 Boulevard of Dreams
Revitalizing a downtown area that has been in a slump is a tall order, but the Borough of Glassboro is doing just that with its Rowan Boulevard project, which is now ushering in a wave of hopeful twenty- and thirty-something entrepreneurs to the area.
"The Borough of Glassboro, Rowan University, and private developers have come together in a unique public-private partnership that began a decade ago with a vision for a robust economic revitalization to benefit our residents, university students and local businesses," says Glassboro Administrator Joe Brigandi. "It is about restoring the concept of 'downtown,' where shopping, working, living and playing take place in a cohesive, walkable community."
The Boulevard, home of the new Whitney Center, is a $300 million project that, when completed, will house 60 retail stores as well as a dozen restaurants. The vision is to create a unique, downtown shopping district combined with a college town atmosphere.
In order to restore this concept of "downtown," Glassboro is working with new and existing business owners to make starting their businesses within the newly developed Whitney Center a mutually beneficial relationship. The Boulevard is growing at a rapid rate due to the efforts of Glassboro to accommodate business owners looking for a profitable location.
"Glassboro is making a concerted effort to retain our downtown business base while at the same time attracting new businesses to the Whitney Center and High Street," explains Glassboro Business Development Director Ronda Abbruzzese.
The town has made vacancies attractive for business owners by re-negotiating lease terms with developers, while also making an effort to reduce fees for mercantile licenses. The goal is to simplify the process of establishing a business in Glassboro to help make location more appealing to business owners. And the result has been overwhelmingly positive: these accommodations have created an influx of creative, young, entrepreneurs and business owners setting up shop and creating a new kind of energy.
"[This] new crop of entrepreneurs are injecting a new enthusiasm into the local business community," adds Abbruzzese. "They are bringing residents as well as college students downtown for shopping and dining. They are helping to create a sense of place downtown, a vibe that feels very college-town, very downtown."
One such example of these new entrepreneurs is the husband-wife team of Corey and Jennifer Gardner-Meeks. The couple has teamed up to create Green Zebra, a healthy salad and wrap restaurant that purchases its ingredients locally. As residents of Glassboro, Corey and his wife felt it was only natural to start their first business venture in the nascent shopping district.
"What specifically drove us here is that we're both from Glassboro," says Corey. "With the Rowan Boulevard project going on, it just seemed like a perfect location to educate students on healthy living, educate our community on healthy living, and just to be right here in our home town."
Another area newcomer is Yapple Yogurt, a micro chain owned by twenty-something entrepreneur Andy Lin. The hip self-serve frozen yogurt and smoothie chain has opened seven other locations in the tri-state area and two in Richmond, Virginia. Brigandi expects future tenants to expand on this growing community center, adding new dining options, as well as housing that will cater to the local community and university clientele alike.
"The next phase of development on the boulevard will include more restaurants with liquor licenses and multi-family housing, signaling a transition from Rowan-centered development on the boulevard," he says. "Multi-generational housing options along the Boulevard and in downtown also add vitality in the eyes of prospective retailers"
These entrepreneurs were preceded by the duo of Dan Clark and Ed Hackett, known for Philadelphia's Pub & Kitchen and Avalon's Diving Horse restaurants. They were the first tenants to sign on to the Whitney Center, opening gourmet burger shop Prime Burger, which caters to the local crowd with late-night hours and room service delivery to some student accommodations.
Like the others who have staked a claim in this hip property, the Gardner-Meeks recognize the importance of creating something that makes Glassboro an appealing destination for patrons.
"We have to create something here in Glassboro that draws people in," says Corey Gardner-Meeks. "I think [Rowan Boulevard] is creating a destination, that's creating a downtown business zone that's going to be great for shopping, learning and living."
According to Freeholder Heather Simmons, that is exactly what the Boulevard has done. By drawing interest from Marriott, the Boulevard has cemented Glassboro as a unique, profitable destination for proprietors.
Glassboro Mayor Leo McCabe sees the wave of new businesses as helping to establish a new identity for the borough.
"What was envisioned more than a decade ago is becoming a reality. We are re-energizing this community and establishing a vibrant social and cultural center that respects Glassboro's identity and elevates it to the next stage," he says. "It is the epitome of smart growth, maximizing the components of sustainable infrastructure, location, and population density through an innovative public-private collaboration."
Published (and copyrighted) in South Jersey Biz, Volume 2, Issue 12 (December, 2012).
For more info on South Jersey Biz, click here.
To subscribe to South Jersey Biz, click here.
To advertise in South Jersey Biz, click here.