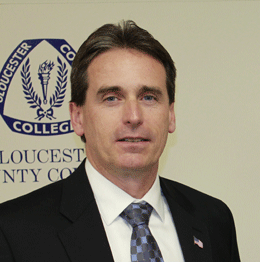 On the Move: December, 2012
Comings, goings, hirings, retirings and more in South Jersey.
Comings and Goings
West Deptford's Len Daws (pictured) was recently selected to serve a four-year term on the Gloucester County College Board of Trustees. Sworn in on Nov. 13, Daws, a senior engineering manager at Lockheed Martin in Moorestown, was assigned to his new position by the Gloucester County Board of Freeholders.
Mount Laurel law firm Parker McCay P.A. named Carolyn J. Rutsky, MAcc, as its new chief financial officer. Rutsky has more than 15 years of executive-level experience in the financial services industry, including as executive director of The Mecadien Group and as a vice president at Goldman Sachs and Company.
Holly Horsley joined Ballard Spahr, LLP of Cherry Hill as their first Public Finance Department attorney resident. Her practice is focused on municipal transactions and redevelopment projects and is a member of the Housing, Higher Education, Health Care, Energy and Project Finance, Tax Credits, P3/Infrastructure and Transactional Finance Groups, as well as the Municipal Recovery Initiative.
Ryan Mowll joined Mount Laurel firm Weber Gallagher Simpson Stapleton Fires & Newby as an associate this month. Mowll has litigation experience representing clients in state and federal matters involving premise liability, product liability, labor and employment, commercial motor vehicles and corporate matters. Prior to joining Weber Gallagher, Mowll served as a judicial law clerk to the Honorable Michael A. Guadagno, who currently sits on the Appellate Division of the Superior Court of New Jersey.
Sean Kennedy recently became the associate executive director for the New Jersey Senate Democrats, where he serves as a senior advisor to Senate President Steve Sweeney. Kennedy was previously in charge of business development for Consulting and Municipal Engineers Associates (CME).
John Comegno was re-elected as chairman of the Burlington County Bridge Commission at the end of November and James Fattorini was re-elected as vice chairman after serving since April 2011. Comegno has served as chairman since November 2007; both men are attorneys in Moorestown.
Duly Noted
Day & Zimmermann, a provider of industrial, defense and workforce solutions to commercial and government sectors, has donated $10,000 to Living Springs at Lourdes. The funds will be used toward a new dedicated inpatient unit designed for active-duty servicewomen who are suffering from trauma-induced stress disorders.
Benefit Concepts, a Haddonfield financial services firm based led by founder and principal Daniel Boychuck, was named a finalist in John Hancock Financial Network's "Practice of the Year" national competition for the firm's "excellence in several key areas of practice management and client service." The contest reviews client management, internal planning and structure, external relations, staffing and technology capabilities, and overall practice performance.
Subaru of America, Inc. in Cherry Hill experienced its best November in company history with a 60 percent increase in sales compared to November 2011, reporting 28,206 vehicles sold. The month contributed to the record-breaking annual sales number of 299,788 vehicles, which hit 300,000 for the first-time in company history on Dec. 1.
TD Bank, headquartered in Cherry Hill as well as Portland, Maine, has awarded $2.5 million in grants to support affordable housing initiatives through its charitable arm, TD Charitable Foundation. For its seventh annual Housing for Everyone grant competition, TD chose 25 non-profits spanning from Maine to Florida based on proposed plans and initiatives for transitional housing and homeless shelter projects.
Mindy Holman, the president and CEO of Holman Automotive Group and Automotive Resources International, has recently been nominated for the 2013 Time Dealer of the Year award. Her volunteer contributions at the area United Way and her work as co-chairwoman of the group that merged the smaller offices into the United Way of Greater Philadelphia and Southern New Jersey in Camden County contributed to her nomination.
Atrium Executive Center, a Mount Laurel center for Furnished Offices, Meeting Space, Business Services and Virtual Offices, announced plans to open a second location at Two Tower Center Blvd. in East Brunswick. Two Tower Center Blvd. is conveniently located off of Exit 9 of the NJ Turnpike and is close to Route 1 and Route 18. Atrium tenants will have use of both locations.
1st Colonial Bancorp Inc., the holding company of 1st Colonial Community Bank in Collingswood, recently announced an increased stock dividend of five percent. All issued and outstanding shares will receive the dividend and be payable on April 15. Gerard M. Banmiller, the CEO and President of 1st Colonial reported an increase of $466,000 between September 2011 and September 2012.
Emily Gottschalk, the CEO and founder of TGG Direct of Cherry Hill, was recently honored with the Nova Award from the National Association of Women Business Owners at the South Jersey Chapter's annual ceremony, "Beyond the Glass Ceiling." The award is reserved for chapter members that have experienced uncommon business success throughout the year. TGG Direct exists as the only entirely female-owned home entertainment distribution company in the nation.
The New Jersey Commission on Professionalism in the Law has named Robert Agre, senior partner at Agre and Jensen, the Camden County Professional Lawyer of the Year. Lawyers honored with this award are recognized as the epitome of professional behavior in the area.
Haddonfield's Intelysis is now Maragell, LLC, run by Jeff Brenner. The corporate fraud investigation firm's entire professional staff has joined the new company and will continue to provide the same services.
The Bloom Organization real estate development firm recently helped bring Pennock Florist, Everite and Godze Yilmaz, Inc. to Pennsauken, while working closely with both the Pennsauken Economic Development Department and Camden County Improvement Authority. The businesses now occupy more than 82,000 square feet of industrial space.
Published (and copyrighted) in South Jersey Biz, Volume 2, Issue 12 (December, 2012).
For more info on South Jersey Biz, click here.
To subscribe to South Jersey Biz, click here.
To advertise in South Jersey Biz, click here.