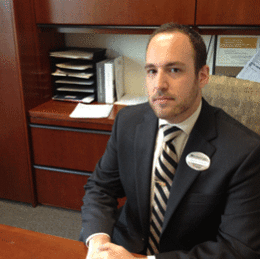 The Corner Office: Mark Schott
Mark Schott
Regional Vice President, Columbia Bank
After becoming the youngest branch manager at Columbia Bank shortly after graduating college, Mark Schott got his first grasp at leadership and held on tightly. During his 38 years at Columbia, the company has grown from eight to 44 branches and assets of $500 million to $4.6 billion through what he characterizes as "slow, steady growth"—much like Schott's rise from a 21-year-old branch manager to regional vice president. South Jersey Biz spoke with Schott about what it means to run a 5-Star Bauer Rated institution, and how he manages it all.
How do you approach the challenges in your industry?
Interest rate spreads are tighter, yet banks need to be sensitive to how they approach fee income. Columbia has recently introduced a personal checking product that pays interest, provides free ATM transactions, free online bill pay, free debit card transactions and no minimum balance requirement. This has differentiated us from other banks that claim they have free checking. Columbia Bank works with quality businesses and individuals in assisting them with their lending needs. As a community bank, we have a very good handle on our lending comfort levels and often get referrals. ... Our pricing on mortgages and home equity loans are typically some of the best in the area. Our commercial lending is also competitively priced.
What's the culture like in your work place?
We are able to focus our efforts on our customers, communities, and employees. Columbia historically has very little staff turnover due to our personable work environment.
What are your short- and long-term goals?
Continuing to build meaningful customer relationships, while increasing the exposure of Columbia Bank to the South Jersey community. ... My personal goal is to break a score of 80 in golf—have come close but there is always that one or two holes that do me in!
What type of philosophy do you apply to management?
I lead by example. Customers must be our primary focus at all times and should always be treated with empathy. Have fun on the job and enjoy the daily challenges you face. If you leave work every day feeling you have made someone's life better, you had a successful day.
What's your best business advice?
Live life with passion, integrity and empathy.
Best part of your job?
The variety of my duties—helping customers, leading employees, using creativity to problem solve, business development, and meeting new people.
Key to success?
Always have a positive attitude and determination and surround yourself with a wonderful staff.
How do you unwind at the end of the day? Spending time with my wife and daughters.
Published (and copyrighted) in South Jersey Biz, Volume 2, Issue 10 (October, 2012).
For more info on South Jersey Biz, click here.
To subscribe to South Jersey Biz, click here.
To advertise in South Jersey Biz, click here.