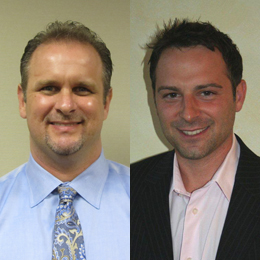 Conference Room: Money Matters
When financial goals seem to get further and further from reach, whether in personal accounts or as the head of an office, it's hard to get back on the right track. We asked two local experts' advice from two perspectives: "How can one break bad financial or spending habits?"
For the Planner
Pam Hisler, New Jersey Market Director, Beneficial Bank
"There are several helpful steps you can take to break bad spending habits. Create a financial plan by identifying your savings goal and writing it down. Review it on a daily and weekly basis and note your progress. When considering a purchase, ask yourself, "Do I really need this? Do I need it right now?" A good practice is to obtain receipts for all purchases (even coffee), and check your weekly receipts against your savings goal. Arrange to have a set amount transferred from your checking account to a savings account on a regular basis, so that you have fewer disposable funds to access. Remove credit cards from your wallet or purse so that you're not tempted to use them impulsively – while they may be convenient, they can quickly lead to overspending."
For the Consumer
Craig E. Yates (pictured, left), Wealth Advisor, First Vice President, Yates Wealth Management
"Bad financial habits are hard to break. If you truly want to get financially organized, there are a couple of easy steps to help you get started. Stick to a budget: Take time to write down every monthly expense and put a check mark next to each item every time you have made a payment. Allow yourself 10 percent of your monthly check as a reward to spend as long as you have strictly followed your budget. Destroy multiple credits cards; if you know you have the impulse buying syndrome, remove the temptation. Check your interest rate on your existing card and, if it's too high, negotiate with the existing company or find another vendor. Finally, plan ahead. Make sure you have a complete financial plan in place and work with a professional who will assess your current family situation, your goals and objectives for the short and long term."
For the Business Owner
Christopher Wisniewski (pictured, right), President, Select Us LLC
"As a business coach, I notice with most business owners, their interest is to increase revenue. Very few business owners look over expenses from office supplies, phone bills, business insurance and bigger purchases. Every six months, go over all your expenses that are associated with your business, from office supplies all the way to payroll. I have seen it several times when the business owner can save a few thousand dollars a month (by assessing fees, inventory, etc). Also, even though using a debit or credit card is good to keep track of expenses, it is also very easy to make purchases that you would not make if you had to cut a check. Remember, as a business owner it is good to worry about increasing your revenue, but you also don't want to throw away money you earned on things that are unnecessary."
Published (and copyrighted) in South Jersey Biz, Volume 2, Issue 10 (October, 2012).
For more info on South Jersey Biz, click here.
To subscribe to South Jersey Biz, click here.
To advertise in South Jersey Biz, click here.