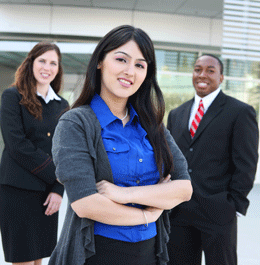 The A-Team
Now that your business has grown, here are some key things to look for when forming the all-important sales staff.
They're the face of your business, out there every day not only reeling in sales, but also networking and spreading what's hopefully a positive reputation for your business. So the importance of building a stellar sales team is no secret.
For that reason, when it comes to building your powerful set of allies, it may be more important to hire a sales associate with the right personality traits for the job rather than simply someone with extensive product knowledge or industry experience. Who you really want on your team, according to sales managers in South Jersey, is a highly personable, customer-focused professional who can build strong relationships with clients and earn their trust.
It's a far cry from the stereotypical fast-talking, money-crazed salesman who can sell sand in the desert.
Personality is Key
As sales development manager at New York Life's South Jersey general office, located in Mount Laurel, Karen Stevens says trust is critical in establishing a sales relationship. "If you're the life of the party and all you want to do is joke and have a good time, I'm probably not going to trust you," she says.
Simply put, a genuine, personable disposition and the ability to gain the trust of customers are essential traits for any sales professional, even more so than industry knowledge. The latter can be learned through an effective training program, but honesty and likeability cannot.
"More than anything, I'm looking for personality," says Robert Tupper, regional sales director at Car-Tel Communications, an AT&T authorized retailer with 10 stores throughout South Jersey. "I'm looking for somebody who's energetic and enthusiastic, somebody who creates a warm, friendly first impression."
Tupper suggests that although it's easy to find people with a strong product knowledge, especially in the tech field, you don't want to overlook a potential sales ace who can be coached to excel. "If you have a good employee training program to teach about the products and services, sometimes you don't necessarily want to rule out a candidate who's sitting in front of you who's bubbling with enthusiasm and energy just because they don't have prior industry experience."
As Comcast's New Jersey director of sales for business class services, Mike Mauro oversees a team of nearly 40 sales professionals who sell comprehensive products in Internet, TV and voice to organizations of all sizes. With strong growth during the past five years, Mauro plans to add to his sales force this year and seeks personable candidates with a positive attitude and plenty of persistence.
"It sounds pretty basic, but you're going to secure a lot of 'no's' on your way to ultimately having those 'yeses,'" Mauro notes, adding he implements a sales training method he calls SKEAS, an acronym for "Skills and Knowledge plus Effort and Activity equals Success." With SKEAS, Mauro says Comcast can train the right sales rep on the company's advanced product offerings, but the persistence to actively pursue and follow-up with tough business customers while facing periodic rejection is intrinsic. "I can't train 'Effort' and 'Activity.' That has to come from within the individual," says Mauro.
Effective Interviewing
But how do you know if a potential sales associate really does have the right personality characteristics to succeed? According to experienced sales managers, the interview process can reveal a lot. When considering a potential sales rep, they suggest you do a background check using several business references and have multiple people interview the candidate in order to get different points of view. An unstable work history is a big red flag, they caution. And most importantly, ask a lot of probing questions to ascertain what the individual wants from the job, how they handle rejection, and specific examples of their accomplishments.
"I like to find out things like difficult situations that they've overcome and some of the hardest accounts that they might have been able to get at a previous position," says Jeffry Marshall, director of sales and marketing for Mount Laurel-based The Hotel ML and Coco Key Water Resort. "I want to hear some of the success stories and how they overcame obstacles, not just the normal everyday story of what to do each day."
At Burns Honda in Marlton, where the sales force has increased this year due to heightened demand, vice president and general manager Jim McCormick says the auto dealership will administer, as part of the hiring process, a personality profile to help determine if sales is really what the candidate wants to do. In addition to formal interviews with multiple managers, the profile helps to reveal the individual's ability to work under supervision, handle rejection from customers, and, most of all, be service-oriented, a hallmark at Burns Honda.
"We believe money follows service," says McCormick. "People get service and sales confused. If you're a service-oriented person who happens to be a salesperson, you're going to do very well."
A Diversified Team
Since the sales methods employed may vary depending upon the client and the market, experts say it's good to build a diversified team of associates who excel in the various sales approaches. At Car-Tel Communications, for example, some sales efforts may entail a brief meeting with a retail customer in-store or a quick phone call with a business client followed by a faxed sales order to close the deal. Other times, often during retail down periods, consultants are busy attending various chamber of commerce events and business networking functions, while making connections in the community, exchanging business cards, and branding the Car-Tel name. For various organizations, the longer sales process of "wining and dining" a potential client and building a strong relationship, be it through a lavish dinner, golf outing or sporting event, can occur through several months or even years.
While building a diversified sales team is effective, sales managers caution that what they really look for are those essential characteristics that result in solid relationships, traits like a poised, professional appearance and excellent listening and communications skills. And these traits are fundamental for all types of sales.
"I think a good sales person is a good sales person," says Marshall, whose team books 281 hotel rooms, meeting and banquet space, and an indoor water park resort to customers throughout the Mid-Atlantic states, everyone from individual travelers and corporate groups to conventions, family reunions, camps and birthday parties. "Depending upon the market and depending upon the situation, there's certain bookings that take a long time and certain bookings that are 1-2-3, and sales people have to be good at both."
Published (and copyrighted) in South Jersey Biz, Volume 2, Issue 10 (October, 2012).
For more info on South Jersey Biz, click here.
To subscribe to South Jersey Biz, click here.
To advertise in South Jersey Biz, click here.