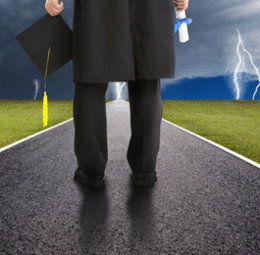 Advancing Ahead
…From the pages of South Jersey Biz…
Is a Master's degree still worth it in today's economy?
Since the recession there's been a growing debate over the value of graduate school. Many college students and young professionals find themselves wondering if a Master's degree will really pay off in today's economy. While an advanced degree once practically guaranteed a pay raise or a better job, in a market where so many are struggling to even find work it's unclear whether extra schooling is worth the extra cost.
Still, in talking to a number of young professionals in our region it seems that most still feel that their Master's degrees have made a difference in their careers.
When Jason A. Howie graduated from Rowan University in 2007 with a BA in Political Science, like so many other grads, his big plans for a job didn't pan out. He ended up working full-time as a store manager at RadioShack. While he was successful in his managerial position and well-respected by colleagues, a life in retail was not what he had anticipated. With 60 to 70-hour work weeks, he was overworked and discouraged that he hadn't wound up in the career of his dreams. Unfortunately he was finding that today's corporate jobs required advanced skills in web content and social media marketing. In this competitive market, he decided going for an MBA would help set him apart.
"I knew what I wanted to do but was career-stereotyped by my college and post-college history," he admits. "So my MBA had one intention—to reboot my career into web content and social media marketing."
Three months after earning his MBA, Howie became the web and social media manager for Gold Mobile as well as a regular contributor on Social Media Today and a frequently asked expert regarding mobile marketing and positioning brands in social media. "For me, an advanced degree has paid off substantially," says Howie of his MBA with a specialization in marketing.
Many have similar stories. Alicia Murphy, of Woodbury Heights, earned her Master's in higher education through Drexel University and actually landed an interview for her current job through a peer in her class. "It's really difficult to break into higher education without an advanced degree," admits Murphy, who now works as a marketing associate. "Most of the job postings say 'Master's degree preferred' which essentially means it's mandatory. Plus there's such a great opportunity for networking with other professionals in your program. You can make connections and the people in your class could actually be future coworkers."
And while it's not cheap to earn an advanced degree, Todd Luca, senior vice president of marketing and business development for Drexel University Online, points out that many companies offer tuition reimbursement programs and other discounts that can help. "When you start looking at tuition reimbursement and discounts, it can really help offset the cost," Luca says. "Plus we offer an online program that fits well into the work/life balance and allows professionals to continue with their career instead of having to take time off."
Beyond the Pay Raise
Many professionals say that there are benefits beyond an immediate pay raise or promotion. Jessica Ippolito, Ed.D earned an M.Ed. from Wilmington University (affiliated with Burlington County Community College) as well as an Ed.D from Wilmington in Educational Leadership. She says earning a doctoral degree didn't earn her a raise on the pay scale, but that was not her main goal; she wanted to improve her teaching skills and open up options for future employment.
"A future goal of mine is to teach classes at a college or university," says Ippolito, an English teacher at Delsea Regional High School in Franklinville. "Having a doctorate and being a National Board Certified teacher should help me with a future job search. I can't put a price on the fact that I have options. If I ever wanted to leave the high school environment, I could go to the collegiate level or work for a textbook company or even a testing company. I have many options for a future career."
In education, there's no question that an advanced degree remains advantageous, adds Monroe B. Gerhart, chair of the School Leadership and Instruction programs at Wilmington University, a partner with Burlington County College where students can take Master's classes without leaving the BCC campus. "Whether you are planning on remaining a classroom teacher or are planning any type of promotional opportunities into the ranks of supervision or administration, an advanced degree can pay off," he says. "In school administration, many states are beginning to require a Master's at a minimum. In many cases, school districts are beginning to prefer doctoral degrees for positions like superintendent."
An advanced degree may also provide a competitive edge in this job market, adds James Jordan, director of the Rohrer College of Business MBA program at Rowan University. "In many of today's professional positions, the job listings say 'Bachelor's required, Master's preferred.' In a competitive job market, that can be a differentiator."
That competitive edge definitely helped Jim Wall, vice president of Horizon Keystone Financial in Mount Laurel. At the time he went back for his MBA he was working for CitiCapital in Mount Laurel and was looking to increase his chances for advancement within the company. But as it turned out, the company closed its South Jersey location in 2007 and Wall was forced to think on his feet.
"I feel the fact that I was pursuing my MBA was helpful in obtaining my current position," Wall says. "If all other things are equal, I feel this was a positive differentiator from other candidates. It shows a commitment to education and self-improvement. Now as vice president of sales at Horizon, I also use my MBA when prospecting new clients. I think it gives them a higher comfort level that they are not just dealing with an entry level sales representative."
It certainly seems that many professionals still see an advantage to earning an advanced degree. Wall says he'd urge anyone that's considering it to attend an information session at their prospective school in order to make an informed and researched decision. "In the end, I think that anything that can make you stand out is valuable and advanced degree absolutely achieves this goal."
Click here to go to our Guide To Education and Planning special section
Published (and copyrighted) in South Jersey Biz, Volume 2, Issue 10 (October, 2012).
For more info on South Jersey Biz, click here.
To subscribe to South Jersey Biz, click here.
To advertise in South Jersey Biz, click here.