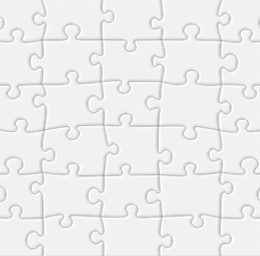 Pieces of the Puzzle
As the economy recovers from the recession, the development of small business has served as one of the driving forces behind job creation. To keep the momentum going, business incubators are bringing all the pieces together to ensure a successful startup.
While launching any new enterprise comes with its own unique set of obstacles, fortunately, the small business community in South Jersey has a powerful ally in their corner: business incubators.
"The growth of the small business sector is key to the economic recovery of the United States," asserts Frank Keith, Burlington County College's Mott Foundation coordinator and manager emeritis of the Burlington County College Incubators in Mount Laurel.
Designed to offer affordable office space to startup enterprises and entrepreneurs—accompanied by a host of resources and support to help its tenants thrive—business incubators are situated at three of the region's largest educational institutions: Rutgers University – Camden, Rowan University and Burlington County College. "The mission of the Burlington County College Incubators is to provide a setting where entrepreneurs from all over southern New Jersey can come to start their business and have a high degree of success in growing their businesses to a point where they are hiring people and contributing to the economic recovery of the region," Keith adds.
Bringing it All Together
Although the rapid growth of business incubators across the country didn't begin until the late 1980s, they have made a significant impact on the success of small businesses worldwide by providing startups with everything from office supplies to access to capital to business mentorship.
"What we do is provide the small business with what they really need: contacts. Whether it's a mentor, angel investor, accountant or lawyer, these contacts help the entrepreneur through the business' various stages of growth to ensure their success," explains Suzanne Zammit, director of the Rutgers – Camden Business Incubator and president of the New Jersey Business Incubation Network (NJBIN), a consortium of the state's incubators that aims to accelerate economic growth and actively promote the value of incubation and its contribution to the state's economy.
According to Zammit, New Jersey's success rate for companies that graduate from an incubator is 89 percent, slightly higher than the national average—and, she notes, nearly all of those companies remain in New Jersey.
The Rutgers – Camden Business Incubator is a science, technology and health care incubator established to support early-stage companies in the Greater Camden region.
Among its services are helping businesses commercialize innovations in science and technology, develop new ideas, provide training in sales and marketing, and attract capital investment through an array of business development services, operational guidance and infrastructure support.
"We provide the guidance to help companies navigate through those first critical stages of a business and build a solid foundation," Zammit says. "At the same time, tenants are located in an environment with other entrepreneurs who are facing the same anxieties, hurdles and stresses of getting a business off the ground—so there's a lot of collaboration and camaraderie that develops."
Paul Stewart, CEO of Juris Client, a virtual legal services firm that helps provide consumers with low-cost access to high-quality legal services, is one of the companies taking advantage of the resources at Rutgers – Camden. "You can take a walk down the hall and be able to share ideas with other people who are trying to build a business," he agrees.
The incubator's amenities include high-speed Internet access, individual business counseling and mentoring, shared administrative support services, tax benefits for businesses locating within Camden's HUB, Empowerment and Urban Enterprise zones, as well as regular Lunch and Learn seminars and information sessions on business-related topics. "The No. 1 advantage of being in an incubator is the support we provide," Zammit adds. "Incubator directors are trained to help businesses manage their growth—when they hit a hurdle, we can help them overcome it, whether it's restructuring the company for its next stage of growth or using our connections to help attract investors."
A Helping Hand
Companies that take advantage of the incubators also have access to educational resources, such as interns or research facilities. "From the ability to talk with venture capitalists to having qualified workers and talent right next door, the incubator truly acts as a hub where all the information you need to launch a business comes together," Stewart says.
Since its inception, the incubator at Rutgers – Camden has attracted more than $45 million in third-party financing, generated more than $56 million in revenues for the region, and graduated 19 client companies that have moved on to develop outside offices and operations.
Adding to their appeal for small businesses, many of the state's incubators are also accommodating "virtual" tenants—businesses that may not require dedicated space and equipment, but still want to take advantage of the resources provided by the incubator. At Rowan University's Rohrer College of Business Incubator in Mantua, the first year for virtual tenants is provided for free. "It's really as good as it gets," says Stephen Kozachyn, manager of the business incubator and director of outreach. "Virtual tenants have access to all the same resources, whether they need help developing their business plan or need to utilize our conference rooms for a meeting with investors or potential clients."
Daniel Ruotolo, founder of the Financial Engineering Institute, a technology and employment training company that develops paperless technologies and software for the accounting industry, is one of Rowan's physical tenants. The company moved into the incubator in May 2010 to take advantage of the opportunity to work with university students—they offered paid, real-world experience to approximately 20 Rowan students just this past semester, he says.
"With gas prices rising and the way the economy was headed, we saw an opportunity to have greater access to the resources our business needed, with the side benefit of allowing students to not have to travel to work with us," he says. "You can be an entrepreneur and sit at a desk and worry about how to do all the marketing, sales, development, funding and technology your business needs to succeed, or you can take advantage of a business incubator and let experienced professionals help you grow."
Located within the Samuel H. Jones Innovation Center on the South Jersey Technology Park's 200-acre mixed research and academic campus, Rowan's incubator aims to attract technology-based startups. It strives to offer a "big company" lifestyle to fledgling entrepreneurs by providing access to Class A commercial space, fully equipped laboratories, high-speed telecommunications, and access to copying, reception and mail services, in addition to a network of business resources.
"Any new companies who think they can do it all themselves might as well quit now," Kozachyn asserts. "Startups and entrepreneurs need those mentors … and that's where incubators come in. We give companies a jumpstart and reduce their risk of the business failing." Kozachyn points out that many new businesses fail because they haven't done enough research.
"One of the biggest challenges of starting a business is not knowing what you really need. You may have an understanding of the technology you're trying to develop, but not have any idea of what it takes to actually run a business," agrees Rutgers incubator tenant Praveen Dala, CEO of mVisum, Inc., a clinical communications company developing the technology to send medical data directly to a physician's smartphone. "A business incubator can put all the pieces into place to help your business succeed."
Keeping You on the Right Path
Hosting an average of 27 companies and eight virtual tenants, the High Technology Small Business Incubator at Burlington County College provides extensive support for entrepreneurs in developing a business or technology plan. "The professional business consultants here at the incubator forced us to create a business plan, which many new companies fail to do, and then continually review and update our plan," confirms tenant Scott Taylor, vice president of Taylor Design Group, Inc., a community planning and landscape architecture firm.
In addition to affordable office space and shared laboratory, conference, training, lounge and reception areas, all of the BCC tenants have access to mentoring resources and support, as well as opportunities to exhibit at conferences and venture capital events.
With a focus on attracting and aiding entrepreneurs with cutting-edge, commercially attractive technology and science ideas, the incubator combines a professional work environment and shared services with training- and business-related programming. "It really helped to relieve some of the pressures of tenancy as a business owner, and allowed us to channel all of the company's time and resources into securing clients and keeping them happy," Taylor says.
The company has grown to a staff of eight and has won several design awards, including one for a recent project for the Boundary Creek Natural Resource Area in Burlington County.
Like others, the BCC incubator provides services in finance and accounting, marketing and development, funding and access to assistance from government agencies. The Burlington County Chamber of Commerce is situated at the incubator, providing tenants with direct access to chamber events and all the resources the county has to offer, in addition to the Small Business Development Center (SBDC), designed to help small businesses grow through consulting and other services, and SCORE, a virtual tenant that provides business counseling.
"Our goal is to graduate successful entrepreneurial companies. We want them to move into normal commercial space in the region and continue to grow and successfully execute their business plans, and, obviously, hire more people," Keith concludes. "To accomplish that, the incubator provides a strong, nurturing atmosphere, and a dynamic support system."
Published (and copyrighted) in South Jersey Biz, Volume 2, Issue 7 (July, 2012).
For more info on South Jersey Biz, click here.
To subscribe to South Jersey Biz, click here.
To advertise in South Jersey Biz, click here.