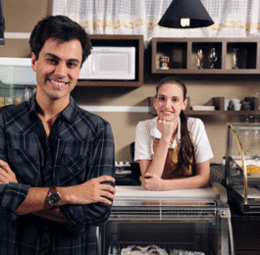 Sizing Up
You don't always have to grow at a fast pace to succeed.
After holding on throughout the recession and finding a business model that works, some of South Jersey's small business owners are breathing a sigh of relief. Still, when it comes to future plans, they prefer to be cautiously optimistic and hold steady in their growth, knowing how tough things were—and could be again.
For some, there's no rush. It's all about embracing what they have in the here and now, while always keeping a watchful eye on the future for the right place to relocate, the perfect time to expand, or signs to add new offerings as a way to keep things interesting for customers while sticking to their hometown roots.
On the Lookout
When it comes to Andee Saper, she's waiting for the right opportunities to align as she may have found that perfect new location but she hasn't made the move just yet. She and her husband own More Than Gifts, a one-stop shop across from Kings Grant in Marlton. Gift baskets, jewelry, promotional printing, shipping and more are on their menu. They've been in the neighborhood for 10 years, gradually expanding their eclectic mix of offerings along the way.
But, a lot people don't know they are nestled in a CVS shopping center and they aren't getting the foot traffic they need, she says.
"My biggest issue is people don't know we're back here," Saper says. Presently, she is debating whether to move her entire store to a prime location on Route 70 in Marlton or to open a second location.
"As a small business owner, I'm competing with a lot of the box stores," Saper says.
"We're saying, 'Shop with your local business,' and I think that to get customers to come back here, I need to do this."
That's not to say the store isn't doing well. Saper says she's happy with the success the store has had, and so she wonders if opening a "mini version" of More Than Gifts could draw people to the bigger store—the current location—if she stays across from Kings Grant, too. She's already found a spot she likes for a possible mini-store.
"I'm trying to do my homework. Everybody is dying for somebody to move in somewhere. We're staying alive. I don't think there is anybody out here who is doing phenomenal. I think we're all looking at different avenues to make it better," Saper says of her cautious approach.
A Growing Presence
Third-generation business owner Sandra Sciacca of Sciacca's Upholstering & Design Center says her business has been doing well, especially since there aren't many businesses like hers around anymore.
For the past 60 years, a little nook in a Riverside neighborhood has been her business' home and she is looking to branch out—down the Shore.
"We do a lot of seasonal work and these communities are building up in Ocean and Atlantic counties," Sciacca says. "We have an in. We just have to get the edge and get organized."
The business specializes in custom upholstery, custom furniture, draperies and window treatments. Sciacca herself is an interior designer and manages that aspect of the company.
"I was the 'last of the Mohicans' in this market," she says, and the interior design aspect "took it to the next level."
Since she's at Long Beach Island nearly every weekend, Sciacca, who took over the business from her parents seven years ago, says she's noticed a real estate boom there.
"There's a ton of housing going up," she says. "So, we're starting to do some marketing campaigning in that area."
She's even debating having a satellite office there since she's already doing some work when she visits. "We're newbies around there but we're trying," she says. "It might take a couple years."
Delivering the Goods
Susan Adelizzi-Schmidt, owner of Suasion Communications Group/Smith O'Keefe in Somers Point, says small businesses don't necessarily need to expand their locations to survive. "It's about changing it up," she says, which is exactly what Sciacca's Upholstering & Design Center did by adding interior design. "If you have a great thing going, you don't want to completely reinvent the wheel. When you have a brand, you essentially have a promise. The reason people come back is they know you're going to deliver on that promise."
McMillan Bakery—a community staple in Haddon Township for more than seven decades—has been delivering strongly to its local community. So in the 1990s, they decided to expand. But it only lasted a few years. The closing of surrounding businesses and lack of parking may have deterred some people, owner Arline McMillan says.
And when huge chain Krispy Kreme Doughnuts moved across Haddon Avenue from the bakery about a year ago, McMillan said the bakery felt it.
But not for long.
"We've bounced back," McMillan says. "You can't even compare."
The popular McMillan Bakery is famous for its cream doughnuts and its homemade whipped cream. She and her late husband introduced Key lime pie to the location after a visit to Florida more than 40 years ago. Now in her 70s, McMillan says she doesn't plan on expanding to another location. Sometimes, all you need to do to compete with the bigger stores is concentrate on providing the best product—not necessarily more of it.
She is still at the bakery almost every day. And her kids are still involved; they frequently make new items to expand their offerings.
"We don't want to be stagnant," McMillan says. "Every once in a while, we'll make something different. Our brains are always functioning on different things."
Adelizzi-Schmidt calls it "enhancing the customer experience." If a business financially has the means to introduce new or different products, they can make it part of their business strategy.
"Longtime loyal customers—they want to know their brands are going to come through for them. There are a lot of different approaches. It's something loyalists look for."
Published (and copyrighted) in South Jersey Biz, Volume 2, Issue 7 (July, 2012).
For more info on South Jersey Biz, click here.
To subscribe to South Jersey Biz, click here.
To advertise in South Jersey Biz, click here.