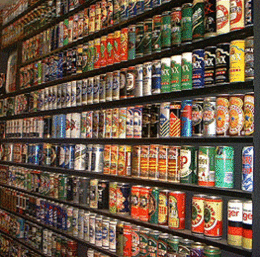 Close of Business: Taste of Success
How one man's business travels fueled his hobby and helped propel him into the record books.
Like many college students with a taste for beer, Mount Laurel resident John Ahrens and his Yale University friends kept the discarded cans as dorm room decorations. He was unaware his penchant for beer, and the 280 cans he and his friends gathered by graduation, would eventually grow beyond belief and result in Ahrens' placement in Guinness World Records.
As it turned out, Ahrens' long career in sales was not only a vehicle for professional advancement, but a means to accumulate collectibles from the 28 states he traveled to for business. By the 1980s, he had amassed more than 30,000 cans, becoming a famous face among the can-collecting circuit and something of a spokesman for the unique hobby.
"Early on, when I traveled a lot, I was able to devote a lot of spare time to collecting and visiting with other collectors," says Ahrens, 69, director of sales and marketing for Bisel, a legal publishing company based in Philadelphia.
When he started seeking out his treasures, collecting was cheap and relatively obscure. By the mid-70s, when collecting became a fad, Ahrens was renown for both the quality and the sheer volume of his collection. As an active member of the Brewery Collectibles Club of America, he has traveled far and wide to connect with other collectors in pursuit of rare and interesting cans.
Among highlights was a trip to Scotland in 1985 to celebrate the 100th anniversary of Tennents Lager and its iconic cans, depicting beautiful models and the English scenery. A newspaper clipping from the time shows Ahrens with a mile-wide smile draped by the models.
Although he never lost his passion for the cans, Ahrens did sell off a large chunk of them in the late '80s. Both concerned about the price of insuring the bottles and the costs of sending his kids to college, he sold thousands of them to other eager and thankful collectors.
"It was a good way to send kids to college, although I have some regrets," he says. "They went from no value to becoming pretty valuable. But I did alright at the time."
With the advent of eBay, some of the rarest cans now fetch thousands of dollars. And Pennsylvania collector Jeff Lebo, who offers tours of his collection of more than 80,000 cans, now holds all the records once claimed by Ahrens. But Ahrens still holds onto his most treasured cans from his native Canada among his downsized collection of some 5,000 to 6,000 cans.
While in the heyday the cans were the most interesting part of collecting, much has changed in recent years. Since microbreweries have grown in popularity during the past 15 or so years, the actual tasting of the beer is now more exciting than the containers, says Ahrens.
Though his long career in publishing has been rewarding, Ahrens looks forward to retirement when he turns 70.
"It will be an opportunity to spend more time with my hobby," he says.
Published (and copyrighted) in South Jersey Biz, Volume 2, Issue 7 (July, 2012).
For more info on South Jersey Biz, click here.
To subscribe to South Jersey Biz, click here.
To advertise in South Jersey Biz, click here.