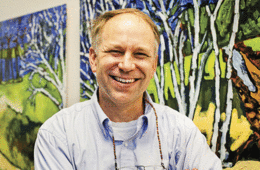 2011 Executives of the Year
We asked our readers to nominate innovative business leaders who have spearheaded change and growth in their industry, and the response solidified what we already knew—we may still be in a state of economic recovery, but with these executives at the reins, South Jersey remains a good place to do business. | Whether they're creating jobs to jumpstart the economy, changing the delivery of health care, or growing their business into a household name, these sharp minds have stepped up to the plate when the pressure was on. Here, we present our first-ever Executives of the Year.
Richard P. Miller
CEO, Virtua
One of the biggest health care stories in South Jersey for 2011 was the May opening of the much-anticipated Virtua Voorhees Hospital, a stunning 680,000-square-foot, 368-bed facility recognized for its obstetrics department, partnership with The Children's Hospital of Philadelphia, and its soon-to-open ambulatory care center. As the CEO of Virtua since its inception in 1998, Miller has continuously transformed the health system from community-based hospitals to regional medical centers, and more growth is on the horizon. The ambulatory care center adjacent to the new hospital will open next spring, while a new health and wellness center in Moorestown is on target for a fall 2012 opening. This adds to a growing list of initiatives under Miller's leadership to offer complete patient care from preventative wellness through post-hospital treatment. He's also taken his health care innovation to the national level, as he serves on the Leadership Advisory Council of the Joint Commission Center for Transforming Healthcare, which works to raise standards of care across the country.
Bernard M. Flynn
President/CEO, New Jersey Manufacturers Insurance Company
Flynn's career was rooted in public service as a deputy attorney general before joining NJM as a staff attorney in 1993. He has worked his way up over the last 19 years, serving in capacities such as vice president and general counsel. As CEO of the West Trenton-based company, Flynn leads a company that prides itself on prudent stewardship of policyholder resources, as seen in the return of more than $5 billion in dividends to policyholders—not stockholders—since 1918. Flynn says his team of employees have "the service gene," which is an innate dedication to the needs of their policyholders. Flynn is also a founding board member of Choose New Jersey, an independent, privately funded and managed nonprofit corporation inspired by Gov. Chris Christie to promote New Jersey as a place to invest and do business. He has been a board member of Junior Achievement of New Jersey since 2010 and a member of the Property Casualty Insurers (PCI) Board of Governors since 2008.
Valerie Traore
CEO, Food Bank of South Jersey
While many local leaders are faced with a mountain of responsibilities every day, Traore holds the hope of thousands of hungry area families in her hands. You could say she handles that pressure well. During her five years as CEO, she has restructured the organization, leading to higher efficiencies in operations, finance, fundraising and programs. She tripled the Food Bank's financial support and significantly expanded its programs and services, providing new opportunities that target children, seniors and the working poor. While many businesses have struggled in the last few years, with Traore's business strategy, the Pennsauken nonprofit grew well past its original plans in 2010 and put the Food Bank a year ahead of its targets. Plus, Traore has laid out the vision for the next five years, which will focus on developing projects to help people find sustainable ways to improve their lives. Money coming their way from the DRPA should help with that. Traore was vocal in getting the agency to release $2 million in unspent economic development funds it had pledged to the Food Bank back in 2009. After a heated battle about how to spend the funds, the DRPA finally approved the allocation earlier this month along with a list of other non-transportation-related projects.
Vince Maione
President, Atlantic City Electric Region of Pepco Holdings, Inc.
Maione's primary responsibilities at Atlantic City Electric include developing and maintaining key customer, community and governmental relationships throughout the utility's service territory, which includes some 547,000 customers in South Jersey. In a time of recession and job loss, the importance of those relationships has been evident, as Maione and Atlantic City Electric have been forging ahead to jumpstart the local economy. In the last few years, the company has accelerated spending on more than $27 million worth of capital improvement projects that have helped stimulate the economy, create jobs and enhance customer service. Another $69 million, if approved by the BPU, will be used for 2012 improvement projects that will create another 100 jobs, showing there's no sign of slowing down. Maione, who has been with Atlantic City Electric for 27 years, is also on the board of the New Jersey Utilities Association. He is a founding board member of Choose New Jersey, and is also involved with the William J. Hughes Center for Public Policy and the Lloyd D. Levenson Institute of Gaming, Hospitality & Tourism at Stockton College.
Mark Baiada
Founder/President, Bayada Nurses
Though Bayada Nurses has grown to serve the entire country since its start in 1975, Baiada hasn't forgotten his South Jersey roots. The company is still headquartered out of its original location, Baiada's hometown of Moorestown, though in recent years it has grown to accommodate the needs that come with being an organization comprised of more than 14,000 employees in 20 states. The home health care company continues to make strides in the industry, as several of its offices were recognized for the sixth consecutive year as a Top Home Health Care Provider in the 2011 HomeCare Elite rankings, a compilation of the top-performing Medicare-certified home health care providers in the country. Bayada also opened a state-of-the-art pediatric simulation lab in nearby Bala Cynwyd, Pa., which Baiada anticipates will help revolutionize the way health care professionals are trained. Giving back to the community also remains a priority. This year, Baiada celebrated the 30th anniversary of his Bayada Regatta, an adaptive rowing competition on the Schuylkill River for racers all over the world with disabilities.
Peter Hovnanian
Principal, J.S. Hovnanian & Sons
As a third-generation leader in J.S. Hovnanian & Sons, Hovnanian has not only directed the Mount Laurel company's acquisition and delivery of more than 6,000 residential units, commercial and industrial centers, and assisted living projects, he has also successfully maintained the business tradition started by his grandfather, Stepan, to provide quality construction that puts the homeowner first. Maybe that has something to do with why he's one of three in the family to have the honor of being named Builder of the Year by the New Jersey Builders Association, which goes along with a host of other awards over the years, including the first March of Dimes Real Estate Award, which honors those whose business and real estate activities have significantly enhanced the community. Hovnanian also serves on the board of directors of the NJBA and Builders Political Action Committee, and was recently named Director Emeritus of the Burlington County Chamber of Commerce.
Denise Morrison
President/CEO, Campbell Soup Company
The Campbell Soup Company, with its world headquarters in Camden, has been a staple in South Jersey business for 140 years, and a household name around the world. The company employs 18,000 people and feeds 120 countries, making the first few months at the reins some pretty busy ones for Morrison, the first-ever female CEO at Campbell's. She's been with Campbell's for eight years—and was just named CEO this past August—but has been a well-known name in food and nutrition for many years. She belongs to a well-rounded group of organizations, holding a chair position of the Grocery Manufacturers Association's Health and Wellness Committee as well as a board position with the Healthy Weight Commitment Foundation, which she founded. All of these benefit the multiple organizations Campbell's has created, dedicated to spreading nutrition awareness and providing healthy meals to hungry families around the world. That could be attributed to the reason Morrison had the honor of being named a "Woman of Distinction" in 2010 by the American Heart Association of New Jersey.
Ray and Tony Rastelli
Founders, Rastelli Foods Group
Rastelli Foods, a trusted name in hotel, restaurant and retail markets, has grown exponentially under Ray Rastelli and his brother Tony's leadership since the 1970s. When he first started in a storefront in Deptford he named Meat Stop, Ray Rastelli was looking for a way to pay the bills. Thirty-some years later, sales have reached more than $500 million thanks to an expansion to six different Rastelli companies that operate out of several retail locations, USDA-inspected processing facilities, company-owned farms, warehouses and distribution centers that serve more than 80 countries. The brothers' innovation continues to advance the business landscape in South Jersey. Their most recent expansion was the new gourmet, direct-to-consumer company, Rastelli Direct, which in 2011 began monthly autoship deliveries to every state. The company expanded its Tony Luke's products, and they renovated the old Meat Stop, now called Rastelli's Market Fresh. The building, which they say improves the look of the location to better represent the quality of the food, serves as proof they didn't forget where they came from.
John Scardapane
Chairman/CEO, Saladworks
Saladworks has come a long way from the food court at the Cherry Hill Mall in 1986. What started as a small group of restaurants overseen by Scardapane and his family and friends has grown to a $63 million chain of more than 100 locations in 12 states. If the accomplishments of 2011 are any clue, there's more growth on the horizon. Sales were up 15 percent in 2011, and as of early November, the company awarded 18 franchise agreements across the country—expanding into five new states as far west as Washington along with Washington, D.C. Forty-three new restaurants are expected between 2012 and 2014, 21 of which are on track to open next year. Thanks to Scardapane's innovation and his partnership with Commerce Bancorp founder Vernon Hill, we can expect to see the chain maximize its potential, which includes expanding internationally. It was just announced Saladworks plans to open 15 stores in Singapore.
Edward J. Graham
President/CEO, South Jersey Industries, South Jersey Gas
South Jersey Industries, an energy services holding company in Folsom that includes South Jersey Gas, started 2011 off on a high note with Graham at the helm, and it looks like it will end in the same fashion. Back in February, EnergyBiz magazine reported that SJI had the top performing energy stock of 2010. As the year comes to a close, Graham has several accomplishments to report, including completing a South Jersey Gas extension project into West Cape May, breaking ground on a compressed natural gas fueling station for fleet vehicles in Glassboro—which he says is the first step in expanding natural gas fueling infrastructure in the region—and increasing the quarterly dividend for SJI for the 13th year in a row. Plus, South Jersey Gas has achieved its lowest rate for its more than 300,000 customers since 2003, thanks to a $22.7 million credit issued to customers in March, plus a 3.4 percent decrease approved by the BPU in September. Graham's dedication to the South Jersey area extends beyond his professional titles, as well. He is involved in several organizations, including the Foundation of the New Jersey Alliance for Action, Choose New Jersey, the William J. Hughes Center for Public Policy, and the New Jersey Business and Industry Association.
Alexander J. Hatala
President/CEO, Lourdes Health System
Hatala is responsible for developing and implementing the strategies that support the mission and vision of the health system, including two hospitals, several outpatient facilities and a physician network. His philosophy has always been that partnerships in health care are the best way to meet the needs of the community. Not only did Lourdes acquire two of the area's largest cardiology groups (47 physicians) in 2011, but it also implemented the cardiology co-management model. This innovative partnership is designed to have the physicians lead the operations team to drive further enhancements in clinical quality and the patient experience. In his 20-plus years of leadership at Lourdes, Hatala has never waivered in his focus on quality outcomes. In 2011, Our Lady of Lourdes Medical Center in Camden was recognized by HealthGrades as the No. 1 hospital in the state and among the best 100 hospitals in the nation for cardiac care. Our Lady of Lourdes was also named a Best Regional Hospital by U.S. News and World Report and among the top 14 percent of hospitals in the nation by the Joint Commission. With other unique initiatives, such as operating an emergency department on the Deborah campus and constructing a new ambulatory care center that will open soon in Cherry Hill, Hatala continues to ensure that Lourdes is among the top health care providers in the region.
Joseph Coradino
President, PREIT Services
In the last several months, Coradino has received quite a bit of press. He serves as president of PREIT Services, the management affiliate of Pennsylvania Real Estate Investment Trust, which owns malls in 13 states. Among those are the Cherry Hill Mall and Voorhees Town Center, but it was the Moorestown Mall that soaked up the most attention this year. Coradino spent the majority of the fall gaining support for liquor licenses in the historically dry town, which would be restricted to the mall once approved. Coradino and his team's efforts paid off, earning the mall and township an estimated four liquor licenses costing $1 million each for soon-to-come upscale restaurants. Of course, Coradino is no stranger to finding ways to boost revenue. He was considered an instrumental driving force in PREIT's rapid growth between 1997 and 2007, during which time the market capitalization went from $400 million to more than $4 billion.
Ray Angelini
President/CEO, Ray Angelini, Inc.
Angelini started his business more than 35 years ago at home on his dining room table with one work van. Now based out of Sewell, Ray Angelini, Inc. employs more than 200 employees as a full-service electrical contracting firm, with divisions in Industrial Electric, Commercial Electric, Data Communications, Transit, and Solar Project Design. The company has spread to Pennsylvania, Delaware and Maryland and is considered one of the largest commercial, electric and solar contractors on the East Coast. His work in the solar division, which ranges from design, construction and maintenance, has earned him local awards for his eco-friendly ideas, most recently the Gloucester County Green Award given by the freeholder board. Some of the company's major solar projects have included work on the Johnson & Johnson headquarters, Atlantic City Convention Center, and Epuron-Exelon.
Mary Ann Boccolini
President/CEO, Samaritan Healthcare and Hospice
In the 10 years that Boccolini has been president and CEO of the Marlton-based Samaritan Healthcare and Hospice, she has managed to make tremendous strides. With new programs dedicated to assisting both patients and their families, Samaritan has become a leading provider of end-of-life care in South Jersey and has helped redefine the industry. South Jersey isn't the only place in the world that has been touched by Boccolini's work, as she leads her company's volunteer efforts with the African Hospice Project: Foundation for Hospices in Sub-Saharan Africa (FHSSA). The nonprofit provides hospice care to Ugandan residents suffering with HIV/AIDS, tuberculosis and cancer.
Steve Sabol
President, NFL Films
The professional football players that NFL Films' president Steve Sabol works with every day would love to have the resume that the company's leading man retains. Sabol, who has been a part of football and film since playing college ball in the All-Rocky Mountain Conference in the 60s, has an undeniably impressive 34 Emmy Awards—including a Lifetime Achievement Award—for categories from writing to directing. He took over the reins for his father, NFL Films founder Ed Sabol, in 1987, and stood by his dad as he was inducted into the Pro Football Hall of Fame last August. Recently, Sabol has been met with an outpouring of support from fans that have come to cherish his smooth-talking sports commentary as he has bravely fought off a brain tumor he was diagnosed with in March. But even during his treatment, he has continued to lead the multi-million dollar organization in Mount Laurel and keep his nose to the grindstone. Just this month, he was inducted into the Sports Broadcasting Hall of Fame, ensuring his creative vision and leadership will continue to inspire the industry.
George E. Norcross III
Executive Chairman, Conner Strong & Buckelew
Norcross has been a distinguished leader in South Jersey for the better part of four decades. In that time, he has had a profound impact on the region's health care and education systems, as well as numerous philanthropic and charitable organizations. Norcross has been the head of Marlton-based Conner Strong & Buckelew, and its predecessor companies, since 1979. Under his guidance, the firm has grown into one of the largest insurance, risk management and employee benefits brokerage and consulting firms in the country. Norcross also serves as the chairman of the Board of Trustees of the Cooper Health System and Cooper University Hospital in Camden. Since becoming a trustee in 1990, Cooper has been transformed into a top-tier academic medical center, with the Cooper Medical School of Rowan University currently under construction. Norcross and his wife also just made a $5-million pledge to kick off a $50 million campaign for the expansion of the Cooper Health Sciences Campus. Norcross is also a dedicated supporter of a range of charitable organizations, including the Larc School for children with special needs. He is a founding partner of the Norcross Foundation, which focuses its charitable efforts on improving education for youth, funding research to help cure diseases, supporting the arts and culture, improving the community's safety, and helping people with disabilities.
Toni Pergolin
President/CEO, Bancroft
Pergolin first joined Bancroft as its CFO in 2004, becoming president and CEO of Camden County's fifth largest employer in 2006. She quickly made her mark on the $95 million human services organization based in Haddonfield, overseeing its growth in Central Jersey and neighboring Pennsylvania, as well as its community-based programs that include nearly 200 homes and apartments, special education schools, vocational and day programs, and more for children and adults with neurological disorders, such as autism and other developmental disabilities, as well as brain injuries. During her tenure, she has led many other improvements, including increased financial stability, better strategic planning, greater professional development, and enhanced processes and accountability. This year alone under her leadership, Bancroft has been approved by the U.S. Department of Veterans Affairs to provide brain injury rehabilitation services to veterans through a new pilot program; opened the organization's first daycare center, which serves children both with and without autism and other developmental disabilities; started a program at Camden County College to serve students 18-21 with developmental disabilities; created an in-home support program to meet the needs of clients in their homes and communities; and launched the reconstruction of its Mullica Hill campus in order to create modern, fully accessible residential and vocational facilities.
Lauren Eni
Director of Brand Strategy, Dietz & Watson
We've all seen the face of Ruth "Momma Dietz" Eni around town and heard her name on the radio, especially during the past year. What most people don't know is that Momma Dietz' granddaughter is one of the people behind that advertising campaign as the company's director of Brand Strategy. Since joining the company in February 2010, Eni, a native of Medford Lakes, has been hard at work making sure people know that Dietz & Watson is still a family business and that Momma Dietz, daughter of company founder Gottlieb Dietz, is indeed a real person. Eni began her career as a media planner in New York City, but was lured in by the opportunity to expand her family's Philadelphia-based brand nationally. Now, as a fourth-generation member of the business, she has launched a new website, created regionally specific advertising campaigns, and is currently working on a new label design. Eni's philosophy is that in order to market the products, it's important to understand all aspects of the business and how each product is prepared. Through it all, she has in mind the mission of maintaining her great-grandfather's passion for quality and tradition, while ensuring that Dietz & Watson has a long future as an innovative brand.
Christopher R. Gibson
President, Archer and Greiner
Gibson has only been president of Archer and Greiner since October 2010, but he has served his entire 25-plus year career with the Haddonfield law firm and has already led the organization through several notable accomplishments in 2011. Last May, just months into his tenure, the firm completed a major merger with Herten, Burstein, Sheridan, Cevasco, Bottinelli, Litt & Harz LLC, establishing its first presence in North Jersey and making Archer & Greiner, which was the largest law firm in South Jersey, now the fourth largest in the state. As Gibson continued to serve an extensive array of national and regional clients, the firm had its highest grossing year ever in 2011, while also giving back to the community through Gibson's new membership on the board of directors for Underwood-Memorial Hospital as well as the firm being a top contributor to the United Way of Camden County.
Mike Moynihan
President/CEO, United Way of Camden County
Moynihan's lifelong dedication to helping his community has a lot to do with why he had the honor of being named South Jerseyan of the Year for 2011, nonprofit sector, by the Walter Rand Institute for Public Affairs. CEO for the past 14 years, Moynihan spent much of his free time as a young boy volunteering at a United Way in Connecticut where his father served as president. Now, with more than 25 years experience total, he guides the local agency that raises nearly $5 million annually to better the lives of Camden County residents and improve the county's rankings in terms of poverty, health and education. Meeting fundraising goals during a recession is no easy task, but it's something Moynihan and his team of 13 employees and more than 100 volunteers have consistently accomplished to promote their initiatives—and success is seen in the numbers. In 2011, 95 percent of the UW's community achieved educational success. Clients are measured on being school-ready; proficient in reading and math; improving grades; moving to the next grade level; obtaining GED or high school diplomas; or moving onto a college or vocational school.
Published (and copyrighted) in South Jersey Biz, Volume 1, Issue 12 (December, 2011).
For more info on South Jersey Biz, click here.
To subscribe to South Jersey Biz, click here.
To advertise in South Jersey Biz, click here.