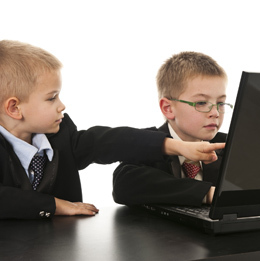 Close of Business: Goal Posts
A ballerina. An astronaut. A hotdog seller at the ballpark. Our childhood ambitions often end up having very little to do with our eventual careers. (After all, when was the last time you heard a child say, "I want to be a forensic accountant when I grow up?") We asked the young success stories from our "20 Under 40" feature how their personal career goals evolved, and which of their childhood dreams have helped shape how they do business today.
Ameet Shah; CEO, Conigent
"I knew, from a very young age, that I wanted to run my own business. I tried several ventures along the way ... some successful, some not so much, but I still vividly remember my first lemonade stand, the car detailing business I ran in high school, and—not so long ago—selling live Maryland crabs online. The truth is, I am a nerd at heart. I jumped at the first opportunity I had to help transform a business utilizing my technological knowledge. At General Motors, I implemented simple Excel documents to replace several pen-and-paper solutions. The success of these simples solutions gave me a major high, and that was when I knew I had discovered my passion: to improve businesses processes with technology."
Scott Mertz; Principal, NAI Mertz Corp.
"I grew up in the real estate community: my parents ran a family owned brokerage business. You heard real estate terminology in the house, and it seemed like a natural for me to join the business. I enjoyed hearing my father [talk] about deals, and the art of negotiating intrigued me."
Christina Genovese; Director of Business Affairs, Office of the Governor
"I was never certain what I wanted to do for a living until high school, when I participated in Model Congress at my alma mater, Vineland High School. Model Congress helped open my eyes not just to the legislative process, but also to a wide variety of economic and social issues facing the state and the South Jersey region."
Marco Lentini; President, Avanti Food Corp.
"I've always wanted to be two things since I was about 5 years old: 1. An entrepreneur and owner of my own food business. Over the past 10 years I have achieved that with five locations. 2. To serve in public office. In November, I will begin my political career with a run for Swedesboro Borough Council. I'll be running as a Democrat, with Tom Fromm, the Mayor of Swedesboro. I have decided to take an entrepreneurial route to politics and fulfill my two dreams. I have been very fortunate to have already fulfilled my first dream, and with some good fortune my second dream will come true."
Michael Boyle; President, Corporate Facility Services
"I did not know exactly what I wanted to be when I grew up. I did know that I wanted to own my own business, because the people that were most influential in my childhood, [my father and maternal grandparents], owned businesses.… I grew up working Saturdays and summers in these businesses, which taught me so much about the great challenges of owning [a] business."
Jennifer Madera; CEO, The Career Finders "As a child, I wanted to be a teacher to guide and help people. At The Career Finders, I am often counseling candidates on interviewing techniques, resume writing and job etiquette. I am confident that I am teaching my candidates on how to achieve their dreams."
Anthony DiFabio; CEO, Robins' Nest Inc.
"At a very young age I committed myself to making personal and professional decisions that reflect the strong values that my parents instilled in me and yet also satisfied my competitive spirit and drive to lead. As the CEO of Robins' Nest, I am able to combine the business principles of my father, a successful businessman, and the clinical skills of my mother, a psychotherapist, who had a passion for helping others. My parents were an inspiration to me in the way they lived in service to others."
Published (and copyrighted) in South Jersey Biz, Volume 1, Issue 5 (May, 2011).
For more info on South Jersey Biz, click here.
To subscribe to South Jersey Biz, click here.
To advertise in South Jersey Biz, click here.