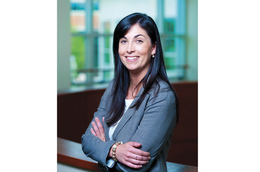 20 under 40: Young & Hungry
From the founders of kitchen-table start-ups that have blossomed into multimillion-dollar companies, to fast-climbing executives on the rungs of South Jersey's premier corporations, our first-ever list of entrepreneurs and businesspeople under 40 includes plenty of notable names and rising stars. Here, meet 20 men and women to watch, and find out what drives them to achieve.
Christina Genovese
Director of Business Affairs, Office of the governor
Age: 30
Base: Trenton
From the moment Christina Genovese (pictured) took an elective course in high school—"Political & Legal Education"—she knew her career path lay in government. "I just had such a love for politics," recalls the 30-year-old Medford resident. "Not necessarily running for office and being president, but lobbying and learning about the legislative procedure."
After holding several prominent positions in government in South Jersey, Genovese joined the office of Gov. Chris Christie as director of business affairs in April 2010. There, she is responsible for communication with business owners and managers across the state, as part of Gov. Christie's initiative to improve the business climate in New Jersey. "I'm the mechanism for communication to make sure that the business community is aware of what the governor is doing to help benefit the business community in all of New Jersey," she explains.
Working directly with the leaders of more than 450 business organizations across the state, Genovese ensures constituents fully understand Gov. Christie's various economic development and business initiatives, such as the proposed $200 million tax cut for businesses, the Red Tape Review Commission and the governor's newly created Atlantic City Tourism District. "I keep them informed as to what the governor is doing that is business-related, or economic development-driven and job growth-driven," says Genovese.
Genovese's prior positions have prepared her for the rigors of the governor's office. She was a legislative aide for former Assemblyman Jack Gibson, served as government and community relations specialist with South Jersey Industries, and most recently was director of government relations at the Chamber of Commerce Southern New Jersey. It was that last job—handling testimony on behalf of the Chamber before the New Jersey Senate and Assembly—that led Genovese to Trenton. "I was not really looking to leave the Chamber at that point," she says, "but how do you pass up working for this governor?"
Anthony DiFabio
CEO, Robins' Nest Inc.
Age: 38
Base: Glassboro
Six years ago, Anthony DiFabio was juggling multiple high-level psychology jobs in North Jersey, when a chance encounter with Robins' Nest, Inc., a nonprofit children's welfare organization based in Glassboro, sparked a keen interest in this organization based 75 miles south. DiFabio knew instantly that he belonged there.
"I was working in private practice, moonlighting at a hospital, doing consulting work for the county and running a crisis program," explains DiFabio, who had been asked to consult on bringing the crisis program to South Jersey. "I discovered that this is an incredible agency and they're doing remarkable things. So much resonated with me in terms of how they conducted not only the day-to-day operations, but also their mission. I said to my wife, 'I think it's time to put all of our eggs in one basket.' And it's been an incredible, incredible experience since then."
With a doctorate in clinical psychology, DiFabio joined the Robins' Nest senior management team in 2005 and three years later became chief executive of the Glassboro-based organization, with a $13.5 million annual budget and six South Jersey locations. DiFabio oversees more than 230 therapists, clinicians, psychotherapists, nurses and other staffers that administer more than 40 programs to nearly 10,000 children and families annually.
"Being the CEO of a nonprofit is particularly fulfilling for me, because not only are you charged with running a sophisticated business, but the business exists solely for the purpose of doing something good," says DiFabio.
Under DiFabio's leadership, Robins' Nest has broadened the scope of its services, adding two new child and adolescent wellness centers for children. DiFabio's focus has also been on developing leadership within the organization and bolstering prevention, behavioral and health programs. The Life Link Home program, which he oversees, provides affordable housing, life skills and support services to homeless youth and children coming out of the child welfare system; it has come to be viewed as a model for similar programs nationwide.
"I truly love and thrive off of the interface between the business and the mission," DiFabio says. "My contention is that they are both critical to the successes of Robins' Nest, and we need to be successful in both of those areas in order to really be able to achieve the lofty goals and ambitions that the agency has. It's more than just running a business."
Jacqueline Scanlan
Vice President, Global Talent Management & Organization Effectiveness, Campbell Soup Co.
Age: 38
Base: Camden
With a master's degree from the University of Pennsylvania and experience in the human resources departments at Bristol-Myers Squibb, DuPont and Accenture, Scanlan joined Campbell in 2007 and assumed her current position in 2010. In her present role, Scanlan is responsible for talent management and employee development initiatives for Campbell's worldwide workforce of 18,000 employees. Overseeing a budget of $2.5 million, Scanlan directs Campbell University and the design and delivery of employee leadership and management development programs such as STARS, Bringing the Leadership Model to Life and the succession planning process.
Benjamin Parvey
Co-founder & CEO, Blue Sky Power
Age: 36
Base: Camden, NJ
A former public finance lawyer who closed more than $4 billion in deals, Parvey launched Blue Sky Power in 2008 and the following year won the "Best New Company Award" from the New Jersey Conference of Mayors. A prime player in the hot field of alternative energy development, Blue Sky Power develops, finances and manages clean energy capital projects for governmental, institutional, commercial and industrial facilities. Staffed with experts in law, engineering and technology, Blue Sky Power increased its revenue 11-fold from 2009 to 2010, and projects 400 percent to 500 percent revenue growth in 2011, as it moves from solar and energy efficiency projects to large-scale co-generation plants.
Vincenzo Barone
Chef-owner, Barone's
Restaurant Group
Age: 34
Base: Collingswood
When Villa Barone opened in Collingswood in 1994, no one expected it to be the first link in a small South Jersey restaurant empire with a staff of 45. But now, Barone owns and operates five thriving Italian restaurants including Villa Barone locations in Maple Shade and Woolwich, as well as Barone's Tuscan Grille and Barone's Tuscan Pizza Kitchen in the upscale Moorestown Commons Shopping Center. Coming soon to Barone's restaurants are traditional wood-burning ovens and a new menu.
Dave Welsh
Owner, Haddonfield Running Company; Moorestown Running Company; South Jersey Running & Triathlon Company
Age: 34
Base: Haddonfield
An avid runner and former engineer with IBM and New Balance, Welsh purchased the Haddonfield Running Company in 2006 and proceeded to grow the store into a thriving, $3 million business that includes locations in Stratford, Mullica Hill and Moorestown. Today, Welsh owns and operates four specialty retail stores that sell running- and triathlon-related custom footwear, apparel and accessories to consumers and institutions. Also offered in-store and off-site are coaching clinics on topics such as nutrition, injury prevention, proper equipment and technique. Local running enthusiasts also flock to the company's regular group runs, which often attract more than 100 athletes during the summer.
Scott Mertz
Principal, NAI Mertz Corp.
Age: 34
Base: Mount Laurel
As principal of NAI Mertz Corp., the largest commercial brokerage firm in southern New Jersey, Scott Mertz is no stranger to negotiating multi-million-dollar real estate deals. In fact, the 34-year-old Cherry Hill resident says it's his favorite part of the job.
"I love the art of a deal, and negotiating a strategy behind it. There's a lot of different facets in doing that," explains Mertz, who has leased or sold nearly $255 million in commercial and industrial property—in all, more than 11 million square feet across nearly 550 transactions. That includes overseeing the lease of almost 1.5 million square feet of office and industrial space for First Industrial Realty Trust at Cherry Hill Business Park, one of the most successful business parks in the country. In 2006 alone, Mertz sold more than $47 million worth of strip shopping centers in the Cherry Hill area.
"I'm always being pulled in different directions," says Mertz, of his need to constantly adapt to the challenges of high-level brokerage. "If I need to give a pitch, I'll give a pitch. If I need to help somebody negotiate a deal, I'll help them to negotiate."
Mertz learned the business as a college intern doing cold calls and then assisting with real estate site selections for Amoco Oil, before working his way up to principal at NAI, which is headquartered in Mount Laurel, with three additional offices and 34 staffers located throughout the greater Philadelphia region. He also oversees the day-to-day operations of the company—everything from management and insurance issues to legal matters and training new hires. These days, Mertz' biggest challenge is incorporating technology into his business. "The fast pace of technology presents brokers with a steady stream of new opportunities to market their listings," he contends. "Putting in the time now to master cutting-edge applications gives you a competitive edge going forward."
And while the poor economy has presented new challenges, Mertz remains resilient. "You have to have thicker skin," he says. "Real estate is all about making connections—buyers to sellers and tenants to landlords—so it's always essential to continually build upon your network. With demand still low in the marketplace, an extensive network is a definite advantage in rising above the pack."
George Mach
Founder & CEO, Apex IT Group
Age: 29
Base: Pennsauken
George Mach was a young computer buff starting out in tech support when the visionary in him spotted an opportunity. "I saw some things missing as it related to process and people and technology," he says. "I figured there was a better way to do it." So, in 2007, Mach launched his own company, Apex IT Group, which in less than five years has blossomed into one of the region's premier information technology service providers, serving as the outsourced information technology department for corporate clients throughout greater Philadelphia.
As a managed services provider, Apex specializes in filling the kind of strategic roles that would be handled by a chief information officer, as well as offering network administration and support desk services. Apex now boasts 17 fulltime employees, with revenues of nearly $3 million annually and projected 25 percent growth in 2011.
Recently, the company added two high-profile strategic investors as equity partners and advisers. "They will help us get to the next step," Mach says.
Taking the time to understand each client's technology needs is a key to Apex's success. Every client receives a "virtual CIO" and a formal technology budget and plan that can adapt with their growing needs. As well, for the past two years, Apex has worked on developing its own cloud-computing platform, a niche in which Mach sees tremendous growth potential. "That's going to be very big for our company, delivering those services to small and mid-sized businesses," he says.
Mach has always been this aggressive in his pursuit of success: he received his A+ technology certification while still in high school, and began working in tech support and then engineering sales while studying computers at a community college, with the intent to transfer to Rutgers. Instead, Mach went into business for himself.
"There's 50 companies in a 20-mile radius that can fix the plumbing for a company. But if you don't understand the people, the culture, the business processes of your client and what they're looking to accomplish, it makes it very difficult to support the strategic growth of that company from a technology standpoint," Mach says. "It's not just turning screwdrivers."
Michael Boyle
Founder and President, Corporate Facility Services
Age: 39
Base: Swedesboro
With a background in office furniture installation, Boyle decided to strike out on his own and, six years ago, founded Corporate Facility Services, an office system and commercial furniture installation company that specializes in flexible workspaces, office design and storage. The company provides installation services related to corporate downsizing, meeting space requirements, adapting to new technologies, business expansions and relocations. Since its launch in 2005, the company has experienced 22 percent average annual growth and has increased its workforce from five employees to 29.
Kristi Howell-Ikeda
President and CEO, Burlington County Chamber of Commerce
Age: 38
Base: Mount Laurel
Howell-Ikeda has been president and chief executive of the Burlington County Chamber of Commerce since 2002. In that capacity, she has doubled the chamber's budget to $500,000 annually, increased its membership to 500, and quadrupled its programming to more than 90 networking, educational and business development events each year. The former president of her class at Widener University has worked in the administrations of Govs. Christine Todd Whitman and Don DiFrancesco, and in the New Jersey Senate Majority Office. In 2006, Howell-Ikeda was named "Business Advocate of the Year" by the National Association of Women Business Owners South Jersey Chapter.
Marco Lentini
Founder and president, Avanti Food Corp.
Age: 37
Base: Swedesboro
Marco Lentini is passionate about two things: food and politics. The 37-year-old café owner and budding politician is making great strides in both arenas. Lentini is the founder of Gia Pronto, a growing chain of all-natural, wholesome food cafes that promote Jersey Fresh products. In addition to four Gia Pronto locations in Philadelphia, he also recently opened T-Bowl, a fast-casual Chinese food restaurant in the city. And this fall he will run for borough council in Swedesboro, where he lives with his wife and two young children (plus another on the way).
With a bachelor's degree in international relations and an M.B.A. from the University of Pennsylvania, Lentini first worked in investment banking for Deutsche Bank in New York and London. Upon his return to the United States, the entrepreneurial-minded young man saw a niche in the food industry and decided to act upon it.
"I was seeing a trend in the marketplace and a need for higher-quality, better-for-you foods in the fast-casual segment—so, not a sit-down restaurant but not fast food," Lentini explains. "I saw people's palates changing."
In 2002, he founded Avanti Food Corp., the holding company for Gia Pronto, which he first opened on the Penn campus. The concept was successful enough that Lentini added another campus location, one at Penn's hospital and a fourth in Center City Philadelphia. He followed those with T-Bowl café, an Asian-fusion concept that he opened at Penn in March. Serving breakfast, lunch and dinner, the cafes use natural ingredients free of chemical additives, artificial preservatives or coloring. The chain is growing, with 75 employees, projected 2011 revenue of $4 million, and the potential for expansion at Princeton and Columbia universities.
A staunch advocate of South Jersey produce, Lentini primarily uses local products from area farms and distributors, and even features seasonal items like peaches, asparagus, eggplant or Jersey tomatoes for sale in the cafes. "The incredible resource that I think people often overlook, especially in Philadelphia, is how rich and how abundant the produce is in South Jersey," says Lentini. "People always say, 'Oh wow, Jersey tomatoes.' But there's so much more in South Jersey."
If elected to council, Lentini hopes to be an advocate for local businesses, especially agriculture.
"Part of the job of government and politicians is to help create mechanisms so we can continue to grow economically," he says. "I think the Jersey produce brand has made achievements and people now have started to recognize the Jersey Fresh logo, but a lot still needs to be done with promoting local farms and local agriculture in New Jersey, which ultimately helps to create more jobs and more tax revenue. It's a beneficial cycle for everyone."
Lentini's passion for the food, business and politics came together in 2009 when he was one of 12 small business owners selected to participate in a roundtable discussion with President Barack Obama regarding the President's small business plan. Lentini had the honor of introducing the President to the consortium, which included Treasury Secretary Timothy Geithner and many members of Congress.
Shawn Pressley
Vice President, Project Management Systems & Development, Hill International
Age: 33
Base: Marlton
When it comes to systems and software associated with the management of complex construction projects, Pressley is the guy in charge. His employer, Hill International, is a multinational company headquartered in Marlton, with 2,300 employees and 80 offices worldwide. As vice president, Pressley oversees 25 employees on domestic and international construction projects with values ranging from $150 million to $1 billion, including the Comcast Center, Philadelphia's tallest building; the Grand Egyptian Museum in Cairo; and lavish resorts from the United Arab Emirates to Vietnam.
Jennifer Madera
Founder & CEO, The Career Finders
Age: 39
Base: Mount Laurel
Founded by Madera in 2007, The Career Finders is a full-service staffing firm that places individuals in temporary, temp-to-hire and direct-hire jobs, across industries including finance, human resources, information technology, administration and pharmaceuticals. Headquartered in Mount Laurel with additional offices in King of Prussia, Pa., and Parsippany, the company experienced 75 percent growth in 2010 and in June will launch its fourth location in Princeton.
Ameet Shah
Founder and CEO, Conigent
Age: 37
Base: Haddonfield
Armed with a degree from Penn State in engineering science with a focus on research, Ameet Shah wanted a job that would combine his desire for hands-on work with his passion for technology. Shah found this balance with the launch of Conigent, a rapidly growing company that's on the cutting edge of enterprise technology.
Founded in 2007, Conigent is a technology consulting firm that helps companies adapt to cloud-based computing systems, in which data and applications are stored on remote servers. The company is drawing clients attracted to the user-friendly, pay-per-use model, which promises a more affordable and agile end-user experience than traditional software.
"Cloud computing is taking business software and turning it into a utility," Shah says, comparing it to an energy bill, where customers pay only for what they use. "Because of that, it has opened up a whole new market for small companies like us."
The growing market for cloud technology has indeed resulted in rapid expansion for Conigent, which recently moved into a larger new office in downtown Haddonfield in order to accommodate its growing workforce. The company has 18 workers and plans on hiring five more this year. Since 2007 Conigent's revenue has skyrocketed from $300,000 to a projected $3.5 million in 2011, with a client roster including GE, Polo Ralph Lauren, Siemens, UPS, RealEstate.com and Encore Tickets.
"We want to be viewed as a thought leader in the cloud computing space," Shah says. "We want to be an innovator. So it's one thing to go and implement different cloud-based applications, but we've got all these ideas running through our heads around innovation." The company's latest innovation is Stratus HR—Conigent's forthcoming cloud-based human resources software, targeted to small and mid-size enterprises.
While profit is obviously an important part of Conigent's purpose, so is giving back to the community. A key corporate initiative spearheaded by Shah is its "1:1:1 Philanthropy Program." Essentially, Conigent donates 1 percent of its profits to charity; every employee receives one paid day off per quarter, in addition to vacation days, to perform meaningful volunteer work; and the company offers free consulting services to help nonprofits implement cloud-based applications. Additionally, every quarter Conigent and its employees sponsor a service event for a community-based project. This quarter, the company cleaned a park in Camden in honor of Earth Day, and next quarter it will work with Habitat For Humanity.
"We're going to do what we can," says Shah. "We may not be doing anything earth-shattering today, but the point is that we're actively doing something."
Eric Shugarts
Co-founder and chief information officer, Free For all, Inc.
Age: 31
Base: Marlton
This technology guru has overseen all things IT at four high-tech companies in the past 12 years. The latest, Free For All Inc., is among the fastest-growing companies in South Jersey, providing prescription drug discounts through the health care discount program RxCut Plus.
There, Shugarts designed a discount card program integration with Google Health and Google Maps, offering online users new ways to comparison shop for low pharmacy costs. Shugarts is also the chief executive of the technology consultancy Flateye LLC, and former chief information officer for SUNRx, a Free For All predecessor, as well as the former top techie for Lime Systems and Omnient Corp.
Shugarts' current venture, Free For All, claimed 500 percent revenue growth last year and has helped consumers save $30 million in health care costs since 2008.
In his off hours, Shugarts retreats from the cutthroat information technology industry to the more mild-mannered company of the sharks at the Adventure Aquarium, where he volunteers as a SCUBA diver and helps out with shows and maintenance work.
Michael Regina & Ryan Regina
Co-founders and Principals, Big Sky Enterprises
Base: Voorhees
Founded in 2003 by the Regina brothers—Michael, age 37, and Ryan, 33—Big Sky Enterprises is a leading commercial real estate development, financing and design build organization with projected revenues of $4 million this year. The full-service enterprise provides design, development, project feasibility, management, financing and construction for projects including commercial, retail, medical and industrial sites.
In addition, both are actively involved in the church, a dedication that they carry over into their business, where they've worked on the construction of churches and religious schools around South Jersey. In 2011, Big Sky plans to expand internationally with Big Sky Ventures, which will develop affordable single-family housing in the Dominican Republic.
Jason Halpern
Co-founder and CEO, PowerFlower Solar
Age: 24
Base: Haddonfield
While still working toward his bachelor's and master's degrees from University of Pennsylvania, Halpern developed the prototype for a portable solar generator called the PowerFlower, (named for its resemblance to a 5-foot-tall metal flower). The device relies on concentrated photovoltaic technology to provide energy in an efficient package. Easily deployable and portable, the PowerFlower has applications for the military, disaster relief, domestic agriculture and use in developing nations. Halpern used a $500,000 grant from the New Jersey Board of Public Utilities to develop a full-scale prototype, and is now working to bring this high-tech product to market. In 2010, Halpern received the Young Entrepreneur Award from the Young Entrepreneurs of the Delaware Valley, and PowerFlower Solar was recently named Best Green Company at the New Jersey Tech Council's Venture Conference.
Jill Ross
Assistant Vice President and Relationship Manager, Beneficial Bank
Age: 33
Base: Cherry Hill
Since joining Beneficial Bank in 2008, Ross has taken responsibility for building new commercial relationships for the bank and maintaining existing customer relationships throughout southern New Jersey, where Beneficial has 23 offices. She's also responsible for community outreach, as well as mentoring staff for internal sales and service results. Helping people become economically self-sufficient is also her passion; to that end, Ross teaches financial literacy courses at the Women's Opportunity Center. Currently, she is pursuing a master's degree in social work at Rutgers and serves on the boards of the National Association of Women Business Owners South Jersey; Crossroads, a program for at-risk youth; and the Cherry Hill Chamber of Commerce.
David Foster
President, Greater Camden Partnership and Cooper's Ferry Development Association
Age: 34
Base: Camden, NJ
Camden doesn't always get the best rap, but it does have one thing going for it: the impassioned advocacy of David Foster, president of Greater Camden Partnership and Cooper's Ferry Development Association.
"Our role is to bring together the leading organizations in the region to plan and execute innovative revitalization solutions for the city of Camden," explains Foster, who has served as president of Greater Camden Partnership since early 2009. There, he coordinates public, private, nonprofit and institutional efforts to plan and implement some $25 million in sustainable revitalization projects each year.
Current and upcoming initiatives under his reign include the $100 million Haddon Avenue Transit Village project, a mixed-use office/retail/parking complex adjacent to the Ferry Avenue Patco stations; the vacant lot stabilization initiative, a partnership with Jon Bon Jovi and his Soul Foundation to turn 81 vacant lots into thriving public parks; Camden Special Services District, a program to make the city's downtown clean and safe; and countless new road construction, commercial development and affordable housing initiatives.
"We're very optimistic about what the future holds for the city," Foster says. "We've got the ingredients here to really effect transformative change."
In February, Foster took on even more responsibility when the Greater Camden Partnership merged with Cooper's Ferry Development Association, a 27-year-old economic development corporation that has successfully coordinated more than $275 million of revitalization projects along the city's waterfront, including the Adventure Aquarium, Campbell's Field, the Susquehanna Bank Center, the RiverLink Ferry and the Victor Lofts.
"These two organizations together create a very powerful platform for the type of public-private partnerships that are going to be critical to revitalizing the city," Foster says.
Armed with a law degree from the University of Pennsylvania, Foster previously practiced real estate law for Ballard Spahr Andrews & Ingersoll in Philadelphia, and also worked on a large real estate development project in Shanghai. But, he says, "urban revitalization has been a passion of mine.… When this position became available with the Greater Camden Partnership, it was clear to me that this was a great opportunity to not only do this kind of work, but to do it in a place where the need was as great as anywhere in the country."
Ken Wisnefski
Founder and cEO, WebiMax
Age: 39
Base: Mount Laurel
As a student at Stockton College in the early 1990s, Ken Wisnefski dreamed of becoming a sports or news broadcaster. Then he discovered a revolutionary new phenomenon—the Internet—and his inner entrepreneur took over. Wisnefski went on to launch two successful online companies, including his current venture, the online marketing and search engine optimization company WebiMax.
Wisnefski started in 2001 by founding VendorSeek.com, a business-to-business online matching system that connected customers to pre-approved vendors in more than 200 categories. The company grew from a basement start-up to a $5 million-a-year, 60-employee operation before Wisnefski sold it in 2008. Six months later, he launched WebiMax. In just a few years, WebiMax has grown from six employees and $500,000 in first-year revenue to a projected revenue of $12 million to $15 million in 2011. Wisnefski has 125 employees in 12 offices throughout the United States and abroad, including London, Barcelona, Sydney and Toronto.
"Our specialty is helping companies of all different sizes gain visibility online," explains Wisnefski. "Our focus is to work with businesses to have their websites become more prominent online, so when people are searching for whatever goods or services they provide, that particular company has more exposure."
WebiMax works with clients as a strategic partner in website development and maintenance; search engine optimization and marketing; e-commerce solutions; and social media strategy, management and implementation. Clients have included such blue chip brands as Marriott, Sam's Club, New York Cruises and Colonial Bank. As its rapid expansion continues, the company is focusing on larger, international clients.
All that's not bad for someone who never considered himself a techie. "I wasn't very savvy at all with computers when I got out of college," recalls Wisnefski. "It's something that I kind of saw an opportunity in, and thankfully I made the right decision."
Published (and copyrighted) in South Jersey Biz, Volume 1, Issue 5 (May, 2011).
For more info on South Jersey Biz, click here.
To subscribe to South Jersey Biz, click here.
To advertise in South Jersey Biz, click here.