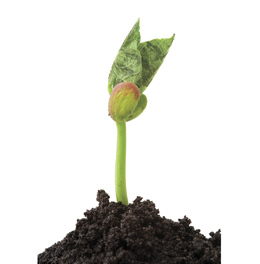 Breeding Business
Local business incubators provide fertile soil for startups and emerging industries.
Back in 2008, Cherry Hill's DCM Architecture & Engineering was, the company's president Eduardo Guzman thought, a business on the move.
Then, the recession hit.
"Design projects were postponed or cancelled," Guzman remembers. "When one of our largest [architecture] accounts evaporated, we knew we had a problem. We had been riding a large wave of income that was gone, and hadn't yet started diversifying like we should have been." DCM's staff, once 18 employees strong, had dwindled down to two.
Then, a friend told Guzman about the Rutgers-Camden Business Incubator, which houses startups in Camden's Waterfront Technology Center. The incubator offers low rental costs, along with mentoring, technical support services and contacts ranging from accountants to angel investors. "My initial response was, 'There's no way DCM is moving to Camden.' Our Cherry Hill office was a mile from my house; we were comfortable in our suburban setting," Guzman remembers. "But when we toured the facilities, I couldn't believe how impressive they were."
The Rutgers-Camden Business Incubator, founded in 2002, currently hosts 22 tenant companies, as well as four virtual tenants. "Our mission is economic development and the creation of jobs, so we look for high growth potential [in companies that apply to the incubator]," program manager Suzanne Zammit explains.
In fact, there are now a number of business incubators in South Jersey, all with the same goal: to strengthen fledgling businesses and, thereby, the regional economy.
They nurture enterprises by providing some variety of affordable (and often shared) facilities, mentoring and other services, as well as professional connections intended to increase the likelihood of viability upon leaving the incubator, or graduation. Nationally, 87 percent of companies that graduate from incubators stay in business, according to the National Business Incubator Association.
Incubators typically cater to startups, emerging industries or existing businesses that, like DCM, need financial refuge and resources to change course.
The Rutgers EcoComplex in Bordentown is dedicated to nurturing green businesses ranging from GreenPrimate, which is developing software to track home energy efficiency, to Metro BioFuels, which is working on a more efficient way to convert vegetable oils into biodiesel.
Burlington County College takes a different bent with its High Technology Small Business Incubator and Science Incubator in Mount Laurel, providing space for a variety of small businesses. New Jersey's lone community college-based incubator, it was jumpstarted in 1998 by a one-time, $2.7 million grant from the U.S. Economic Development Administration. It is sustained by its tenants, who pay rents of $1.75 per square foot per month—a cost well below the regional average. Ketan Gandhi, Burlington County College's Dean of Corporate College, nonetheless stresses that participant businesses—which range from a micro-publisher to a company offering preservation of fat-derived adult stem cells—are treated not like tenants, but like partners.
"Our relationship with our incubator businesses is mutually beneficial," he says. "One of the most obvious benefits is that our college students are given the opportunity to interact with and intern for companies poised for growth."
Meanwhile, in Bridgeton, the Rutgers Food Innovation Center has been in operation since 2001, working with farmers, cooperatives and startup food companies, among others. One Camden County-based client, Steve's Original, used the facility's shared kitchen to assemble its Paleo Kit trail mix packs, until graduating to a larger manufacturer.
Then there's Rowan University's Rohrer College of Business Incubator in Mullica Hill, where the focus is on technology, and "businesses must have some sort of patentable product or process" to be considered for the program, according to interim director Sarah Piddington.
It's been the perfect jumping off point for Brian Ruiz, who was a senior economics major at Rowan participating in a businesses planning competition when he was approached in 2008 about the then-new business incubator. Today, his business, Strategic Billing, streamlines and develops billing software for ambulatory care providers. He has been an incubator tenant since November of that year.
"I don't think I would have started Strategic Billing if not for the incubator," Ruiz says. "My research showed that companies like mine don't do well when they have a residential address, so I needed 100 square feet of office space. But it's tough to find a space that small among commercial facilities."
His office in the Samuel H. Jones Innovation Center in the South Jersey Technology Park in Mullica Hill suits him perfectly. "The uniqueness of being able to rent such a tiny space and expand incrementally, while having an address that's associated with a respected facility, gives Strategic Billing a credibility that's especially valuable to me as a startup," Ruiz says.
Incubators, of course, only work well for those entrepreneurs who make wise decisions, Piddington notes. She encourages entrepreneurs to flesh out market research before applying to an incubator or going into business at all. "A lot of entrepreneurs are passionate, but haven't fully thought through all aspects of their business idea," she says. "People need to make sure they're solving a problem, and that there's a market out there for the service or product they offer or create."
But for those who eventually outgrow the incubator, the typical stay can be as short as a few months, or as long as five years. "Graduation time varies," Zammit says.
"It's a matter of the company becoming strong enough to stand on their own. Both the client and the incubator staff generally know when they are ready to graduate." DCM Architecture & Engineering became part of the Rutgers-Camden incubator in May 2009.
"I can confidently say we wouldn't be here today without the incubator," Guzman says. "The lower-cost facilities allowed us to cut our operating expenses by almost 50 percent, which kept us alive and gave us the breathing room to change the course of our business. The incubator provided phones, Internet connection and conference rooms. Being in the Technology Center even freed us up from things like shoveling snow, which had cost us time and money in our small office back in Cherry Hill."
Just as valuable, though, was the synergy that comes from working side by side with like-minded businesspeople.
"Every day at the incubator was like being in a think tank. We'd been so isolated in Cherry Hill, in our office in a small house that didn't provide any exposure to other companies that were developing technology for the field of energy-performance.
When we arrived at the incubator, we were introduced to companies offering solar panels, software and other technologies, and we saw opportunities to collaborate."
When they graduated in October, DCM decided to stay in Camden, and began renting space on a different floor in the Waterfront Technology Center. They're now sharing space with Blue Sky Power, another incubator client that graduated at the same time, and collaborating on alternative energy-based power-generation projects.
Guzman is optimistic that DCM Architecture & Engineering is on the upswing. "We have almost doubled our income since graduating, and the projections for our growth are very good," he says.
Zammit isn't surprised that graduates cite camaraderie with fellow tenants as one of the incubator's greatest assets.
She notes, "Surrounding an early-stage company with companies in similar boats—where everyone's living on the edge, taking risks, sharing the same anxieties—is one of the most valuable benefits of the program."
Published (and copyrighted) in South Jersey Biz, Volume 1, Issue 4 (April, 2011).
For more info on South Jersey Biz, click here.
To subscribe to South Jersey Biz, click here.
To advertise in South Jersey Biz, click here.