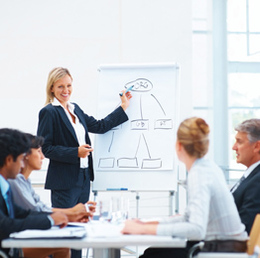 Perfect Pitch
Courting investors for a new or growing endeavor? You'll need a strong business plan, sound research and a great deal of savvy.
Tom Merrill still remembers the day when his idea for a potentially groundbreaking new medical device became reality.
It was 2004, and years of work developing a high-tech catheter to help heart attack patients were about to pay off. Dr. Jay Yadav, a pioneer in cardiac stent technology at the Cleveland Clinic who had been working with Merrill, made him an offer. "He said, 'Well I'm going to send you a check right now, and convince you to quit your job.'" The check arrived, and Merrill did quit his job. He never looked back.
"Jay's a super supporter, but a very critical guy. He doesn't go down paths that don't lead to success. So I felt like I was in good company with Jay. He encouraged me to quit, and I did," Merrill says. "It was a classic angel investor, but also a person who really knew the technology."
Today, Merrill is chief executive and co-founder of FocalCool, a bioengineering firm. The catheter the company is developing would be inserted directly into the heart after a heart attack or stroke, to pump blood and cold saline to cool tissue and hopefully prevent further damage. The company has since secured nearly $1 million in grants from the National Institutes of Health for research.
The recent movie The Social Network, which chronicles the rise of Facebook, makes launching a new business look almost sexy. Investors court the young entrepreneur with fancy dinners and financing offers. Within years, the company founder was a billionaire.
But for most entrepreneurs, that's just a fairytale. Courting potential investors takes years of hard work, patience and business savvy. "You have to have content, you have to do your homework and you have to have credibility," Merrill says. "You have to have the independent research."
As well, says Kimble Byrd, an entrepreneurial financing professor at Rowan University in Glassboro, landing financing requires a good sense of who to approach for backing and the ability to make that approach the right way.
"Any investors are looking for a good return on invested capital," says Byrd, who also runs a consulting firm that works with emerging businesses. "When they're looking at that return, they're in essence looking for a number of different things. Investors have their own metrics."
The right investors
Byrd says it's important for new entrepreneurs to know what types of investors to pursue. Many investors, for example, won't be interested until a company is at the growth or expansion stage. Seed money often comes from friends and family, Byrd says, while debt financing with banks won't be possible until the business is generating revenue.
"So you need to know exactly who will invest at what particular stage," Byrd says. Investors also tend to be very specific, he notes. You might court one investor for a nanotechnology endeavor, and a different one for a biotechnology project.
Geography, Byrd says, is also a factor.
"Angel investors or angel networks generally invest in companies within driving distance—meaning within a couple of hours' [drive]," Byrd says. "So it's important to understand what the landscape actually looks like."
The right image
The big mistake new entrepreneurs tend to make, experts say, is the assumption that the product is the most important thing.
The product is important—but even more important are the people behind it, according to Gary Rago, director of the New Jersey Small Business Development Center at Rutgers University-Camden. "[Investors] want to see a solid management team in place," Rago says. "What's clear is, if there is a good management team, no matter what comes down the pike, then we have a good team that can react."
Rago points to Starbucks as an example. "Who would have thought that another coffee shop was the greatest new thing?" Rago says. "Well, it's all in the execution."
So how does a new company prove that it has the right people on board? Rago says a solid business plan is key. The Small Business Development Center assists entrepreneurs with creating business plans and financial models. The business plan is the most vital communication tool, Rago says. "It says, 'This is a good idea. We have a good solid team.'"
After the business plan, the next important element—one that's often overlooked by entrepreneurs—is a strong marketing plan, Rago says. "If you don't have an effective way of describing your target market, you might have a great product that will sit on the shelves," he notes.
The right questions
New entrepreneurs need to have a good sense of how much cash they actually need, Byrd says. "What I've found is, entrepreneurs always underestimate the amount of cash they need to launch," Byrd says. "And they end up undercapitalized. We normally say you need three to six months of working capital."
Without realistic financial planning, no business can last long. "You need a realistic yet conservative projection of what the sales might be," Rago says. "The quality of the sales is going to be based on the homework that you've done. Revenue projections can't be a wish. You need to come up with a logical formula for how you're arriving at your revenue projection."
And for the entrepreneurs who are certain that they have the "next big thing," Rago says investors have just one question.
"Here is what investors want to know: Have you sold any?" Rago says. "Lots of people have ideas. But have you executed those ideas? You have to develop it."
Published (and copyrighted) in South Jersey Biz, Volume 1, Issue 4 (April, 2011).
For more info on South Jersey Biz, click here.
To subscribe to South Jersey Biz, click here.
To advertise in South Jersey Biz, click here.