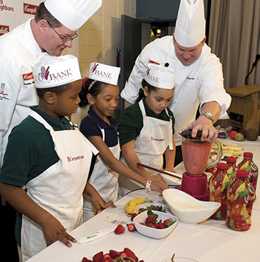 Business is Good
Philanthropy is more than just a tax write-off. Weave social responsibility into the core of your business practice, and the dividends could be surprising.
Remember the bad-old days of business, when the Gordon Gekkos of the world ruled Wall Street with the mantra "greed is good"? In today's post-Lehman Brothers society, say local executives, it's looking a lot more like, well, good is good. Corporate social responsibility is becoming increasingly important to businesses across our region. In fact, experts believe that good corporate citizenship is no longer simply a gold star on a company's reputation, but rather a necessity in today's economic climate.
"It's deeper now than just business image," says Sidney Hargro, executive director at the Community Foundation of South Jersey in Haddonfield. "I really believe that it's an authentic shift, that over the next 10 years will start to be seen as almost the new definition of business."
Hargro has worked in philanthropy for more than 15 years; the Community Foundation serves as philanthropic adviser to individuals and companies, managing $4.4 million in donor funds. He says that, as local businesses emerge from the recession, they're looking to combat the perception of the corporate world as uncaring and profit driven. That has led many companies to emphasize social responsibility just as much as turning a profit. According to Hargro, the benefits of such measures can be seen not only in the surrounding community, but also in a company's own image, employee morale, value and competitive edge.
So the question is: How can a company practically incorporate philanthropy into its business? While the needs of the South Jersey community are numerous and varied, there are three main avenues through which local businesses can (and do) provide outreach. Those are: volunteerism, grant writing and community leadership.
Create a Strategy
One leader on all three of those fronts is Campbell Soup Co. in Camden. In addition to food donations, service events, matching gifts and millions of dollars in donations from the Campbell Soup Foundation, the company has designated employees to lead its philanthropic efforts.
Among those efforts is a program to encourage volunteerism among Campbell's employees. The Dollars for Does program allows workers to log their community service hours; once they reach a certain number with one organization, the company will make a monetary donation.
"It's a small contribution, but it's big for that employee and big for the organization," says vice president of corporate social responsibility Dave Stangis. "It's a way that people can kind of direct some of the money that we contribute through the foundation."
Identify Key Issues
Campbell Soup also illustrates the advantage of taking the lead on a single issue that clearly resonates with a company's brand—in this case, children's health in its home city of Camden. In February, Campbell announced a 10-year, $10 million plan to reduce childhood obesity and hunger among children in Camden by 50 percent. Campbell is partnering with several local programs to improve food access by building community gardens and ultimately bringing a second grocery store to the city of 78,000 residents. It's also supporting the YMCA's Catch program, and nutrition education for children, parents and pregnant women.
"We're not creating anything new," says Kim Fortunato, who is heading the effort for Campbell. "We're simply identifying best practices and bringing them together to work collectively. Unlike traditional grant making, where you write a grant and say, 'goodbye,' we're working collectively with the organizations in whom we've made investments."
Fortunato says she has already witnessed a positive impact on Campbell's business. When she presented her plan to a potential client in the school food service industry, "the customer actually said, 'Wow this is a real key differentiator about Campbell Soup Co. and would make me more inclined to work with the company,'" Fortunato says. "I think that as we grow the program and as we gain some lessons learned and best practices, it will impact the company in lots of different ways."
Create Opportunities for Staff Participation
Still, even if you don't have $10 million in grants to give away, your company can make a difference simply by creating opportunities for employees to volunteer.
Kennedy Health System, for example, organizes employees to serve meals each week at Camden's Ronald McDonald House or take leadership roles in charitable events. "Hospitals take care of people—that's our main mission," says Joseph Devine, senior vice president of administration and external relations. "And part of caring for people is caring for the community you live in."
Such initiatives may not cost much, but they breed goodwill while staying close to Kennedy's mission of advancing the health and wellbeing of the community, and focusing on charities that tap employees' passion for health care, such as the March of Dimes or Ronald McDonald House. "It helps our employees get together off site and energize one another," Devine adds. "Just recently we raised $1,300 for Ronald McDonald House Charities by selling shamrocks in the building. When people see those things, they know that Kennedy is giving back."
Take the Lead and Commit to your Cause
Even those who lack substantial manpower can incorporate philanthropy into their business practice, simply by making it a priority. One example is Melvin Chilewich, a financial adviser and owner of Chilewich Financial Resources in Haddonfield. He serves as chairman of the board for the Genesis Economic Self Sufficiency Program, which helps Camden fathers coming out of incarceration to become reintegrated in society and ultimately reunited with their children in order to end a cycle of poverty and crime.
With the help of the Genesis School of Business and pro bono legal assistance from Forkin McShane Manos and Rotz Family Law, he and the program have helped more than 100 men in just two years. "Of 105 put through the program already, 83 have jobs, six went back to college, a whole bunch got their GEDs," Chilewich says.
"I always say that when you help 100 men, you've probably touched the lives of 1,000 people—children, in-laws, grandparents, neighbors."
Chilewich says he sees his efforts as an investment in the local community: solving urban issues in turn strengthens the regional economy, which benefits everyone in business in South Jersey. He's also building social capital that should bear long-term dividends.
Whether large or small, Hargro encourages businesses to see that social responsibility has real value and is achievable.
"Look internally," he instructs, "and say, 'What are the issues that we care about?' And start a conversation about how that becomes as important as profit."
Published (and copyrighted) in South Jersey Biz, Volume 1, Issue 4 (April, 2011).
For more info on South Jersey Biz, click here.
To subscribe to South Jersey Biz, click here.
To advertise in South Jersey Biz, click here.