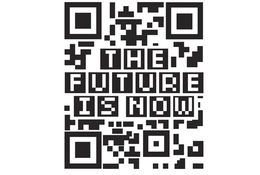 The Future Is Now
South Jersey companies are employing cutting-edge technologies to transform their business.
A business card used to include a simple formula: name, address, phone and fax. Then came e-mail addresses, URLs and even tiny CD-ROMs packed in card-size envelopes.
Now, the latest addition to mystify luddites at networking events comes in the form a pixilated symbol that looks like it would be at home on a 1980s-era Pac-Man screen. This—an increasingly common sight on everything from business cards to magazine ads—is a QR code.
"QR codes are already a way of life in Europe and Asia," explains Adam Sokoloff. He's the owner and president of Sunrise Signs, a custom wrap and graphic company in West Deptford that offers QR coding as a value-added service on all of their products, from automobile wraps to trade show displays. "But they're just reaching a tipping point here in the United States."
And not a day too soon. In an era of limited marketing budgets, QR codes are a highly measurable merger of print, outdoor and online advertising.
These small-but-mighty digital symbols represent just one of countless new waves in the ever-flowing tide of business technology. From high-tech marketing solutions to new options in data analysis, to cloud computing and social networking, the technological landscape is undergoing a dramatic shift, and the many South Jersey businesses taking advantage of cutting edge offerings are finding the potential to be enormous.
MAKING CONNECTIONS
Short for "quick response," QR codes are matrix barcodes readable by smartphone apps. Once scanned using a phone's camera, the code directs the phone's browser to an assigned URL. It is, in short, an entirely unprecedented link between the real and virtual worlds.
Think of QR codes as the cooler kid sister of the traditional barcode: When you spot one on, say, a movie poster, scan it with your phone, and you're taken to a web trailer, perhaps, or an interview with the film's leading man. A QR code embedded in a newspaper ad for a remodeling firm could lead users to an online gallery of before-and-after photos; one on a business card might bring users to a LinkedIn profile.
"The marketing possibilities are almost endless," says Sokoloff, whose company has a team dedicated to search engine optimization and Internet marketing strategies.
"One way we get people scanning [companies'] codes is through the use of social media. We call it Hide and Seek wraps, and it's played by sending a message out to Facebook and Twitter followers, to see if they can spot a company's vehicle wraps, and then scan the QR code to win prizes."
TRACKING INVENTORY
If QR codes are the traditional barcode's kid sister, radio frequency identification technology (RFID), is her more pragmatic first-cousin. Using radio waves that exchange data between a reader and an electronic tag, RFID is used with regularity by automotive companies tracking mobile merchandise. But RFID technology is also on the verge of managing a different kind of mobile product within Virtua's new Voorhees hospital: thousands of pieces of medical equipment.
Opening May 22, Virtua's 680,000-square-foot facility promises a state-of-the-art medical experience for patients. But for hospital staffers, the vast space and new technologies could have spelled chaos if not for RFID.
"We implemented RFID in the current Voorhees facility in early 2010 because we had always anticipated its need and use in our new facility, and wanted to gain an understanding of it and have the opportunity to train staff on it prior to the move," explains Mike Kotzen, vice president at Virtua and chief operating officer of Virtua Voorhees.
In Virtua's case, RFID is one component of a program called AgileTrac, an asset management system provided by GE Healthcare. It uses infrared and radio frequencies to monitor the whereabouts of any piece of equipment tagged with a barcode, which is scanned by readers mounted hospital-wide. Everything from patient beds to blood pressure pumps to digital thermometers can then be located through the hospital's computer network.
"In the past, when tracking was limited to databases and clipboards, we knew what equipment we had on-site, but not each piece's whereabouts," Kotzen says. Staffers would hoard equipment so they wouldn't have to go hunting for it, which occasionally resulted in unintended shortages. "There were times when we bought or rented pieces because we couldn't locate the ones we had," he says. "AgileTrac creates a much more reliable system."
SAVING ENERGY
Efficiency as a means of reducing overhead is popular in all economies, but particularly in this one. To that end, Ryan Van Laeys, owner of South Jersey Web Design and RVL Consulting in Sewell, created Green Shutdown, a program that turns off organizations' computers after hours. Inspiration struck when Van Laeys was serving as an IT consultant for local school districts; he noticed wear and tear on machines left on overnight, as well as ongoing concerns about high electricity bills.
"PCs, even idle PCs, take abuse when they're running 24 hours a day," he says.
"Fans are spinning around the clock, and spin even when the machines are in sleep mode. I was always asking users to turn off their machines at night, but it wasn't happening."
There are a growing number of such programs available. Some, like Green Shutdown, are managed remotely and don't require installation on each computer. Van Laeys' program even sends out a nightly email reporting the number of machines turned off and the estimated savings. "An annual subscription that includes support, maintenance and upgrades on 500 machines costs $2,000," Van Laeys says. "Some school districts are seeing a return on investment within two months."
GOING MOBILE
As tablets and smartphones become increasingly popular both within and beyond the workplace, executives are suddenly finding themselves unchained from their desks and even their laptop cases.
"Remote desktops are being used with increased frequency," says David Mickelson, partner at CTB Systems in Cherry Hill. "On almost all tablets and smartphones, you can download remote control apps that configure a connection to your desktop, giving you access to all functions within it."
This remote revolution enables workers who are traveling, taking a break from a conference or on site with a client to work as if they were at the office, drastically improving productivity on the road. It's a popular and sometimes less expensive alternative to entirely virtualized desktops, in which all data is stored remotely.
Mickelson encourages users to exercise caution, though, when choosing from the growing number of remote desktop apps saturating the market. "When you log into Android Market or the Apple Store, a good 30 or 40 [apps] are offered. But they don't all have the same functionality. I hear all the time about people downloading two or three inexpensive ones before finally resigning themselves to a fully functioning one that's $39.99. There's not a huge financial loss ... but it comes at the expense of time."
IMPROVING ANALYSIS
Technology has yielded an ever-increasing amount of data across a broad range of industries; but it has also created fresh ways of mining and analyzing that information that are faster and less expensive than ever before.
For example, David Wagstaff, managing principal of Clarity FI, a Camden-based financial management consulting company that works with banks, was looking for a way to compare and analyze data across the financial services industry. He discovered Tibco Spotfire Analytics software and has been extolling its virtues since.
"Our goal is to help companies earn more revenue or reduce expenses, and Spotfire allows us to analyze at an unprecedented speed for something not custom-designed," Wagstaff says.
Imagine an Excel spreadsheet on speed: Once data is imported in Spotfire, it can be examined across any dimension—in Wagstaff's case, by branch deposits, assets or total deposits. When 150,000 accounts payable transactions were offered up by a client last summer, Clarity FI used Spotfire to look for things like duplicate payments and vendors earning a large percent of the total, and in doing so pinpointed more than $1 million of added value.
INTERNAL NETWORKING
Social networking sites like Facebook have received plenty of buzz as marketing tools. But in Camden, Campbell Soup Co. is reaping the benefits of the integration of their own new technology: a social networking site intended strictly for internal collaboration.
Campbell Connections, a web 2.0 social collaboration tool implemented last year using IBM's Lotus Connections, allows Campbell's employees worldwide to build profiles and connect with employees who share interests and specialties. It may sound like Facebook—and the site's similarity to other popular social networking offerings helped spur user adoption. But to keep those same users from employing the aimless "surfing" mindset that often goes hand-in-hand with Facebook use, goals for Campbell Connections were set early on.
"One of the things we did right up front was establish very real examples of how Campbell Connections can lead to productivity," explains Brad Scheiner, IT director of end-user services. "When we launched, we asked employees from various Campbell's locations globally to pilot the collaboration tools and use them for very specific business purposes. After we finished piloting, we used those examples to show the majority of the company how to use the program successfully."
It didn't take long for the benefits to present themselves: A Toronto-based employee of Arnott's, a subsidiary of Campbell Soup Company, was looking for an expert in grain nutrition (a rarity even within the food industry). The worker searched Campbell profiles, and found one within the company. A collaboration ensued.
On a more day-to-day level, "employees seem more able to put names with faces since Campbell Connections was rolled out," Scheiner says. "It's been exciting to see personal connections forging as a result."
Published (and copyrighted) in South Jersey Biz, Volume 1, Issue 4 (April, 2011).
For more info on South Jersey Biz, click here.
To subscribe to South Jersey Biz, click here.
To advertise in South Jersey Biz, click here.