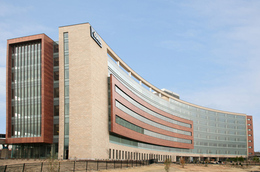 Medical Breakthroughs
Health care is a big business in South Jersey. Meet the innovators and trailblazers who are transforming how it's done.
The medical field in South Jersey is about more than patient care; it's also a big business. Hospital systems comprise six of the top 20 employers in greater Philadelphia, and these organizations are innovating to transform both back-office management and frontline care. They're cutting costs while providing better patient service by collaborating with competitors, tying doctors' compensation to efficient care, designating nurse navigators to guide patients through the hospital system and finding new ways to serve changing client demographics. Through new technology, creative management techniques, forward-thinking investments and clever deployment of resources, South Jersey health systems are taking the lead in transforming the business of health care. Here are SEVEN places where innovation is happening before our very eyes.
The Digital Hospital.
In the future, hospitals will run on wireless infrastructure, data will be collected into electronic medical records right at the patient's bedside and nurses will be reached easily via mobile phones.
It sounds high-tech, but it's closer than you think. Virtua's new Voorhees hospital, a $750-million facility that is slated to open in May, will include all of this technology and much more. The 600,000-square-foot digital hospital, the first of its kind in our region, has 150 software systems to help hospital staff increase efficiency. The goal, says Virtua president and chief operating officer Ninfa Saunders, is to ensure that most of caregivers' time will be spent on patients, not paperwork.
Innovations include biomedical data monitoring devices, located at each patient's bedside and in the operating rooms, that can move data into electronic medical records, documenting care online in real time. As well, telemetry monitoring allows heart patients to walk around with a pack that transmits their heart rates and other data over the hospital's wireless system. (Hundreds of antennas and 18 million feet of cable run within the walls of the hospital, ensuring that there's no such thing as a dropped signal here. The same wireless system also carries the hospital's phone lines and links to wireless phones carried by nurses at all times.)
"There's the ability of multiple systems within the organization to be able to communicate seamlessly with each other," explains Saunders. For example, radiology can communicate with the laboratory, the physician or the unit where a patient is housed. Beyond efficiency, the new systems will ensure a timely and accurate flow of information. There can be no mistakes due to misread handwriting.
Another vital area of patient safety is the administration of medication. The pharmacy will use robotics technology to dispense medications, reducing the chance of human error. The system will also send alerts if there is any question about potential allergic reactions or counter-indications for a given medication. "Alerts and rules are built into the software to prevent errors from happening," explains Al Campanella, Virtua's vice president and chief information officer.
A Focus on Efficiency.
As health care costs spiral out of control across the country, many administrators have been casting about for ways to rein in spending.
Lourdes Health System has found some success by pursuing innovative programs including gainsharing, a system in which doctors share in savings accrued by the hospital. This three-year-long Medicare project aims to save the hospital and Medicare money through shortened patient stays, decreased readmission rates and the avoidance of expensive treatments where cheaper procedures will produce similar results. Normally, Medicare reimburses hospitals at a fixed rate based on a patient's diagnosis, regardless of length of stay, and pays doctors per procedure as well as for each day of a patient's stay. Through gainsharing, doctors can get bonuses for reduced costs and improved performance. Oftentimes, the result is not only financial savings, but an increase in patient satisfaction as well.
"We are looking at ways that we can streamline care to get people through the system more quickly and improve care," explains Dr. Alan Pope, chief medical officer at Our Lady of Lourdes Medical Center in Camden. "It might be things such as decreasing wait times from one procedure to the next, or being certain that we get antibiotics on board as quickly as possible to treat an infection." Other cost-saving techniques include starting surgeries on time, facilitating timely discharges and comparison shopping for items like heart valves. (The hospital found that choosing a single manufacturer of valves translated into a favorable contract and reduced costs.) Through gainsharing, doctors can earn a maximum of 25 percent over standard Medicare payments; that could add up to between $90 and $300 per patient. Yet, Pope insists it's not just about the money. He believes doctors are paying more attention, and are thinking more about the costs involved in their work.
Lourdes is also looking to become more efficient through technology. The medical center is the first in our region to sign on with RadarFind—a system that keeps track of all the hospital's equipment via computer. It's like GPS, but for your mobile X-ray system. In this case, radio frequency ID tags communicate with designated sensors that operate on the hospital's WiFi network, so that every piece of equipment is accounted for on a digital map of the facility. "Imagine how much time is taken away from a staff nurse if she has to scour the length of two football fields, or make phone calls interrupting other people's work to search out a piece of equipment," notes Michele Wargo, director of nursing systems and informatics at Lourdes Health System. "For the nurse to save time and spend more time with the patient is a true asset."
The Incubator.
There's a looming shortage of doctors in New Jersey. In fact, the New Jersey Council of Teaching Hospitals projects that the state will need 2,800 additional physicians by 2020. Fortunately, the Cooper Medical School of Rowan University—slated to enroll its first class in 2012—is poised to fill that urgent need. "It's clear that where medical students do their training ultimately impacts on where they will practice, so the new venue will increase the likelihood they'll come back and practice in the state," says Paul Katz, the school's founding dean.
The first new medical school in the state in 30 years will do its part to transform the nature of medical education, through tactics like bringing clinical experience into the education process early on. As well, the school will focus on urban health, cultivating students who have a strong interest in service. "It's very important that our students have an impact on the care of this community, and have a responsibility to help improve the quality of life of the patients," Katz says.
In addition, the school—which will occupy a $140 million building in Camden—will emphasize diversity, in an effort reflect the city and region. Katz points out that there is an underrepresentation of minorities in medical education. "The population of students who enroll will not only be diverse with regard to their racial background, but also in terms of their educational level, economics, gender, age, previous careers and sexual orientation," Katz says.
Itself a unique collaboration between Cooper University Hospital and Rowan University, the medical school will also look to other means of collaboration. It will work with the Coriell Institute for Medical Research and other local institutions to drive an emphasis on research and laboratory experience. And students will also go out into the community to educate residents on health issues including childhood obesity, drug use and smoking, encouraging prevention and teaching about wellness. "If we start early enough, we can have a pretty profound impact on the health of the community before we encounter those issues," says Katz.
Nurse Navigators.
More people—particularly those who lack health insurance—are finding themselves with little choice but to use the emergency room as a substitute for primary care. Patients come to the ER because they lack a primary care provider, are unable or unwilling to wait for an appointment, or need care after hours or on the weekends. Managing the flow of these patients, and mitigating the cost of caring for them, has become a central concern for hospital administrators.
That's where nurse navigators come in. These patient advocates identify patient needs, help them get care, arrange for follow-up treatments, clears insurance issues and liaise with social services as needed. The navigator is also able to expedite appointments, improving both the quality of care and patient satisfaction.
"The nurse navigator program is designed to help throughput in the emergency room, and also to help patients in the community as they move from the emergency room back out to their homes and community," explains Patricia Madden, business director of emergency services at Kennedy University Hospital.
The first nurse navigators began work at Kennedy in November 2009, and they're now found in all three Kennedy hospital emergency rooms. They determine each patient's needs and troubleshoot those problems when possible. That has even included help­ing patients obtain insurance, schedule specialist appointments and get access to assistance paying their utility bills at home.
Since the inception of the nurse navigator program at Kennedy, "the reoccurrence rate of patients revisiting the emergency room is down, so it helps with the overcrowding in the emergency room," Madden says. "There is a large group of people who would not have any care if it wasn't for the navigation program at Kennedy. We are improving health care, because patients have follow-up and closure to whatever their issue was while they were in the emergency room. If they need follow-up, navigators provide that service."
The Niche Provider.
When it comes to long-term care, first-generation immigrants are often uncomfortable and isolated in mainstream facilities where the staff and other patients may not speak their language, and the food may be a jarring change from their customary diets.
Such patients were the inspiration for Innova Health and Rehab's new Korean Community in Mount Laurel. Supported by a growing Korean-American population in South Jersey and Philadelphia, the 40-bed unit, which opened in May, is already nearly filled to capacity. Care has improved dramatically for these patients, who can now enjoy many of the comforts of home.
"Patients are very comfortable with the Korean staff, as there is no language barrier," explains Pastor John Sung, director of the Korean Community. "If they have a medical or social concern, they can communicate with our staff. First-generation immigrants don't speak English well, which previously caused a communication problem with the nursing staff and other residents. There were no interpreters, and they had difficulty describing pain."
The unit employs Korean nurses and interpreters who are available 24 hours a day. Innova invested more than $200,000 in the project, renovating rooms and providing a new activity room where residents can enjoy Korean games and conversation. Flat-screen televisions get six Korean channels on Direct TV, allowing patients to feel more connected.
"The residents are no longer losing weight because they eat Korean food every day," Sung says. "Even though it is a nursing home, they feel like it's a home environment." Vietnamese, Chinese and Japanese residents living at Innova are also taking advantage of the food being prepared for the Korean wing. The neighboring community has also gotten involved with the residents. Local church pastors lead daily religious services, and high school students come to play music and sing for the residents. "Residents are more joyful," says Sung. "They now get out to the dining room or activity room and are more involved. They love to watch Korean dramas and movies with other residents. Their families trust us and feel comfortable."
The Elder Care Pioneer.
As more of our nation's elderly look to remain living at home, the model for caring for this population has changed drastically. One trending model for elder care is Program of All-Inclusive Care for the Elderly (PACE), which brings all the service providers seniors might need—physicians, physical therapists, dietitians, social workers and more—under one roof. For most PACE participants, the comprehensive service package permits them to continue living at home rather than be institutionalized. In New Jersey, a handful of health care providers have been at the cutting edge of adopting PACE, through a program called Living Independently for Elders (LIFE).
While Lourdes is currently offering LIFE programming to Camden County residents, such an offering wasn't available in South Jersey's more rural stretches, until now. South Jersey Healthcare is looking to change that, through a new LIFE program that will be administered out of a newly renovated, 19,000-square-foot facility set to open in Vineland this summer, and a second facility, now in the planning stages, for Gloucester County.
"The primary goal of the SJH LIFE program is to permit frail seniors to receive all of their health care and long term care in the setting of their choice, which is most often their home and community," says Wayne Pendleton, the program's executive director. "SJH LIFE has the distinction of being New Jersey's only planned rural PACE model, given the unique demographic challenges posed to health care providers by much of Cumberland and Salem counties."
Each client will have a personal case manager who will understand the client's own unique conditions, allowing for coordinated and continuous care. As well, the LIFE centers will be social hubs for seniors, many of whom are likely to visit several times a week for both health care and activities ranging from crafts to Wii bowling to yoga to pet therapy.
SJH LIFE will receive pre-paid, capitated payments from Medicare and Medicaid to manage and meet all of the comprehensive care needs of participants. Capitated financing allows PACE pro­viders the flexibility to deliver all the services participants need, rather than be limited to those reimbursable under the Medicare and Medicaid fee-for-service systems. Medicare-eligible participants who are not eligible for Medicaid pay monthly premiums, but no deductibles, coinsurance or other out-of-pocket expenses apply.
The Collaborators.
Traditionally, hospitals found themselves in competition: for patients, for doctors and for reputation. But economic realities and a fresh focus on financial accountability are ushering in a new era of collaboration, according to Joseph Chirichella, president and chief executive of Deborah Heart and Lung Center.
"If we work more collaboratively, we can drive the costs down; we can ensure that patients have continuity of care; and, if we're working together, we're less apt to fight over how much of that payment is mine versus yours," Chirichella says. "You don't need to be a jack of all trades. Why have duplicated equipment and services? We can all find some niches we are successful at, and the system won't pay for redundancies."
Recognizing the need for an emergency department in the area, Deborah Heart and Lung Center and Lourdes Medical Center of Burlington County worked together to open one jointly run ER last year. Deborah had the space in the first floor of its administrative services building, and Lourdes invested $4.3 million to create a 10,000-square-foot emergency room within that space.
Today, Lourdes purchases ancillary services from Deborah including lab, radiology and respiratory services. And, while Deborah specializes in heart, lung and vascular care, Lourdes supplements other specialties to provide a full range of care.
Initial projections predicted 18,000 visits to the new emergency room in three years, but they've almost reached that goal in less than one year. "Our prediction that the area was underserved has really proven to be true," Chirichella says.
Photo: Virtua's all-digital Voorhees hospital is set to open in May.
Published (and copyrighted) in South Jersey Biz, Volume 1, Issue 3 (March, 2011).
For more info on South Jersey Biz, click here.
To subscribe to South Jersey Biz, click here.
To advertise in South Jersey Biz, click here.