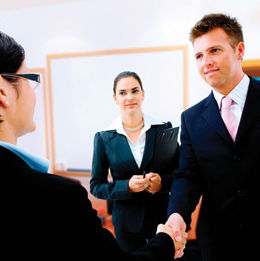 Star Search
Hiring the right person is a challenge, even when jobs are scarce. Human resources pros offer tips on how to select the best candidate for the job.
At Food Sciences, which develops and manufactures nutritional food in Mount Laurel, an opening for an office position attracted an incredible 910 resumes, according to human resources director Laraine Knauss—who had the task of responding personally to every one of those applicants. At nearby Association Headquarters, an association management company, 269 people applied for a single entry-level position.
While, with those quantities of applicants, it might appear simple to find the ideal job candidate, experts say the sheer volume of applicants only makes hiring decisions more complicated.
"It's just as difficult, if not more difficult, than when the economy is better," says William Emerson, president and chief executive of Emerson Personnel Group, a Cherry Hill-based permanent and temporary staffing agency. "You could end up wasting a lot of time interviewing people who aren't qualified."
What's a manager to do? A systematic approach to hiring—starting with the development of a detailed, well-considered job description—is the place to start. It's also important to reach the right audience and, having found promising candidates, to ask effective interview questions and offer a fair wage.
A strong candidate search begins with a planning process that starts well before the position is advertised. The hiring party must be in control at all times, explains Janis Sweeney, president of National Employee Management Services in Marlton. Therefore, the first step is to develop a precise job description. "The most important part is knowing clearly what you're looking for," says Sweeney.
The job description is so vital, in fact, that it shouldn't be left to just one person to devise.
It's not just about what skill set and previous work experience are necessary, says Emerson. Intangibles should also be considered. Consider what kind of person would thrive in the position—a team player, say, versus a self-starter. From there, the hiring team must decide which attributes are "must haves" and where there is flexibility.
Next, it's about posting an eye-catching job listing. While advertising in traditional venues, such as newspapers or job sites like Monster or CareerBuilder, is typically a good start, it's just as important to use professional and personal connections. Some companies, including Association Headquarters, offer their staff financial incentives to bring in applicants. If a candidate recommended by an employee is hired, the staff member who provided the referral is eligible for up to $500 in bonus money, says Craig Kreismer, Association Headquarters' human resources director.
Staffing agencies are yet another effective route to finding standout candidates. Even in a tough economy, the ideal person may not be among the unemployed, but rather currently employed by a competitor and not necessarily looking for a new job. A staffing agency can identify and contact such candidates—and possibly entice them to explore their options, Sweeney notes.
As for zeroing in on the truly qualified candidates among the massive pile of resumes, hiring managers have their methods. For Kreismer, the key is using an applicant-tracking system that acts as a resume parceling service. The software allows him to scan all resumes sent electronically, to zero in on keywords that would indicate a job seeker has the right education and prior experience to be considered. He can even program it to point out misspelled words. Using such software, Kreismer was able to segregate five resumes out of the pile of 269 for phone interviews in his recent round of hiring.
For smaller companies like Food Services, explains Knauss, the software may not be an option. But Knauss has her own system. She speed-reads resumes, which are required to be sent electronically, for location, salary requirements and misspellings. If an applicant lives within an hour of the company and is asking a salary within the range, she will give the resume a closer read to see if the person's experience and education match with her specific requirements. From the 910 people who applied for a clerical position, Knauss called 20 or 25, and eventually brought in five or six for in-person interviews.
"I can scan resumes pretty quickly, and then go back to read specific content," explains Knauss. "If there's typos, I pull it out pretty quickly. If someone doesn't take the time to spell check, it tells me something about them."
The next step, the phone interview, is a chance to learn more about each candidate's skills, education and personality, experts say. Every candidate should be asked the same exact questions to make an apples-to-apples comparison, says Sweeney. And finally, the face-to-face interview is an opportunity to observe the candidate in action. Questions should lead to answers that reveal how the person has acted in certain work situations. In the case of a sales job, this would be the time to ask about past situations, to find out how the person has responded to challenges, says Sweeney. The face time will help a manager determine whether the candidate would fit in with the company culture.
Finally, when it comes time to make a job offer, businesses have sometimes paid the price for offering lower-than-market salaries.
"I always consult clients to make a fair offer based on the candidate's education, experience and what was budgeted for the position," Emerson explains. "In this economy, some companies have made the mistake of thinking, 'We're in the driver's seat. We can lowball this candidate to get them in real cheap.' That's a mistake. As soon as the economy turns for the better and they're presented another opportunity, they're going to jump on it."
At Association Headquarters, Kreismer says increasing entry-level salaries has resulted in a 92 percent retention rate in the past five years. "We're big on having really strong players in our company working with our clients," he explains.
Emerson adds that a fair offer sets the tone for a positive working relationship: "You want [new hires] to come in excited and ready to work and to be part of your team."
Published (and copyrighted) in South Jersey Biz, Volume 1, Issue 3 (March, 2011).
For more info on South Jersey Biz, click here.
To subscribe to South Jersey Biz, click here.
To advertise in South Jersey Biz, click here.