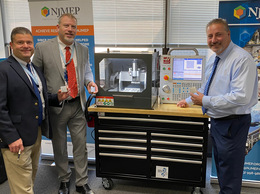 Moving Manufacturing Forward
NJMEP is leading the charge to continue to make New Jersey a major player in the manufacturing industry. 
There is a popular misconception that with the world's heavy reliance on technology, including its increased usage during the pandemic, that the manufacturing industry is on life support. But in actuality, that could not be further from the truth.
In New Jersey alone, there are more than 11,000 manufacturing companies that call the state home. And as the robust industry adapts and changes with the times, Garden State manufacturers have sought guidance and support from a familiar source—the New Jersey Manufacturing Extension Program (NJMEP). Functioning as a staunch advocate, NJMEP works closely with the state's Manufacturing Caucus to bolster New Jersey's industry presence by prioritizing three strategic pillars: operational excellence, innovation and growth, and workforce development. Furthermore, the organization is part of a national network of 51 MEP Centers located across all 50 states and Puerto Rico, opening up any number of resources to help manufacturing companies find the necessary tools for success.
Despite the recent challenges brought on by COVID-19, the manufacturing industry is very much thriving here in New Jersey. That is evident when you consider that since 2000, NJMEP has helped realize $6.03 billion in growth, with $1.05 billion in increased sales and $2.99 billion in retained sales.
A big component of helping the industry continue to flourish falls on the shoulders of Larry Banks, NJMEP's manager of the pro-action education network and workforce development. With disruptions to the supply chain and significant labor shortages across the board, Banks is working diligently to seek out and develop new talent.
"We are working with as many different demographics as we can across the state, from Paterson to Camden, to show people that there is a valuable career path in manufacturing and that you can create a great lifestyle for yourself," Banks says.
Locally, NJMEP opened its new Bellmawr office last summer, which includes a training center created to generate a pipeline for the industry. This includes putting a special emphasis on recruiting 16-to-18-year-olds with a pre-apprenticeship program designed to show younger folks that a career in manufacturing not only exists, but also could be the perfect fit for them.
"The manufacturing industry has this stigma that it's a dirty job or only exists in Mexico, so we want to spread our outreach, and what better way to do that than by offering training tools and bringing people into the fold to give them a hands-on experience that they can translate into real life," Banks says.
Another key area that NJMEP focuses its efforts on is food manufacturing and the multi-layered impact it can have on the state's economy. Juliana Canale serves as a food manufacturing and regulatory expert with the organization and says there's a ripple effect with the food manufacturing industry that many may not realize.
"Looking at things from a broader perspective, the food and beverage industry is interconnected in a variety of ways with regard to the economy. You have the agriculture side, the sourcing side, materials, importing, processing, warehousing, distribution, packaging, etc. … and not just with human food, but pet food and animal feed. … There's a big overlap in pharmaceuticals and chemical manufacturing, whether looking at preservatives or different ingredients going into vitamins or dietary supplements. For example, the flavor ingredient you make at a compounder can go in a boxed cake mix or your toothpaste or your laundry detergent," Canale says.
To that end, NJMEP aims to serve as a one-stop shop to both connect industry leaders and help their businesses grow and develop. While operating under the umbrella of its national network, NJMEP is actually the organizational leader in the U.S. and what Canale refers to as a "technical source of truth" for the other centers. Having that industry know-how and strong support system in place allows NJMEP to expand its reach and better serve clients.
"We are able to speak not only from a local, but a national perspective," says Canale. "[Companies] realize they are not the only ones having problems and, no matter if they are in Texas or Washington, we have a community that understands [the challenges]."
With the backing of the national group and its work with the Manufacturing Caucus and state legislators, NJMEP is helping the food manufacturers of New Jersey reach new heights while steadily positioning South Jersey as an epicenter for the industry. And Canale's extensive experience working with a variety of food and beverage manufacturers, from Fortune 500 companies to start-ups, allows her to bring a unique insight when working with clients.
"There are a lot of opportunities within connecting the food and beverage space. South Jersey is near the water, near New York City and Philadelphia, and a big hub for things coming in both domestically and internationally," says Canale. "There's really no limitation in our ability to help manufacturers support their business growth and development needs."

New Jersey Manufacturing Extension Program
South Jersey: 211 Benigno Blvd., Suite D, Bellmawr
North Jersey: 2 Ridgedale Ave, Suite 305, Cedar Knolls
(973) 998-9801