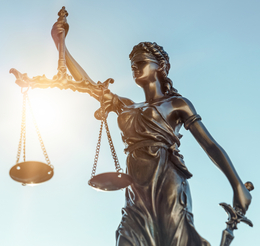 Well Represented
At Genova Burns LLC, attorneys work closely with their clients to find creative solutions and successful outcomes. 
Whenever critical legal matters arise, it's important to find an adept attorney who not only has extensive experience in a particular area of law, but one who also understands how critical the relationship is between attorney and client.
Few people understand this better than the group of skilled lawyers at Genova Burns, an innovative, mid-sized law firm with strategic locations throughout the state, including its growing presence here in South Jersey. For more than three decades, the firm has provided an array of exceptional legal services across multiple practice areas, thanks in part to the four pillars that make up the foundation of its core philosophy: trust, collaboration, personal service and responsiveness. By viewing clients as relationship partners, Genova Burns' attorneys are able to work alongside them to achieve cost-conscious and creative solutions that consistently lead to highly successful outcomes.
Sadayah DuRant-Brown, a South Jersey native who is an associate in the firm's labor law and cannabis law departments, says that despite its size, Genova Burns provides the wide range of services found at larger firms while offering an individualized level of service often reserved for smaller law offices.
"Genova Burns has the reputation and success of a large firm, but the personal attention to clients and closeness among colleagues that one would get from a small firm," she says. "To be a part of the team and have the opportunity to serve South Jersey, my home, is very rewarding."
Another South Jersey native, Nicole L. McCann, echoes those sentiments. Having previously worked as a summer associate at the firm a handful of years ago while still attending law school, she was excited her career path reconnected her with Genova Burns earlier this year when she joined its employment law practice.
"I first joined Genova Burns as a summer associate in 2017. I loved that the firm had all the resources and the experienced attorneys you would see in a big law firm in Philadelphia or Manhattan, yet the firm also maintained community roots and showed a high level of attentiveness to clients. That is invaluable and to bring that level of expertise and service to South Jersey is incredible," McCann says.
Genova Burns first entered into the local marketplace in late 2005 when it opened its area office on Riverside Drive in Camden. Now, after years of establishing its roots here, the firm looks to expand its South Jersey footprint and both DuRant-Brown and McCann are elated to help play a part in leading the charge.
"Genova Burns has some roots in South Jersey already, however, the firm is looking to grow its presence [here] even more. It is our hope and the firm's hope that we can assist with the firm's growth and create long-lasting relationships with clients in South Jersey," DuRant-Brown says.
Of course, this all starts with the firm's overriding mission to foster a successful relationship that puts a client's best interests first and foremost.
"When you build close client relationships, it opens up the lines of communication that makes the sometimes-daunting litigation process much more effective and efficient," says McCann. "You need to be honest with your client, give them all the possibilities, and weigh all the advantages and disadvantages. Those are conversations that come easiest when you have that level of communication and close attorney-client relationship."
"At Genova Burns, the attorney-client relationship is top priority," adds DuRant-Brown. "We highly value the relationships that we have built with clients over the years and we strive to maintain those relationships while creating new ones. I personally pride myself on prioritizing the client's best interests in every situation by ensuring that I am accessible, responsive and effective."
In addition to having a strong commitment to their clients, attorneys at Genova Burns also share a strong bond with one another thanks to the close-knit culture the firm has fostered over the years. When you combine that overall team effort with tremendous skill and expertise, it's easy to see why Genova Burns is able to stand out in a crowded legal field.
"There's a sense of camaraderie here that I feel is lost at so many other law firms," McCann says. "But there are also really high standards and a focus on quality. And that's really one of the ways you can become the best attorney you can be; aligning yourself with a firm that values quality and is going to demand your best. That's something I saw five years ago as a summer associate and it continues today."
Genova Burns
Camden
(973) 533-0777