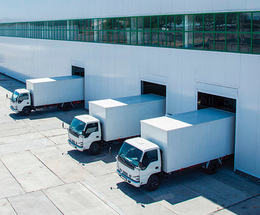 The State of Commercial Real Estate
Experts from throughout New Jersey's commercial real estate sector offer their perspectives on the trends shaping the industry's present and influencing its future.
Even before COVID-19 launched the northern exodus that turned South Jersey into red-hot residential real estate almost overnight, the market's commercial counterpart had already been settling into our region.
All matter of real estate experts agree that we're still witnessing the confluence of naturally progressing trends and new influencing factors create a never-before-seen commercial real estate market. But the story starts even earlier than that, thanks to an advantageous location.
"New Jersey has always been strategically located as a distribution center because it sits between Washington, D.C., Philadelphia, New York and Boston," says Jeff Jones, immediate past president of the industry association NJ Realtors. "Our rails, roads and ports are significant, and we are perfectly located to distribute against four of the largest cities on the East Coast. So by geography alone, we have always been a very desirable location."
Land availability has been driving the desirability of the state's lower half. As North Jersey boasts a population of 6 million versus South Jersey's less-than-3 million, plus the former's inherent building limitations dictated by protected ecosystems, Jones notes that the latter offers far more developable land opportunities.
The commercial real estate world—which includes office, retail, warehouse and industrial properties—has, indeed, been regarding South Jersey's wide-open spaces with keen interest in recent years. And each of those four facets has a unique story to tell of how the past two years have reshaped their particular place in South Jersey's commercial real estate landscape, as well as their predicted futures.
Office Space Redefined
Readily available access to Philadelphia and especially New York City has made it both an obvious choice and mutually beneficial for eds and meds, Fortune 100 companies and other notable employers to establish a South Jersey presence. They benefit from a hiring pool of abundant talent and diversity, while employees didn't have to choose between uprooting their families or having access to better job opportunities. Office space, thusly, has always been bountiful—if not prone to historically dramatic shifts—throughout our region.
Alan Fox, real estate and land use practice co-chair at the law firm Capehart Scatchard, notes that, going as far back as the mid-2000s, "we already saw a little bit of a trend toward remote working pre-pandemic, and we saw that New Jersey leading that for a couple of reasons."
"New Jersey has more high-speed internet access than most states, and we also have the fourth longest commute to work in the nation," continues Fox, adding that the rise of mobile communications and ever-advancing technology made many of the state's employers even friendlier to working-from-home options as COVID's presence lingers.
Remote work is just one force at play as the whole approach to how people do their jobs is changing, though. Established employers are downsizing to smaller offices befitting a diminished demand for in-person employment while, despite grim reports of how badly the pandemic has brutalized Main Street shops, new small businesses are always entering the scene and looking for dedicated work spaces.
"While buyers are a little cautious as to the amount of space they may be looking at, we are seeing people doing deals," reports George W. Matteo Jr., partner at the law group Connell Foley LLP. "I think you have some buyers who are pulling back but definitely some who are leaning into the environment looking for opportunities."
Still, a mostly robust market isn't the same as an expanding, thriving one, and those within the industry say it will most likely take a few more years to determine that outlook as working from home, offices being reduced to rented conference spaces, the rise of mixed-use construction combining residential and commercial spaces, and city-based headquarters establishing suburban satellite locations continue to play out.
Industrial Spaces on the Rise
With new opportunities comes new buyers, and the influx of newcomers to South Jersey's industrial scene is no exception.
"The majority of my clients are established developers here in New Jersey but I am seeing a number of developers coming into the market from out of state, particularly in the industrial development space along our major roadways," Matteo says. "I am also seeing a focus in some of our rural areas along those corridors."
"Industrial development continues at a breakneck pace and demand is running right alongside of it," observes NAI Mertz President Scott Mertz. "There's close to 12 million square feet of warehouse space currently under construction in South Jersey, with another 12 million proposed. That trend should continue at least for the short-term, as spec projects are largely tenanted prior to completion and at steadily increasing lease rates."
Those warehouses and distribution centers, everyone agrees, are where growth has positively exploded.
Retail vs. Warehouses
Route 130 passes through Salem, Gloucester, Camden, Burlington, Mercer and Middlesex counties, hugging the Delaware River coast and crossing acres of commercially zoned land. Its adjacent open spaces were immensely desirable for warehouse construction before March of 2020, and became veritably gobbled up in the two years that followed.
"Warehouse space is absolutely at the epicenter of development and expansion," Jones says. "If you drive up and down [roads like] the turnpike and 130 … you're going to see tremendous amounts of warehouse space—and that's because of our distribution location. Everybody puts their warehouse and manufacturing here, and that's going to be the case unless regulations start getting in their way."
"Prior to the pandemic, there was already a huge trend in construction going away from retail space because purchasing is no longer done in brick-and-mortar stores like it used to be ever since it's moved to that online-purchasing model," adds Rob Notley, principal of New Road Construction. "With the lockdown and people spending much more time at home, that just drove more and more people toward purchasing online, which accelerated a trend that was already in place."
Experts didn't hold back in describing the retail side of things as having been devastated in the past two years as more and more warehouses and fulfilment centers dot the local landscape, pushing out brick-and-mortar stores in the process. But the collective, determined entrepreneurial spirit suggests that an optimistic look to the future may be warranted, as new small businesses constantly enter the scene and are still want a physical location to sell the wares and services.
Ecommerce remains king, though, and likely will for quite some time. From a construction standpoint, Notley notes that the proliferation of warehouses and fulfillment centers that allow the likes of Amazon and other e-tailers to offer greater distribution capacities do require a significant amount of materials. That uptick in demand, already compromised by supply-chain issues, has created monstrous delays for other construction projects since things like roofing insulation, once readily available, have become so scarce that it can create months-long snarls in the process—and could conceivably bolster some residents' already growing "not in my backyard" sentiments fueled by business edging into neighborhoods.
"Most 'NIMBY' protests used to be against things like correction facilities and drug treatment centers: Now, all the posters and signs that you see going up are 'No more warehouses!' in whatever municipality you're driving through," Notley notes.
"With the shift toward ecommerce, we're seeing more trucks come into neighborhoods that are just not designed to handle truck traffic," adds Fox. "So you have to somehow work with the dynamics of what's happening now. Maybe, like with New York City, we'll start seeing new delivery schedules that don't coincide with rush-hour traffic, or instead of having the Amazon truck come to everybody's home, there might be a clubhouse with lockers where they'll drop off everyone's packages."
Looking Ahead
With unprecedented times come an unclear future, but industry experts can make a few educated guesses about what's to come for commercial real estate in South Jersey.
Infrastructural projects like The Gateway Program—a planned renovation of the Northeast Corridor rail line between New Jersey and New York City that will also double the train capacities for Amtrak and NJ Transit—will undoubtedly have more of an impact beyond job creation and transit once it comes to fruition, Fox observes.
The strong demand for warehouse space has seen rental prices skyrocketing and land get snatched up in Burlington County. That trend has pushed developers into Camden and Gloucester counties in the third quarter of 2021, the long-terms effects of which remain to be seen.
In the meantime, though, commercial real estate experts regard their industry with optimism about both its potential and its future.
"Land for parking has become a hot commodity … Amazon and their like need parking for everything from their trailers to their last-mile delivery vans, and that has created opportunity for land owners and even office and retail landlords," Mertz observes. "The alternative revenue stream from leasing portions of their excess parking has been a welcome development for owners of struggling office complexes or shopping centers."
"Commercial real estate is a component of the economic engine," Jones adds. "If commercial real estate is not doing well, that means the economy is hurting. And I would say with commercial real estate, the short- and long-term outlook is extremely positive."
Click here to subscribe to the free digital editions of South Jersey Biz.
To read the digital edition of South Jersey Biz, click here.

Published (and copyrighted) in South Jersey Biz, Volume 12, Issue 2 (Februray 2022).

For more info on South Jersey Biz, click here.
To subscribe to South Jersey Biz, click here.
To advertise in South Jersey Biz, click here.