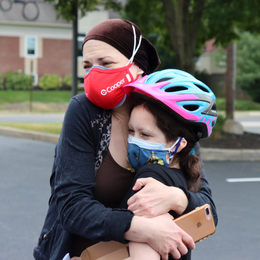 Inspiration Through Action
The recipients of our Community Impact Awards go above and beyond to help those in need in South Jersey.
When South Jersey Biz first started the Community Impact Awards just two years ago, the world was in a much different place. To be sure, the companies that have chosen to do business in our area have always found it worthwhile to give back and make significant impacts in our towns and neighborhoods. Rather than just being concerned with the bottom line, these executives, business owners and employees have formed meaningful relationships with their fellow residents and set an example with their actions. But over the last 14 months during the pandemic, community has taken on greater importance than ever before. Fortunately, even as local companies have tackled the challenges of a new business landscape, they have continued to support charitable causes in our region, whether by helping those directly affected by COVID-19 or other organizations still in need of assistance. Their efforts have not gone unnoticed, and we are proud to shine a spotlight on them with our third annual Community Impact Awards.
GREYHAWK
The team at GREYHAWK, a renowned construction management and consulting firm that serves a wide range of industries, is dedicated to sharing its expertise and giving the next generation the necessary tools to succeed in the field. As a longtime partner of the ACE Mentor Program of Greater Philadelphia—the local affiliate of a national student mentoring organization—GREYHAWK provides guidance to high school students interested in pursuing careers in architecture, construction and engineering. Volunteers from the firm work with students on collaborative projects, teach real-world and professional skills, give office tours and more. GREYHAWK's community influence does not end there, however, as the company is also an ardent supporter of the Food Bank of South Jersey, Legacy Treatment Services, Maryville Addiction Treatment Center and the Virtua Foundation.
MELITTA COFFEE
Although it is a company with a global reach, Melitta has been roasting coffee at its Cherry Hill location for nearly 60 years and has always remained true to its local roots. It has supported a number of organizations through the years by serving hot cups of coffee at area fundraisers. With those events on hold during the pandemic, Melitta has shown gratitude to local heroes like the Cherry Hill Police Department with free cans of coffee and has continued to make a positive impact on those with food needs in the region by assisting the Food Bank of South Jersey. Melitta coffee is also part of care packages sent to members of the United States military through Operation Yellow Ribbon. A proud member of the South Jersey community, Melitta additionally gives back to groups such as Cherry Hill American Little League.
GRUNGO COLARULO
"If we can help, we will." Those words, often emphasized by partner Rich Grungo, form the mantra for this burgeoning firm, which specializes in personal injury law. Every employee is able to embody the phrase each month through the GC Giving Back Foundation, which last year alone impacted 17 local events and organizations by donating more than $10,000 in cash and goods. Organization is crucial to the process, as the firm makes it a point to evaluate the local area and determine where its money and time can be most effective each month. Once a certain need is identified, the firm mobilizes its team and engages its social media audience, and is often blown away by the contributions from employees, former clients, friends and family members. For example, a coat drive the firm organized last year to assist a charity in Camden resulted in the donation of more than 300 coats, well beyond its initial goal.
T&M ASSOCIATES
T&M Associates, a national consulting, environmental, engineering, technical services and construction management company with a location in Mount Laurel, recently celebrated its 55th year in business. Throughout that time, the company has been committed to enhancing the quality of life of its employees, clients and those in the surrounding communities through various initiatives. T&M assists employees in need with its Operation Outreach program, and emphasizes the importance of volunteerism and giving back to others by working with NextGen Group, Wellness Works and Habitat for Humanity. It helps engage future professionals in the industry by collaborating with Project Lead the Way to promote STEM education and awards book grants to support students pursuing STEM education. T&M employees additionally contribute to a wide range of charitable efforts, including blood drives, toy drives, local food banks, the MLK Day of Service, Read Across America and Dress for Success.
WSFS BANK
"We Stand for Service" is more than just a catchy phrase at WSFS—it is the foundation on which the bank conducts business and serves those in the local community. Through its corporate volunteer program, more than 1,800 associates give their time to local nonprofits of their choice, and not even the pandemic could bring a halt to those efforts. In 2020, WSFS team members found creative ways to volunteer nearly 12,000 hours of service in a safe and socially distanced manner, such as providing in-person and online financial literacy lessons to students and adults. Many lend their expertise and knowledge by sitting on boards of nonprofits, and the various local organizations that have been impacted by WSFS employees include Cathedral Kitchen, the Food Bank of South Jersey, UrbanPromise, Little Hands Little Feet, Ronald McDonald House NJ and Camden Children's Garden.
STARK & STARK
One of the oldest law practices in the state, Stark & Stark was founded in 1933 and offers a full range of legal services for individuals and businesses. Throughout its rich history, community involvement has been a constant pillar of the firm's mission and is a tradition it takes quite seriously. Whether individually or collectively, the firm's attorneys and staff donate their time and resources to various community programs and philanthropic organizations. Many attorneys maintain leadership roles and are active board members for nonprofits or charitable groups, and have also been recognized and honored for their contributions to the community and professional organizations. Some of the local efforts they have supported include Impact100 South Jersey, Quilts for Kids and Anchor House.
TELECORP INC.
A business communications company offering IT management, cloud solutions and more, Telecorp is fiercely committed to both serving its client base and giving back to the community through various causes. One of the firm's passions is supporting the military, veterans and first responders, which is why Telecorp helped purchase a mobile base for Project Refit by sponsoring a cornhole tournament and golf tournament and donated a 65-inch TV to the People for People Foundation. Telecorp is also a member of The United Way 365 Program and helped host The United Way Gloucester County Virtual Telethon, which raised more than $14,000 for its COVID Community Response and Recovery Fund. It has supported the Ike Foundation's mission to get kids hooked on fishing as well as Kelly's Kidz and the Harbaugh Family Toy Drive. In fact, President Tim Jennings even plays Cousin Eddie in the Harbaugh family's popular Christmas Vacation display.
TRUIST (FORMERLY BB&T BANK)
Formed in December 2019 after the merger of BB&T and SunTrust, Truist is the sixth-largest commercial bank in the United States. The team at BB&T, now Truist, has always viewed its environmental, social and corporate governance contributions as more than a responsibility, but in fact an opportunity to build better lives and communities. They hope to inspire others through their actions and create a ripple effect of meaningful change. Through the annual Lighthouse Project, associates have dedicated their time and efforts to a wide range of community projects, including those focused on children or the homeless. Since coming to this market in 2016, the bank has invested over $625,000 into the state of New Jersey and hopes to continue supporting worthy causes in the region.
K RUFFIN & ASSOCIATES
When Kyle Ruffin founded K Ruffin & Associates in 2009, she knew working with nonprofits would be a significant part of the marketing company's mission. Although she has several clients in the field, she has also put her expertise to work for several South Jersey organizations. As a board member for Community Foundation of South Jersey (CFSJ) since 2009, she has helped establish its brand and chaired its Legacy of Giving fundraisers, raising thousands of dollars for the organization. Ruffin is a founding member of Impact100 South Jersey, a collective women's giving fund managed by CFSJ. Since launching in 2017, the women of Impact100 have raised $615,000 and awarded nine grants to area nonprofits, with three more grants totaling $200,000 to be awarded in June. She sits on several boards, including the African American Heritage Museum of Southern New Jersey, and works with these organizations to help them recognize the vital role people of color already play in philanthropy and volunteerism. She is a champion of partnership over integration when it comes to increasing the impact giving back can have on a community.
Click here to subscribe to the free digital editions of South Jersey Biz.

To read the digital edition of South Jersey Biz, click here.

Published (and copyrighted) in South Jersey Biz, Volume 11, Issue 4 (April 2021).

For more info on South Jersey Biz, click here.
To subscribe to South Jersey Biz, click here.
To advertise in South Jersey Biz, click here.