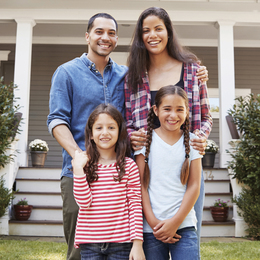 Sponsored Content: Making Home Ownership Personal
For more than three decades, Freedom Mortgage has helped families achieve the dream of home ownership by providing exceptional customer service that starts at the top.
When Stanley Middleman was first starting out as a mortgage broker in the mid-'80s, the industry was dominated by national banks. Although Middleman was gaining good experience to set him up for a successful career, there was a noticeable gap in the level of service customers were receiving from these institutions. This was the foundation on which Freedom Mortgage was built.
"I felt we could bring a higher degree of personal service than a bank could deliver. At Freedom Mortgage, we aim to take the fear and mystery out of lending," Middleman says of the independent mortgage company he founded in 1990. It was a move that may be considered ahead of the curve in hindsight. "In those days, five or six banks dominated as much as 80% of loan activity, but today, independent mortgage lending represents more than 50% of worldwide stock. It's a trend rather than an anomaly."
Today, Freedom Mortgage is one of the nation's largest loan originators and servicers. The company is the No. 1 VA and FHA lender in the country, according to Inside Mortgage Finance, and is a top producer of USDA rural housing loans, recognitions that go to the core of Middleman's philosophy.
What has helped Freedom Mortgage gain a competitive edge is its focus on offering mortgage solutions to the underserved communities, which many banks dominating the industry overlooked. Middleman shares that Freedom Mortgage was founded on the mission to help those who need help the most, who are the most challenged. "Racial equity might be a new phrase to some, but at Freedom Mortgage, we've been working with that since we started," he says. "It's a hallmark of our business to be a top government lender and to foster home ownership in underserved communities."
Middleman is the first to admit success was not a foregone conclusion. "I was in the better business—working hard every single day to get better, improving opportunities and capabilities, reinvesting profits into the business to compete effectively and get on equal footing with the big players."
Milestones have been celebrated along the way, but nothing could have prepared Freedom Mortgage for the records it would set in 2020. At the onset of the pandemic, Middleman says that he was "terrified" about how his office-centric, labor-intensive business would be impacted. "We went home from work on a Thursday and by Tuesday we were 98% working remotely from home. Little did I know we would go on to have a record year," he says.
Several factors contributed to the banner year. First was Freedom's finalized acquisition of RoundPoint, providing an active subservicing platform and broadening the scope of the company's co-issue origination network. This paved the way for Freedom's ability to provide over 1.5 million consumers nationwide with mortgages totaling over $134 billion. Last December, the company set a new monthly record with nearly $15 billion in volume, a three-fold growth.
Not only were people capitalizing on low mortgage rates, but there was a significant amount of people who found themselves in financial trouble due to the pandemic. "Helping those people make payments when needed was a big part of the service we provided," says Middleman. "Delaying payments, meeting investor payments on their behalf, helping them with a lower interest rate—at Freedom Mortgage, we helped carry the ball for these customers so they could remain in their homes. During their hardship, many even saw the value of their home rise. I'm proud of what we've been able to do."
To handle the growth, more than 5,600 employees were added to its mortgage professionals and support staff nationwide. "One of the keys is hiring personnel who understand what you're trying to do, who can see the shared vision and even help you see that vision more clearly," he says. "That snowballs into attracting more talented people. … Not only did we hire and train new employees, but they became important parts of the business, and that's a tribute to our training personnel and IT staff. I'm grateful for their efforts."
Middleman's appreciation for the "we" who help Freedom function on a daily basis is not hyperbole. He was identified by Glassdoor as the fifth highest-rated CEO for leading his company during the pandemic, and Freedom was just named a 2021 Top Workplaces USA by Energage, which is based solely on employee feedback.
Coming together on common goals has helped unite Freedom's employees even in a remote working environment. Keeping in touch via virtual platforms has been effective, but it was the philanthropic unity that made the biggest impact. Freedom Mortgage has been a longtime supporter of organizations such as the Liberty USO—Middleman was the recipient of its 2018 Chairman's Award—Toys for Tots, the Salvation Army and Feeding America, to name a few.
"Supporting veterans organizations, families of those who are in active duty, is natural for us. These are people who are working hard to protect our freedom and we should protect theirs," Middleman says. "Seeing the food insecurity amplified by the pandemic, we increased our efforts with Feeding America. We had the support of the entire company behind us. In the heart of the pandemic, to see people rise up and participate and give as much as they did, I think it gave us purpose." In all, over $2.6 million was donated to support the aforementioned organizations in 2020.
In everything Freedom Mortgage does, compassion and empathy are top of mind, Middleman concludes. "We provide support with purpose to customers' lives so they can see their own way through it. Giving them the tools is part of our responsibility."
"Freedom Mortgage is a first-class organization. They treat customers with courtesy and respect, and provide timely and helpful feedback. I trust Freedom Mortgage with the ongoing service of my VA home loan."
Colonel Brian O., USMC (retired), Hickory, N.C.
"Simply could not ask for a better mortgage company to deal with. I've dealt with four to five other companies over the last 13 years and Freedom Mortgage is and has been aces since I've been with them (three years). Thank you!"
Stepan C., Merrimack, N.H.
Freedom Mortgage
907 Pleasant Valley Ave. |
Mount Laurel

Click here to subscribe to the free digital editions of South Jersey Biz.
To read the digital edition of South Jersey Biz, click here.

Published (and copyrighted) in South Jersey Biz, Volume 11, Issue 2 (February 2021).

For more info on South Jersey Biz, click here.
To subscribe to South Jersey Biz, click here.
To advertise in South Jersey Biz, click here.