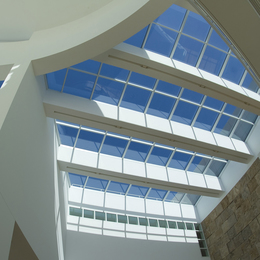 A Strong Foundation
Despite the impact of COVID-19 on commercial real estate, the industry is well-positioned for a post-pandemic recovery.
You don't have to look far to find businesses in and around South Jersey that have been rocked hard by the coronavirus crisis. And while both federal and state funding have provided some economic relief, the ripple effects of the disruption caused by the COVID-19 pandemic are certainly still being felt as owners and executives try to forecast what 2021 will bring.
In times of less turmoil, making predictions can be tricky if not foolhardy. But, typically during this time of year executives are armed with enough concrete information on the latest trends and developments within their industry to be able to make informed projections in order to approach the next several months with a certain level of confidence and stability. Well, if there's anything we've learned during the pandemic, it's that the only sure thing is the unpredictability of it all.
While many agree that 2021 should certainly be a much better year for business, there is no one-size-fits-all solution for recovery, or when that recovery may take place. But now that it's been almost a year since COVID-19 first started to grip South Jersey, various industries are starting to find their footing and manage the crisis with an eye toward a post-pandemic future.
In the world of commercial real estate, local companies have taken stock of the fallout and are positioning themselves to pick up the pieces and build toward tomorrow. With the residential housing market experiencing a major boom thanks to low interest rates and limited inventory, there is optimism the commercial market will also thrive—though not without its challenges.
Chuck Romanoli, principal, New Road Construction, says that while activity has been steady, the constant threat of the virus has significantly altered the way things are getting done.
"

Some of our projects have shut down periodically due to COVID infections, resulting in delays and additional cost to sanitize the work areas prior to returning the workforce," he says. "Most recently we lost one of our senior architects to COVID and it had a significant impact on our office and the projects he was working on. We've had several managers infected, or impacted by family members with COVID, so scheduling meetings and covering our workload has been a challenge for us. Loss of productivity and supply chain delays are also real challenges that we continue to deal with while trying to maintain schedules and deliver quality projects."
And with fewer people working in physical offices and a heavy reliance on digital tools to conduct everyday business, there is concern on just how the industry will emerge from the pandemic as different property types recover at varying speeds.
"The record low interest rates are attractive to residential and commercial sectors alike, but there are still some difficulties the commercial market will have to recover from in the future," says President of New Jersey Realtors Jeffrey Jones, who adds there are levels to the damage done.
"While retail space has been hit the hardest by the pandemic, office space is close behind," he says.
It's certainly true that as businesses have shifted to working from home, some owners have been forced to consider the financial benefits that come along with a remote workforce operating efficiently. Being able to shrink one's footprint while seeing productivity remain at a high level has opened up new possibilities for how business can be conducted. Nevertheless, there still figures to be plenty of activity once vaccinations become more widespread and daily operations regain a sense of normalcy.
"

We have all become adept at working remotely so, yes, we believe the commercial real estate associated with office space will suffer in the long term as employers realize the cost savings," Romanoli says. "That being said, relocation of offices seems likely as companies re-evaluate their new business models, so office space could benefit from that aspect."
Scott Mertz, president of NAI Mertz, says while offices and retail businesses have certainly shifted their line of thinking, there will be opportunities that arise.
"In the office and retail sectors, the vacancy rate has definitely risen, but as the population gets vaccinated and restrictions loosen, we anticipate that some pent-up demand will boost absorption. The extent of that absorption will be dependent upon how anxious the workforce is to get back out of the house versus how comfortable it's become in the work-from-home routine," says Mertz.
Jones says that while there is no question the market will look different in the future, there is so much that is yet to be determined.
"
For retail, smaller units will be absorbed faster than larger units, but there will likely be devastation in that sector for the short-term. For office space, we just don't know yet because many companies have not decided what they will do for their workforce. Likely, a quarter of all workers will remain remote forever, and the ones who do go back to work in an office are looking at reconfiguration of floor plans and workflows to optimize safety," he says.
One area of commercial real estate that has experienced tremendous growth in recent years has been with industrial properties, a trend that has continued during the pandemic. While one may expect the situation to cause a glut of available properties, there's actually a lack of inventory in South Jersey.
Jones attributes this to the area's proximity to major cities which make it uniquely attractive and desirable as a distribution area, especially for those who may be more selective with their decision-making process given the current state of affairs. And with titans like Amazon increasing their presence in the state, others are sure to follow.
"
The warehouse and manufacturing segment of the market is white hot right now. Both for sale and leasing are off the charts when it comes to movement because the landscape has been so critically different with the move towards online sales—something the pandemic has magnified exponentially," he says. "New Jersey is such a strong distribution area because of its critical placement between New York, Washington, D.C., and Philadelphia. We have the rails, roads, and ports to distribute and people to do the work and companies are recognizing that."
Mertz agrees, calling the unabated boom market for industrial real estate a real bright spot. And nowhere has this been more evident than in a pocket of Burlington County which has seen exponential industrial growth of late and the expectations are that the momentum will continue for the foreseeable future.
"The Burlington/Florence area remains not just one of the hottest regions for industrial in South Jersey, but one of the hotter industrial sub-markets throughout the entire country. The area spans from Exit 5 to Exit 6 of the New Jersey Turnpike and has been the epicenter of industrial development in the region with over 3.1 million square feet under construction and another 3 million square feet proposed," Mertz says.
For now, it may not be business as usual, but as things continue to turn the corner, Mertz is confident that the industry will be able to take advantage. "A recovery will be coming and commercial real estate is a good position to rebound," he says.
Click here
to subscribe to the free digital editions of South Jersey Biz.
To read the digital edition of South Jersey Biz,
click
here.
Published (and copyrighted) in South Jersey Biz, Volume 11, Issue 2 (February 2021).

For more info on South Jersey Biz,
click
here.
To subscribe to South Jersey Biz,
click
here.
To advertise in South Jersey Biz,
click
here.